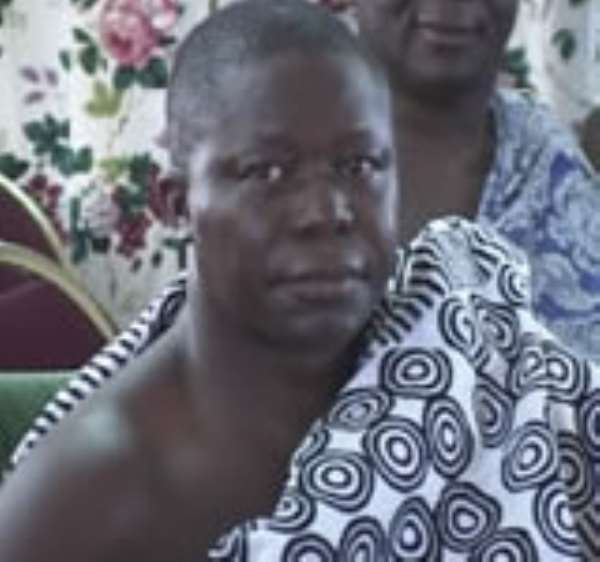 THE Paramount Chief (Deiga) of the Peki Traditional Area, Togbe Kwadwo Dei XI, says he stands by the Asantehene Otumfuo Osei Tutu II in condemning attempts by some people to slander the essence and embodiment of Asanteman.
"To say that the Asantehene is involved with narcotic business, is a repulsive insult targeted equally against the honour and integrity of our national chieftaincy institution," he said.
In a press statement issued at Peki-Blengo on attempts to associate the Asantehene with the cocaine scandal that has recently hit the country, Togbe Dei said there was the need to be cautious of "name-droppers, particularly when they are in a quandary."
He said in everyday function of the traditional institution of chieftaincy, the chief's palace attracts all manner of people "all seeking favours or influence of those in authority as leverage to advance one interest or another."
"It is also not uncommon for influence peddlers, after becoming familiar with people in authority, to drop the names of such 'big' people to secure or achieve a given objective," he said.
Togbe Dei noted that "the character assassination phenomenon referred to, is a deadly cancer whose attack looks deceivingly harmless at the beginning, but dealing a deadly blow to its target host in the end."
He said Otumfuo was being associated with the cocaine saga on the basis of whether an implicated party sought his intervention in a matter.
"Even if, in his wisdom, the Otumfuo did grant audience to a refugee from persecution, it was in accord with the spirit of the sacred oath of duty and responsibility sworn by occupants of royal stools and skins in Ghana, more so the Otumfuo, to grant a hearing and intercession to any supplicant, equally and without discrimination."
The statement, noting the "incisive but inevitable responses of sons of Asanteman to the attack of their beloved King," called on all Ghanaians to join in the condemnation of the "very discourteous and disrespectful attack on the Asantehene."
"It is equally proper to advise our aggrieved brothers to tamper the rightful vexation with a little forbearance," it added.
Following the release of the report of the Georgina Wood Committee, tasked to investigate the case of a missing cocaine on a fishing vessel at Tema, some radio commentators questioned why Otumfuo Osei Tutu was not invited. To answer questions relating to the mentioning of his name in a tape recorded conversation of a meeting involving the Director General of Police Operations now on leave, ACP Kofi Boakye and some suspected drug barons.