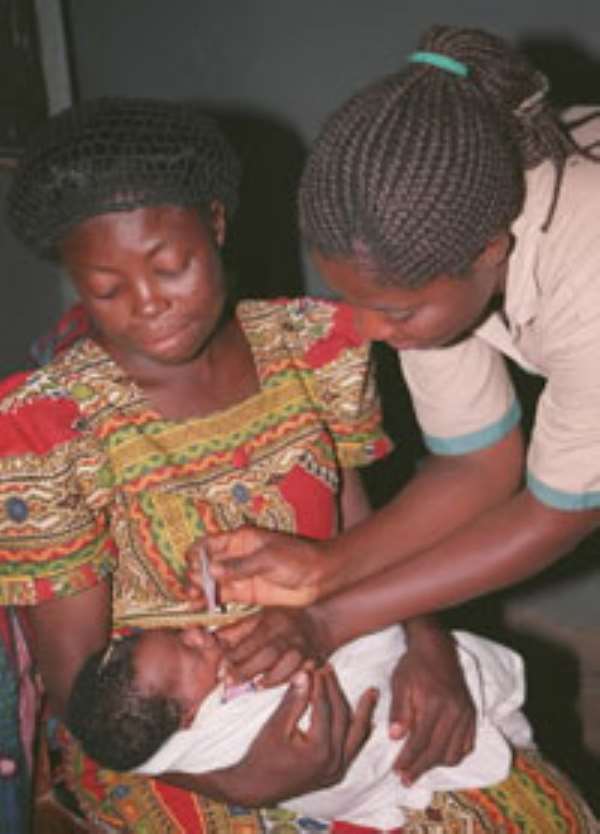 Vice President Aliu Mahama on Tuesday called on countries bordering Ghana to intensify their fight against diseases notorious for infant mortality such as poliomyelitis (polio), measles and malaria to boost national efforts to eradicate the scourge.In Ghana, statistics show that within the last two decades deaths due to vaccine preventable diseases have fallen below that of non-communicable diseases mainly due to the effectiveness of the Expanded Programme on Immunisation (EPI),' he said.
Vice President Alhaji Mahama made the call in Koforidua in the Eastern Region, when he launched the 2006 Measles/Polio Campaign, which would cover children below five years and would be on the theme: For Healthy Childhood, Lets Fight Measles, Polio and Malaria. He said some 80,000 preventable deaths among children under five still occurred, through health problems such as malaria and malnutrition.
'Fortunately studies have shown that the use of insecticide-treated nets can reduce child mortality by about 20 per cent, while the provision of vitamin A supplements every six months can also reduce child deaths by 20 per cent.'
Vice President Alhaji Mahama said some 2.1 million long lasting mosquito insecticide treated nets would be distributed nationwide with the hope of saving about 52,000 lives during the next three years. He said the National Integrated Child Health Campaign would also kick-start a decline in child mortality.
Vice President Alhaji Mahama said Ghana could boast of the fact that no infant death due to measles had been recorded since 2002, while polio cases had been absent since 2003.
He expressed dissatisfaction about the vile campaign launched by some community opinion leaders to prevent children from taking advantage of the National Immunisation Programme.
Some have even gone to the extent of misinforming mothers of dangers of immunisation. All these can contribute to serious setbacks which we cannot afford to spend time and resources to manage,he observed.
Major Courage Quashigah (rtd), Minister of Health, said the last Demographic and Health Survey indicated that childhood death had increased.
He said infant mortality rate increased from 57 deaths per 1,000 live births in 1998 to 64 in 2003, while under five mortality increased from 108 deaths per 1,000 live births to 111 over the same period.
'These increases have raised a lot of concerns about the effectiveness of our existing strategies and have called for the need to review how child health services are packaged and delivered,' he said. Major Quarshigah said Ghana had been certified as a polio free country hence the need for the Ministry of Health to maintain the record for posterity by stepping up efforts to immunise every child against the disease.
Mr Yaw Barimah, Regional Minister, lauded the immunisation campaign, saying one out of every nine children die before they attained the age of five. Dr Joaquim Sawek, WHO Country Representative, said child survival mechanism should be an integral part of the national culture. Dr Kwadwo Odei Antwi-Agyei, National Programme Manager of the EPI, said Ghana experienced a setback in the fight against polio in 2003 when eight wild polio viruses were recorded.
He said 162 billion cedis would be spent on this year's immunisation campaign, which involved an average cost of 27,000 cedis per child immunised. Dr Antwi-Agyei said 9,505 vaccination points would be established nationwide for the exercise. 17 Oct. 06