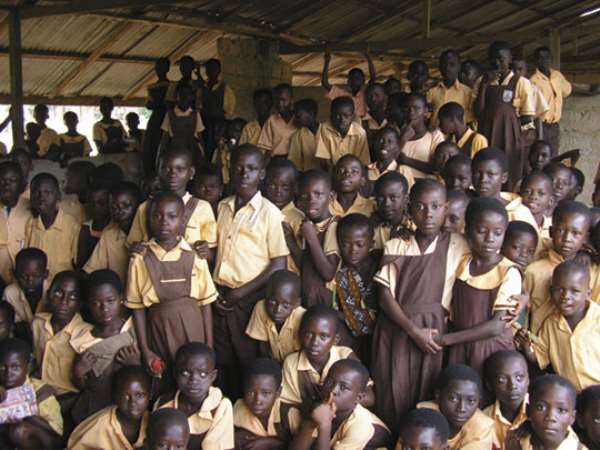 Retired educationist Alex Tetteh-Enyo who is also a former Director General of the Ghana Education Service (GES) has cautioned against the proposed re-introduction of the shift school system because it will negatively affect the quality of basic education.
According to him, though intended to solve a problem, the shift system would rather compound the problems of the country's basic educational system.
Increased enrolment in schools, necessitated by the introduction of the capitation grant and FCUBE, according to GES officials informed the decision to re-introduce the system. Under the system, basic school children will attend morning and evening classes as well as have classes in community halls, church auditoriums, and under any available shade within the schools' premises.
Deputy Director General of the GES Mr. Bannerman Mensah in an interview with the dailyEXPRESS said the increased enrolment is putting serious pressure on the few existing structures in the schools. It is also making it difficult for both teachers and pupils to enjoy smooth and sound academic pursuits.
"At the moment, the structures in the schools cannot support the growing numbers and since it is impossible to immediately put up the needed classroom blocks, we are left with no choice than to let them begin their classes at any available space and even under trees where necessary" he lamented.
He went further to say that they have no choice than to bring back the shift system.
"… the shift system! It was phased out for some time now but we have decided to go back to it as an interim measure. As I said, when more classroom blocks are built, we will phase it out again. But for now, yes, we are considering going back to that policy."
Mr. Tetteh-Enyo who is currently the Member of Parliament for Ada in the Greater Accra Region however says the decision shows that we still do not learn from the past.
"It is appropriate to say that people have not learned from the past. It is unfortunate; we are still repeating the problems of rushing into educational reforms. But human beings don't want to wait. We want development immediately but sometimes, we should not be too critical. The situation is not the best, but we must contend with it. "
He told the dailyEXPRESS that when the PNDC government begun the educational reform programmes in 1987, it was for the same reasons. But such measures according to him are always temporary.
"It is not a permanent solution… but it will affect the quality of education, create inconveniences for both teachers and pupils and also lead to pupils playing truancy and not going to school," he said.