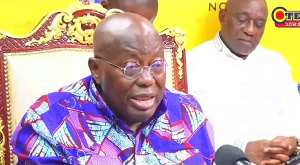 The Constituency Chairman of the Kwadaso branch of the National Democratic Congress (Ndc) Mr Issah Moro has said the advisors of President Akufo-Addo must always remind him to speak with caution when addressing Ghanaians.
Speaking to the correspondent in an interview, Moro bemoans the recent provocative comments by the President.
Referring to the comments the President made on the Otec FM, chairman Moro said the words that the President used were unfortunate.
"How can a whole president of a country could go to the extent of using such words on residents of NPP stronghold saying 'l don't care. They can vote for the NDC if because l have not constructed their roads.'"
Chairman Moro stated, "as a leader you are supposed to accommodate some issues. Because some utterances from the citizens could likely provoke you on whether you are performing or a failure.
"In other words, the citizens also have the right to criticize if they feel that their demands are not met by the government.
"This is the reason why every leader should be ready to accommodate the views of the citizenry on whether their views are relevant or not and take action."
According to the NDC stalwart, it is against this background that he is appealing to the Members of Council State and the religious leaders to advise the President to always control his tongue when addressing the public.