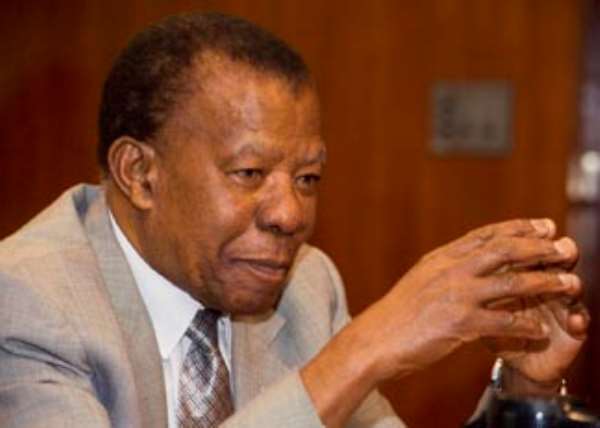 Quett Ketumile Masire
THE University of Ghana will host former Botswana President, Quett Ketumile Masire, from Monday October 16 to 20 in a special programme for former heads of states.
President Masire's visit is part of a programme designed by the Boston University in the United States for past African heads of state and presidents, to demonstrate the contributions they can make as statesmen after leaving office.
Known as the African Presidential Archives and Research Centre (APARC) programme, it works with universities in the USA and Africa to promote the contributions of the former presidents to society. This is the first time the University of Ghana, as an affiliate institutions, is hosting a former foreign president.
A statement from the university said during the visit President Masire will pay a courtesy call on President J.A. Kufuor and former President Jerry John Rawlings, his colleague-participant in the APARC programme.
The release said President Masire will tour the university and interact with principal officers and faculty members.
"He will lead a lecture session on "Health and Development in Africa" with faculty and a class of graduate students from the Political Science Department and the Legon Centre for International Affairs," it indicated.
It said the major highlight of President Masire's visit will be a Special Public Lecture to be delivered on Tuesday, October 17 at the Great Hall of the university on the topic, "Leadership and Botswana's Development." He will speak of his experiences in solidifying his country's sovereignty and dramatic socio-economic development which has made it an economic giant in Africa.