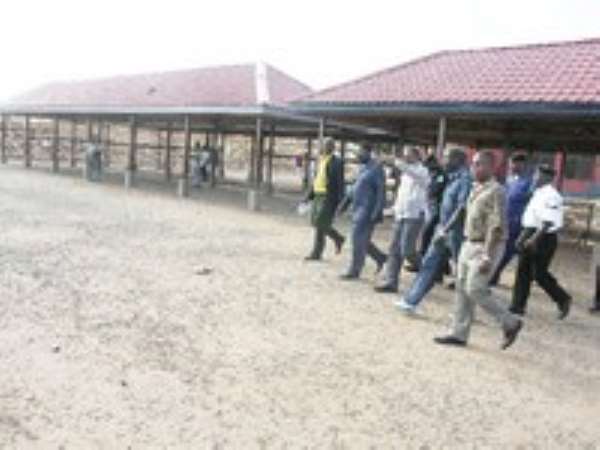 "PEDESTRIAN Shopping Mall," is the name to be given to the new hawkers market being constructed at the Kwame Nkrumah Cir-cle by the government for people who sell along the streets of Accra.
Stanley Nii Adjiri-Blankson, Mayor of Accra, who announced this in Accra on Thursday, said that name was adopted because the tag 'Hawkers' Market' sounds negative.
He was addressing a delegation from the Bayelsa and Kano States of Nigeria which is in the country on a four-day international exchange programme.
During their stay, the 12-member delegation from the Bayelsa State Labour Council of Trade Union Congress and Kano State House Committee on Labour and Productivity will, among other things, study the Accra Metropolitan Assembly's approach to dealing with sanitation and the problem of street hawking in Accra.
Nii Adjiri-Blankson said the market will be ready by the end of the month after which, "street hawking will not be entertained in this city any longer.
"If a trader does not get space to work in the new mall, there are 26 or more markets within the metropolis where that person can trade. It will be an offence to sell along the streets with effect from November."
The Mayor said the new market will boost the AMA's effort at solving the sanitation problems in the country, since the hawkers activities will be centralized and controlled.
"On the streets where the hawkers operate, they throw litter about, putting a lot of pressure on our overstretched staff to keep the metropolis clean. In this new market, we can control and regulate their activities."
Mr Blankson said the new market had been designed to contain a police and fire station a health centre, a warehouse and a kindergarten to ensure that traders operate in comfort.
"We will provide every trader with an identity card so that we can identify those who will enter the place to indulge in criminal activities."
Habib Hassan, chairman, Labour and Productivity at the House of Assembly in Kano State, who led the delegation, said hawking had been a major problem for the state adding "we will go back and sell this idea to our law makers and implementers."
Mr Chris Egai, secretary of the Nigeria Labour Congress at the Bayelsa State Council praised Nigeria and Ghana governments for promoting the regional integration.