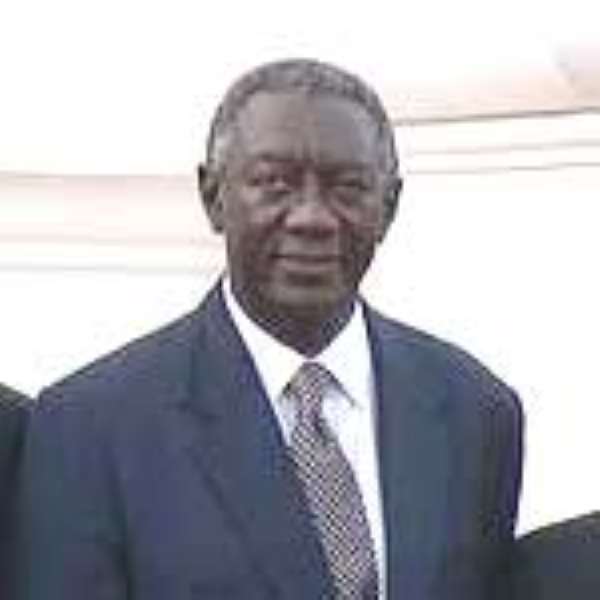 President John Agyekum Kufuor
President John Agyekum Kufuor has congratulated Ghanaian cocoa farmers for the all time record cocoa production of 740,457 tonnes during the 2005 to 2006 crop season.

The estimated production for the season was 550,000 tonnes. "Ghana will forever be grateful to you for doing so well for the economy," President Kufuor said when the National Executive of the Cocoa, Coffee and Sheanut Farmers Association called on him at the Castle, Osu in Accra, yesterday.
Mr Isaac Osei, Chief Executive of the Ghana Cocoa Board (COCOBOD), Nana Akuamoah Boateng, Omanhene of Kwahu Traditional Area and the Board's Chairman and other top ranking officials of the COCOBOD accompanied them.
They were at the Castle to express their appreciation to the Government for the attractive producer price and other interventions including the mass spraying and the introduction of hi-tech fertilizers, which had tremendously helped to boost output and returns.
Cocoa farmers are now being paid about 72 per cent of the Export price, almost a double of the 40 per cent they were taking about five years ago. President Kufuor said they deserved what they were getting as the Government believed that "a labourer should be worth his pay".
Responding to a plea by the farmers to help to revive the coffee and sheanut market, he said, the Government had taken steps in that direction and that the COCOBOD would ensure that the producers and buyers agreed on the producer price.
Mr Osei had earlier informed President Kufuor that owing to the higher than expected price on the international market, the Board, would pay a bonus of 17,140 cedis on each bag of cocoa sold by farmers. The COCOBOD had projected to earn 1,450 dollars per tonne of cocoa on the international market during the season but this was exceeded, as the actual price was 1,487 dollars per tonne.
He said as a result of the good performance, the 2006 to 2007 cocoa producer price for farmers has been fixed at 9.150 million cedis per tonne as compared to the last season's nine million cedis per tonne.
Nana Yiadom Boakye, the National Chief Farmer, said they appreciated the good things the Government was doing for them and asked that the mass spraying exercise and the distribution of the hi-tech fertilizers should be sustained.