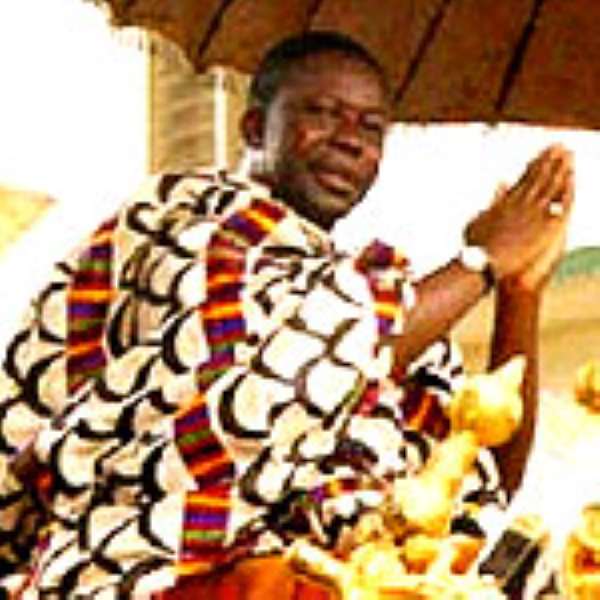 Otumfuo Osei Tutu II, the Asantehene
Otumfuo Osei Tutu II, the Asantehene, has asked foreign mining companies operating in the country to desist from bringing down engineers and other skilled workers from outside to carry out jobs which Ghanaians can perform.

He said mining companies importing foreign expertise were not doing the country and its people any good and urged them to use the local expertise.
A statement from Manhyia yesterday said Otumfuo stated this during a courtesy call on him at Manhyia Palace by the management of Newmont Ghana Gold Limited.
Newmont is operating in the Ahafo area of the Brong Ahafo Region, which is under the traditional authority of the Asantehene.
Otumfuo Osei Tutu said, one surest way of helping to improve the standard of living of the people in mining communities was to offer the youth jobs.
The Asantehene, who accepted an invitation to attend the official inauguration of the company in Ahafo in November, urged the management to co-operate with the chiefs to ensure that the company fulfilled its social responsibilities to the communities to avoid conflict with the people.
He reminded the Newmont management about the way poor environmental practices by some mining companies in the past created problems for them.
Otumfuo Osei Tutu noted that a number of mining companies which operated in the country in the past ended up polluting water bodies, among other poor environmental practices.
The Asantehene, therefore, stressed the need for the company to learn from the past and ensure that the health of the people was not compromised through environmental degradation.
The Vice-President of African Operations of Newmont Ghana Gold, Mr William M. Zisch, informed the Asantehene that the company had so far invested $500 million in its operations. He said an initial number of 1,500 workers, mostly technicians, had been engaged by the company but gave the assurance that many others would be engaged in the course of the operations.
Mr Zisch thanked the chiefs of Ahafo for the support they had so far given the company and expressed the hope that the relationship would be improved upon. On behalf of the Company, Mr Zisch presented ¢50 million to the Serwaa Ampem HIV/AIDS Foundation, an NGO headed by the wife of the Asantehene, Lady Julia Osei Tutu.