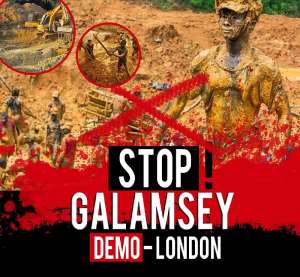 Ghanaians Against Galamsey (illegal/irresponsible mining), is made up of concerned Ghanaians living in the UK who are deeply troubled about what is happening in our beloved Motherland on the destruction, degradation, toxic pollution and contamination of our environment and waterbodies which is also impacting the lives of some newborns in certain communities.
We have therefore come together to call on all concerned Ghanaians living in the UK to join us demonstrate against Galamsey on Friday 18th November 2022 at the Ghana High Commission, 13 Belgrave Square, London SW1X 8PN, from 10am to 12noon.
For credible, up to date news follow us on:
Facebook – Ghanaians Against Galamsey UK Twitter - @ghag_uk
Please do not hesitate to contact any of the conveyors and details are as follows: Mr Barima Nana Yaw Buobu (Not Available for Interviews)
Mrs. Marie Amoakwa-Boadu - +44 7732465239 (WhatsApp) Mr. Yaw Ntem Afriyie – +44 7578 458121
Dr. F.O. Ren - + 44 7404 732733
Thank you for your support and co-operation in this matter.
Email: [email protected]