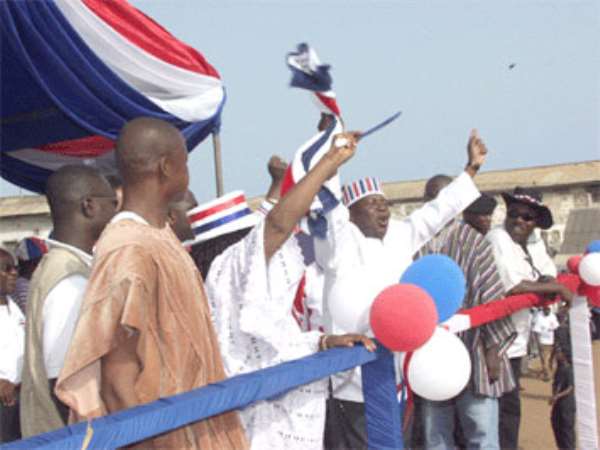 The other dinosaur which is having its toll on the Ghanaian is governments which promise its present and future generations nothing but a bleak and blighted future. In the midst of the euphoria that culminated the assumption of the reigns of power by the NPP, the vice president mounted the platform and made certain sweeping and tendentious remarks which some political pundits will subject to a litmus test in the light of contemporary happenings. That statement by the Vice President sought to create the impression that unlike the NDC, the NPP will carry on with its mandate without any trace of corruption. That statement was in keeping with the then avowed objective of the NPP; to completely unearth the roots of corruption in Ghana and from the Ghanaian psyche. So in our typical northern accent, the Alhaji told the teaming supporters that they came in their own Mercs, Porsches, Lamborghinis and land cruisers. And he sought to assure the supporters that unlike his own brother (Hudu Yahaya),who, before becoming a politician was a "mere" teacher who couldn't boast of a "ponko abodam"(phoenix bike), he (Aliu) could boast of a fleet of cars. So that puts him on a better pedestal not to be as "corrupt" as his brother. I believe that when he made those pronouncements, he was fully aware also of the fact that the ex-president himself was a mere junior officer in the military who could not afford "yoke gari" let alone "awache!". However what the Alhaji didn't take cognisance of is the biblical injunction which says "boast not thyself of tomorrow for thou knoweth not what a day bringeth forth".
To some discerning brains, those assertions were nothing but a clear manifestation of the man's naivety when it came to politics. But was he naïve or those comments were just the prattles of an apparent introvert imbued with the desire to impress an over- exuberant expectant crowd? Whatever his purpose may have been, coming events have cast their shadows. FIVE years down the memory lane, contemporary events have either vindicated the man or have taken the piquancy out of the pronouncements which may have earned him a standing ovation.
The Alhaji was right in his assertions that most of them came in their jaguars and what have you. But when he made those pronouncements, some of us held on to one belief; those who assume the reigns of power with empty stomachs could be better in terms of malfeasance than those who came "fully loaded". And you know why? The reason is simple. Those who come in as mere paupers would take substantial time to get to know how to sink their hands deep into the national coffers. For example, I believe that my northern brothers were still eating their "tuo-zaafi" some five years in government before they discovered the continental dishes in the precincts of Shangri la hotel. And I believe also that Rawlings had a constant stock of "akple" some years after being President. But in the case of the Bartels' and Aprakus, I am not sure. These were business people who knew all the posh hotels well ahead of time. So for them it were not to take them another decade to get to discover where the continental dishes were served; it were not to take them centuries to get to know there is a label called Giorgio Armani or D & G. That is where the difference is.
So some of us were not surprised when, barely a year in office, allegations of corruption against ministers started emerging. Fact is that some ministers of the previous government were corrupt, no doubt about it. However in the case of some of them, it took them two good decades in power to become that corrupt and that is only in keeping with Lord Acton's assertion that "power corrupts and absolute power corrupts absolutely." Having been in power for well over 20 years, there is no denying the fact that even the most incorruptible man will get corrupted by the invisible hands of power. K W ISAAC LONDON Views expressed by the author(s) do not necessarily reflect those of GhanaHomePage.