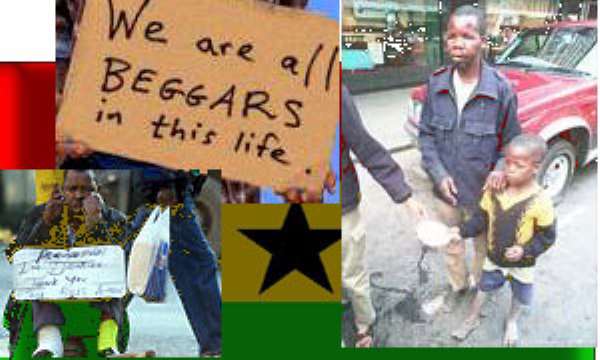 Globalization And Inequality: The Economic Dilemma of Multi-National Loans to Third World Countries. Is Ghana turning into a charity-begging bowl? Anytime one tunes in to Ghana News Ghana is receiving some kind of loan from overseas. We may thus be tempted to conclude that Ghana is credit worthy since nobody will loan to anyone who does not have the potential to pay back. But the question is: do we need to collect all these loans especially when we have to pay interests? Mr. Yaw Osafo-Maafo, Minister for Finance said in February 2004 that the total expected debt service due for 2004 for both Government and Government guaranteed debt was about 440.8 million dollars. Out of this, he said, the total Government debt due was 346.25 million dollars, made up of 255.43 million dollars and 90.82 million dollars for principal and interest, respectively. The minister also remarked that of this total, only about 154 million dollars would be paid to the creditors.
Excessive debt is one of the heaviest burdens to economic growth for African countries. Between September and December alone, for example, the following LOANS were recorded:
In September 2004 Mr. Yaw Osafo-Maafo, Minister of Finance and Economic Planning said that the government utilized 20 per cent of the HIPC Fund to reduce the country's domestic debt. To date, he said, "HIPC resources used to retire part of the domestic debt amounted to 526 billion cedis." He gave the breakdown as 80.6 billion cedis in 2002, 144.0 billion cedis in 2003 and 301.4 billion cedis in 2004(GNA). Ghana and China in December 2004 signed a 20 million-Yuan grant agreement (2.4 million dollars) for the implementation of priority projects to be mutually agreed on by the two governments. The 2.4 million-dollar grant brings total Chinese government assistance to Ghana to about 135.6 million dollars, including interest free loans (GNA).According to Business News of Tuesday, 14 December 2004.The OPEC Fund for International Development signed a $5 million loan agreement with Ghana to co-finance the re-commissioning of the Accra-Tema railway line. The project was expected to rehabilitate the abandoned Accra-Tema rail line, which totals 31.7 km in length. Works was to include refurbishment of rails, sleepers and railway cars, and modernization of signaling and telecommunication equipment. Nine railway stations were to be renovated, and safety and security features such as fences and pedestrian crossings built. A stock of replacement parts and tools were also to be procured In October 2004 $103 million was approved (ahead of the scheduled World Bank Board meeting for Ghana's water sector reform program. (GNA).
Figures available at the Bank of Ghana reveal that out of the total external debt, US$5.31 billions are long-term, US$696.07 millions are medium term and the remaining US$ 143.25millions are short term loans. These figures translate to about 58 trillion cedis, making up the external debt stock alone. As such, each of the 20 million Ghanaians might have to pay 3 million cedis each if the debt were to be paid today. If the internal debt is added, the number may reach an alarming level. According to the latest statistics available (2003 figures), Ghana spent $2.192 billion including capital expenditures and earned revenue of $1.943 billion. [Thus the over $2.6 billion remittances form Ghanaians in Diaspora should not be taken lightly]. Ghana had $1.469 billion (2003) reserves of foreign exchange & gold and $7.398 billion (2003 est.) in external Debt excluding $6.9 billion (1999) in economic aid from other recipients.
Ghana's total external debt situation had risen sharply from two billion dollars in 1984 to over seven billion in June 2005. Currently, total external debt stock as of December 1, 2005 stood at US$ 6.3O7 billion.
DEBT RELIEF
In 2004 Ghana signed the Development Finance Agreement at the World Bank in Washington, DC to formally reach the HIPC completion point and the beginning of cash-inflow from bilateral and multilateral agencies. The IDA as a result will provide debt relief amounting to U.S. $1.4m in debt service to be delivered through a 67 percent reduction in debt services on IDA credits from 2002 to 2022. The IMF will also provide debt relief of U.S.112 in NPV terms on payments falling due to the IMF during 2002 to 2009. The remaining bilateral and multilateral creditors are also expected to provide their share of relief required under the Heavily Indebted Poor Countries (HIPC) relief under the framework of the Paris Club HIPC initiative. The International Monetary Fund and the World Bank's International Development Association have agreed to forgive $3.5 billion in debt for Ghana after deciding the country had followed through on its pledges under the Heavily Indebted Poor Countries Initiative. The International Monetary Fund (IMF) has since written-off 100 million US dollar of Ghana's total debt
As noted by Mr. Opoku Agyemang Prempeh, Managing Director of Lakayana Company, "The cancellation of Ghana's debt by the international community and donor countries is not an opportunity for the country to continue borrowing from the donors and other countries. Instead, the government should take advantage of the relief and re-organize the country's revenue mobilization machinery to help generate adequate internal revenue for development." The debt relief is supposed to enable Ghana to spend more on priorities such as health and education, rather than debt payments. Is this the case now?
As a nation, Ghana should be careful it is not turned into a charity-begging bowl. In his book the Confessions of an Economic Hit Man Perkins (2004) warns Third World countries like Ghana (who takes every kind of loan)to be on guard when anyone says, "I'm from the World Bank, or the IMF, or the consulting firm, or the engineering company and I am here to help you."
ECONOMIC EFFECTS OF LOANS
Perkins (2004) confesses he was for many years an "economic hit man" in the world of international finance; a function he performed by persuading Third World countries to take on (loans) or large public works projects. Perkins (2004) maintains that the process not only enriched US corporations, but also put Third World countries in heavy debt, effectively turning them into American client states. As Chief Economist and Director of Economics and Regional Planning at Chas. T. Main, Perkins says his primary job was to convince Less Developed Countries (LDCs) around the world to accept multibillion dollar loans for infrastructure projects and to see to it that most of this money ended up at Main, Bechtel, Halliburton, Brown and Root, and other U.S. engineering/construction companies. The loans left the recipient countries wallowing in debt and highly vulnerable to outside political and commercial interests. He documents his experience in the NEW YORK TIMES bestseller CONFESSIONS OF AN ECONOMIC HIT MAN. Perkins (2004) has revealed in the preface how many publishers had refused to publish this book for fear of loosing their jobs. Now that his book is out and it is making lots of waves—#1 on Amazon its first week in publication is Ghana government going to reconsider her insatiability for foreign loans?
The Economic Dilemma of foreign loan
In an interview with David Brancaccio John Perkins paints a mental picture of the hows and whys, the nuts and bolts, of how the Empire exploits and enslaves people around the world under the guise of helping them. John Perkins gives new meaning to the words "I'm from the government, and I am here to help you." When asked to name the top 5 or 6 companies which are presently involved in the kind of fraudulent exploitation described, Perkins said "Of course we all hear about Bechtel and Halliburton. In addition, name any company that does lots of international work and/or uses World Bank money to build large projects, and you've got it. In the Preface I mention Monsanto, GE, Nike, GM, Wal-Mart—good for starters, but the list is long. Of the 100 biggest world economies today, 52 are corporations, not governments. They all participate in this."
What about developing Ghana's infrastructure, Mr. President? [This author will elaborate on this in another article]
Ghana, thanks to HPIC has been receiving some debt relief. Germany has cancelled 16.4 million dollars (145 billion cedis) Ghana owed her after bilateral talks at the Castle, Osu between President John Agyekum Kufuor and visiting German Chancellor Gerhard Schroeder. According to the Graphic, Ghana's debt stock then reduced from $7.1 billion in 2003 to $6.1 billion as of Wednesday, December 15, 2004. Currently (2005), debt relief enjoyed by the country from her donor partners stands at $1.355 billion. A Minister of State at the Ministry of Finance and Economic Planning, Dr Samuel Nii Noi Ashong, made this known in Accra after the signing of a $2.4 million grant agreement between Ghana and China.
In September 2004 Canada cancelled all debt owed it by Ghana. The announcement by the Canadian Minister of Finance Mr. Ralph Goodale contained in a statement issued in Accra by the Canadian High Commission said, about 4.2 million Canadian dollars (about 28.6 billion cedis) in bilateral debt owned by Ghana has been wiped out. This is in addition to 17.2 million Canadian dollars (about 117.13 billion cedis) of Ghana's debt that Canada has already forgiven through the Paris Club. The statement said this brings Canada's total debt cancellation to Ghana to 19.1 million Canadian dollars (about 130 billion cedis).
In December 2004 The Norwegian Government on Wednesday cancelled Ghana's debt of 11.04 million. He said the debt relief of 100 per cent cancellation of Ghana's bilateral debt to Norway would serve as a supplement, rather than result in a reduction in other assistance to developing countries (GNA). The Government of Italy has cancel the outstanding stock of about $26.6 million owed her by Ghana. Ghana's debt to Paris Club creditors has been reduced from US$ 1.94 billion to US$ 300 million.
The borrowing continues. In Aug 28, 2005 the Export and Import (Exim) Bank of India extended a loan of USD 60 million to Ghana for building a presidential house (Peduasi Lodge or Flagstaff House) costing USD 30 million and another USD 30 million is for rural electrification. The loan is half of $60m from the Indian government (- the rest is to be used to supply electricity to rural areas). The project requests Ghana Parliament to approve US$30 million for the construction of offices and residence for the President with absolutely no project appraisal document or design and costing of the project. On what basis therefore do MPs approve a loan of US$30 million as being sufficient or insufficient for execution of the project? Why do we keep on borrowing and relying on loans as a country without a solid plan? What has become of our politicians? Our Oxford and Cambridge graduates; Harvard, Yale and MIT scholars and all the academic gurus and think tanks? In an unbelievable admission of incompetence, irresponsibility, and what Ghanaians refer to as "I don't care-ism", the Minister of Finance, Mr. Yaw Osafo-Maafo, admitted to Joy FM radio station in an interview that he signed a German debt-relief agreement without reading it. Mr. Osafo-Maafo could not tell whether it was the interim debt relief of US$16.4 million in recognition of our HIPC performance that was written off, or whether it was the total debt Ghana owes to Germany totaling about 230 million euros that was written off, explaining that he was now seeking clarification from the German Embassy in Accra. The Minister variously explained the reason for his irresponsible behavior on the grounds that: (i) The Germans sprang it on us as a surprise ;(ii) The original text of the Agreement was in German ;(iii) It was a relief so the country lost nothing by signing a "giveaway". Really? Hear what the author of the Confessions of an Economic Hitman John Perkins had to say in an interview with Rosemarie Jackowski, an advocacy journalist living in Vermont.
RJ: Within the past few days there was a news report that Argentina had considered simply not paying its debt to the World Bank. It seems to me, that that is the best way to fix the problem. What would be the downside, if the debtor nations just refused to pay? JP: You asked the trillion dollar question! During recent elections, six Lat Am nations have voted in candidates opposed to US and/or corp globalization: Argentina, Brazil, Chile, Ecuador, Uruguay, and Venezuela. Many countries are discussing not paying their debts—in fact saying it is not really their debt at all but rather debt imposed on them by the corporatocracy and a few corrupt politicians in their countries who were our puppets. What if they all refused to pay? It is a big "What if" and not likely to happen given the current economic realities and of how most of the world views our power and our ruthlessness.
All we hear is explanations upon explanations. What about developing Ghana's infrastructure- the human gold and the natural and mineral resource? Unfortunately we don't hear news about how the government is going to develop or developing our infrastructure. All we hear are political 'feel good speeches' like the economy is improving, inflation is reduced, we will do this we will do that etc. Recently [ ] the Minister of Finance in a public address said the people complain there is no money in the system but people are building here and there and riding in posh cars. Is this befitting a public address for the incumbent? On many occasions government officials have reiterated "the government cannot do everything." Folks don't you think the explanations are becoming too many for our government? All we need is ACTION. What we are asking for is not explanations but LAW ENFORCEMENT.
And what do we mean by ACTION? The problem is not for Ghana getting more loans but "WHAT DO/DID THEY DO WITH THE MONEY?" [Let me borrow Kwaku Danso's analogy here]
"Engineers work with VISIONS, PLANS AND ACTION Schedules. So far we are disappointed because when we are given $103 Million for urban water project, $36 Million, then $125 Million and a total of over $1 Billion for Poverty Reduction Strategy we don't see any visible impact. Let me show you what will happen if you gave that to me (Kwaku Danso) or any of our friends in the Diaspora, this is what would have and should happen as the FLOW OF PROJECT PLAN /ACTIVITES:
1. Identify all rural areas with water Problems –Note to set up a special phone and fax lines for this Project and publicize it /Project Manager(s) appointed – week 2
2. Obtain Cost estimates from Global suppliers based on estimated population and grown rate to get estimate for 10-20 years. - week 3
a. Create Bidding Process with tight specifications for work – Legal staff (1);
b. Order Water Pumps - week 5
3. Hire winning contractors with confirmed bonds and qualification checked – [specify use of local workers as much as possible] - week 7
4. START PROJECT – Pumps delivered and tested /Equipment for contractors hire ready/ - week 10
5. COMPLETE PROJECT AND open to public use: - week 15
I can tell you that any Project Manager will come close to what I have done and they don't have to be the civil engineer. This is what is called EXPERIENCE!! This is what effective leadership does! Working from within is not the sole or even the strategy to solve Ghana's problems (Kwaku Danso, President, Ghana Leadership Union.10/18/05 in GLU forum) Okyere Bonna, Secretary, Ghana Leadership Union, Inc Views expressed by the author(s) do not necessarily reflect those of GhanaHomePage.