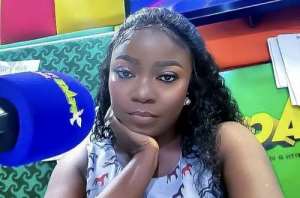 Afia Pokuaa, a popular female broadcaster with Accra-based Okay FM known affectionately as Vim Lady has slammed parents who failed to teach their children their local dialects.
She said most parents have abandoned their native languages such as Ewe, Twi, Hausa, Dagbani and others and resorted to English to train their children.
The journalist told parents to be proud of their culture in a Facebook post today, October 7. She attached a video of a white lady who has been married to a Ghanaian but finds delight in teaching her young daughter the Twi language.
"Even obroni is teaching her Ghanaian daughter Twi. You are busy speaking fake English and doing abrofosem.
"Teach your children GA, EWE, DANGBE, DAGBANI, HAUSA, AKAN, etc.
"Be proud of your culture," she wrote.