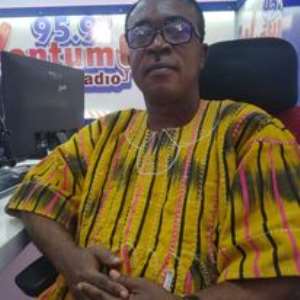 National Organiser of Friends of Bawumia, Hon. Rev. George Opoku Acheampong
National Organiser of Friends of Bawumia, Hon. Rev. George Opoku Acheampong has called on President Akufo-Addo to as a matter of concern reshuffle his appointees claiming some are 'sleeping' on their jobs.
According to him, grassroot members of the party are complaining bitterly due to neglect by appointees who seem not to care about the NPP's Break the '8' agenda.
Rev. Opoku Acheampong also charged the party's new national executives to access all appointees and recommend non-performing ones to President Akufo-Addo for their removal from office.
He disclosed this in an exclusive interview with this reporter in Koforidua.
According to the experienced communicator, the actions and inactions of such appointees with parochial interest will have a dire effect on the NPP's chances of breaking the '8' year political jinx of the country.
He was of the notion that the time has come for the President to act and ensure some of his appointees are either reshuffled or relieved of their positions to do away with the anger that has engulfed many party supporters especially the grassroot.
"Do you know some MMDCEs have abandoned party foot soldiers because they have it at the back of their mind that they would not be in position after the tenure of the government. They are just interested in seeking their personal gains instead of thinking about the welfare of the grassroots," he stressed.
Rev. Opoku Acheampong made a shocking revelation of some regional party executives who have on several occasions dumpen his spirit with comments that the NPP will lose the 2024 general elections, hence there is no need to spend on party activities.
"A regional executive was bold to tell me that the NPP will lose the 2024 elections and that he is preparing to secure his future than wasting the resources he has on a dream hard to come by. People are just looking out for what they can keep for future use and not about the party winning the 2024 elections," he laments.
On the issue of a flag bearer to lead the NPP into the 2024 elections, Rev. Acheampong emphasised that Vice President Alhaji Dr. Mahamudu Bawumia remain the best choice to lead the party if the party truly want to break the '8'.
He took the opportunity to wish the second gentleman of the land a happy birthday full of long life and dream come true.