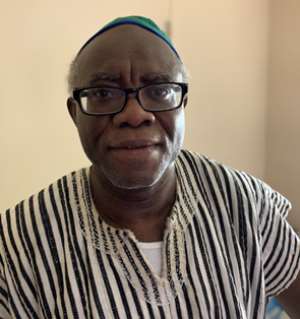 I sincerely do not recall any other time in Ghana's Fourth-Republican history, when the Auditor-General's Department has conducted a comprehensive auditing of the financial accounts and expenditures of the various Ministries, Departments, Agencies and state-owned enterprises and promptly published the full details of such yeomanly work. It is indubitable that such auditing transparency owes a remarkable part of its resonant success to Vice-President Mahamudu Bawumia, the crusading champion of fiscal and administrative transparency in the era of digital technology. So, what Ghanaians ought to be presently celebrating is the fact that, finally, we have been fully let in on the details of how people sworn and entrusted with the management of the people's money and other fiscal affairs have been doing.
Now, don't get me wrong, Dear Reader, there is absolutely nothing wrong with the decision to empower the Auditor-General and his six deputies and assistants, located all over the country, with both punitive and prosecutorial powers over those found to have been criminally derelict or neglectful of the privilege of public trust afforded them by the sovereign people of Ghana for which they are duly and regularly remunerated. Now, we can quibble over questions of salary equity and the general working conditions of these civil and public servants in another column. For now, however, what is most important to highlight is the fact that going to court to secure a judgment in order to have the Auditor-General empowered with punitive or prosecutorial powers, by a civil society organization such as #OccupyGhana, is not exactly what the proverbial doctor ordered. If such magisterial or prosecutorial powers are not already enshrined or entrenched in Ghana's 1992 Republican Constitution, then, I am afraid the Auditor-General, Mr. Johnson Akuamoah Asiedu, is being unduly forced to operate beyond his traditionally mandated terms of reference, as it were.
Of course, this writer stands to be corrected by those with more intimate and professionally specialized knowledge of the pertinent portions of the law where the post-auditing purview and conduct of the Auditor-General are concerned (See "Step Down If You Cannot Do Your Job – Akoto Ampaw to Auditor-General" Ghanaweb.com 9/5/22). Thus far, Mr. Akuamoah Asiedu has far more than passably demonstrated that he and his deputies and other senior administrative staff are perfect for the job and have performed as none of their predecessors are known to have done in the past. So, rather than being stampeded out of office, as some notable local legal lights are widely reported to be agitating for, the Auditor-General and his hardworking managerial staff must be commended and possibly even handsomely rewarded by the President, Nana Addo Dankwa Akufo-Addo.
And then, the President could prevail on the Office of the Attorney-General and Minister of Justice, Mr. Godfred Yeboah-Dame, to take up all matters pertaining to criminal negligence and the heinous dereliction of duty on the part of what Dr. John Osae-Kwapong, the renowned political scientist and fellow of the Ghana Center for Democratic Development (CDD-Ghana), described in a quite pellucid and authoritative article as the "Police Patrol" men and women who ought to have promptly intervened to prevent and/or preempt the sort of fiscal waste and gross misappropriation of the taxpayer's money as systematically and meticulously detailed by Mr. Akuamoah Asiedu and his administrative staff and associates.
In a country where the personal and professional safety and the security of the most hardworking and honest of civil and public servants tend to be invariably imperiled because they are routinely envisaged to be unreasonably raising the bar for everybody else, powerful and influential legal lights like Messrs. Akoto Ampaw, Samson Lardy Anyenini, Martin Kpebu and Kofi Bentil, to name only just a handful, ought to be equally sensitive and serious about promoting and campaigning for the safety and security of those who have selflessly and patriotically decided to put their very lives on the line, as it were, to make our governance culture and the quality of our lives as a nation worthwhile and emulative to both our ECOWAS neighbors and the Greater Continental African Region at large.
In sum, we need to radically move away from myopic and ad-hoc thinking to realize the far-reaching and more progressive sizing up of the bigger and much more functionally comprehensive and organic picture. If any Head of Department has to be prevailed upon to promptly resign their post, the way that Lawyer Akoto Ampaw would have the rest of the nation believe, it is definitely the Controller and Accountant-General, and not the Auditor-General, from what we have learned so far, vis-à-vis the abject neglect and the apparent dereliction of duty on the part of the metaphorical "Police Patrol" team of First Responders and Arson Preventers. But even here, it is imperative for the relevant authorities to studiously follow the proverbial due process of the law.
*Visit my blog at: KwameOkoampaAhoofeJr
By Kwame Okoampa-Ahoofe, Jr., PhD
English Department, SUNY-Nassau
Garden City, New York
September 16, 2022
E-mail: [email protected]