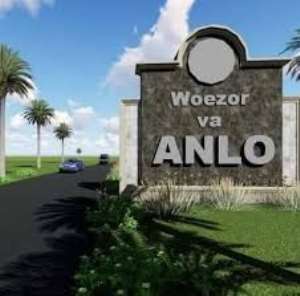 The disorder in Anlo chiefdom is seemingly a phenomenon that would not end soon, as issues fueling division, confusion and rivalry are unfolding to be highly political with the interests of governing New Patriotic Party actors in the confusion rearing their ugly heads openly once again.
Against a court injunction, and resistance of the Anlo Traditional Authority, a Torgbui Wenya III was outdoored as the Dutor (overlord or owner) of Anlo on the 13th of August, this year, 2022. On this purported coronation day at Tegbi, he said Anlo existed without head hitherto, thus his installation.
In the latest of events, the Volta regional chairman of the NPP, Makafui Kofi Woanya, declared that his government sees the leadership of Anlo to be unattractive to work with. According to him, the party has embarked on complicated modes to reorganize the existing structure to a favourable one that will boost development in the area. Mr. Woanya made these revelations while commenting on the adjournment of the contempt case against the defendants behind the purported coronation on Sandcity Radio, a pro-NPP community radio in Keta, yesterday, saying, "…who made somebody [Awoamefia] an overlord in Anlo… we are not going to allow that...we shall resist oppressors' rule [this is what we call] positive defiance. Who is more Anlo than us?" He wrongly claimed that the case was thrown out.
Mr. Woanya was confident that all court cases by the Anlo Traditional Council and some Anlo statesmen against their move will be torpedoed. "…we know that these things [court actions by the Anlo Traditional Council] will not fly, [they] will collapse, and it has collapsed", he claimed. He was quick to commend a group of party foot soldiers - the Progressive Youth of Anlo - for their attack on the Anlo Traditional Council in the past weeks. "...Progressive Youth of Anlo, keep up the work," he admonished them.
On his side, Philip Bokorgah, a personal aide to Mr. Woanya, and a regional communications team member say in the broadcast that the time has come to put things in the right position in Anlo chiefdom so that the right people will be given the opportunity in the dispensation.
It could be recalled that in 2007, under the tenure of Samuel Ahiave Kofi Dzamesi as the Volta Regional Minister, a similar attempt to crown one Francis Nyonyo Agboada (current V/R Council of State Member) as Awoamefia of Anlo, claimed five lives in the ensuing conflict.
Mr. Dzamesi, as the Minister for Chieftaincy and Religious Affairs in 2017, despite strong resistance and court actions by the Anlo Traditional Authority, proceeded to create two traditional areas (Aflao and Avenor) from the Anlo Traditional Area jurisdiction. That case is still before the Supreme Court.
Below is the link to the broadcast: