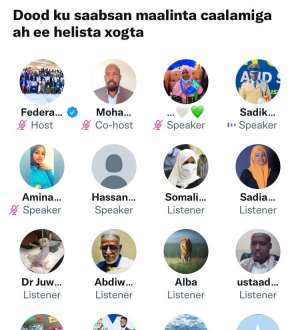 The Federation of Somali Journalists (FESOJ) has organized and conducted a virtual meeting to observe the International Day for Universal Access to Information -IDUAI- 28 September 2022.
The FESOJ Space online meeting has been attended by participants invited from the civil society organizations (SCO), the media outlets, senior journalists who previously worked for the International Media, prominent local journalists, the spokesperson for the Somali Federal Police Force, university students studying journalism and other influential figures from the public interested in discussing the key issue relating with access to information.
Mohamed Mohamud Adde, a former Senior BBC journalist moderating the one-hour-long online meeting, has pointed out that UNESCO has conducted a commemoration in Tashkent, Uzbekistan for the event focusing on the significance of access to information.
He briefly explained the UNESCO event and discussed the main themes of access to information and artificial intelligence, covering both benefits and risks, against the background of good governance principles.
The online session was aimed to be an opportunity for focusing on the global event indicating the basic rights to access information and discussing the main challenges limiting access to information in the background of Somalia and how to address those challenges.
The virtual meeting specifically discussed the main constraints the Somali media and journalists face, including restrictions on access to information, threats and insecurity, prevention from major events and the scenes of cases and denial of accessing the information on public interests.
The police spokesman praised the media and journalists' role and pledged support for bringing the police and the journalists closer for joint cooperation.
Hassan Barise, a senior journalist, suggested there is a need for providing joint training for the police and the journalists to facilitate dialogue between the security forces and the media, support the rights to information and the safety of the journalists.
The online meeting has illustrated accessing information is important for people's lives and development, and discussed the prevailing constraints and how to overcome them.