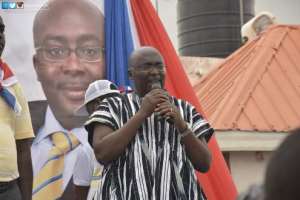 It is by no means a stroke of luck that a determined Walewale innate would rise through the ranks of academia. Of course, it is not surprising that our brothers and sisters from the Northern part of Ghana are well-known customarily for their hard work and dedication, H. E. Dr Mahamudu Bawumia is no exception.
I recall vividly in 2012 when the New Patriotic Party (NPP) lost the general election and had to challenge the results at the Supreme Court. Many Ghanaians like myself then were stunned by the analytical ability, articulacy and intellect displayed by Dr Bawumia in the court of law, a trend that gave me some memories which are deeply ingrained in my psyche. Not forgetting the popular 'you and I were not there' response that Dr Bawumia gave to Lawyer Tsatsu Tsikata.
Dr Mahamudu Bawumia and his team at the time after gathering and analyzing data available realized the elections were not transparent therefore proceeding to court to challenge the results was necessary.
Challenging the results at the Supreme Court was not only a means to test our democracy but also brought some reforms to our elections.
Dr Bawumia and his team, unfortunately, could not win the case, however, the petition presented to the court had exposed the need for certain electoral reforms which a document from the judges confirmed.
• The Voter's register must be compiled and made available to the parties as early as possible.
• A supplementary register may cater for late exigencies.
• The calibre of presiding officers must be greatly raised.
• The pink sheet is too elaborate, a much simpler one to meet the pressures of the public, weariness, and lateness of the day at the close of a poll etc.
• The carbon copying system must be improved upon.
• The Biometric Device System must be streamlined to avoid breakdowns and the stress on the electorate involved in an adjournment of the poll.
• Invalidating wholesale votes for insignificant excess numbers is not the best application of the administrative principle of the proportionality test.
The dissenting justices who held the view there were issues to be settled with allegations of overvoting, absence of presiding officers' signature and voting without biometric verification suggested the above reforms, all thanks to Dr Bawumia who did not allow himself to be dwindled by naysayers.