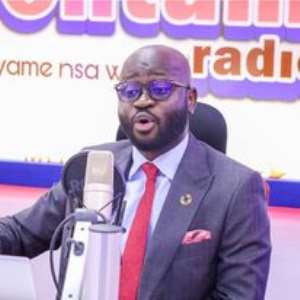 Deputy Director of External Affairs of the New Patriotic Party (NPP), Nana Asafo-Adjei
Deputy Director of External Affairs of the New Patriotic Party (NPP), Nana Asafo-Adjei has explained the issues regarding the purported "booing" of the President during his remarks at the Global Citizen Festival concert on Saturday.
He said the incident has been exaggerated by a section of Ghanaians.
According to him, the alleged but hyperbolic so called 'booing' was not orchestrated by sympathizers of the NDC. He noted that Ghanaians should not even attempt to make the opposition National Democratic Congress (NDC) feel they are special.
"As a matter of fact the President, in his usual 'Showboy' element was welcome to the stage amidst thunderous applause, squeals and cheers.
"Let us not buy into any sophistry and agenda setting by just a small group of people who were seen at the rare in one of the videos making rounds on social media shamefully clapping and chanting 'away'- to as it were make fun of the President," Nana Asafo-Adjei stated.
The Vice Chairman of the International Young Democrats Union also indicated that Ghanaians are discerning enough and will vote NPP to lead the country again based on the re-introduction of teachers and nurses' training allowances, free SHS, free BECE registration fee, One constituency one Ambulance, massive employment, stable electricity among others.
He stressed, "Soon we shall be out of the economic woods which unfortunately has seen the gains we made getting effaced by the unbudgeted expenditure government has had to incur due to COVID-19 and the soaring inflation and fuel prices as a result of the Russian-Ukraine war".
He added, "Fellow patriots, good times shall surely return ..let's continue to keep faith with the government".