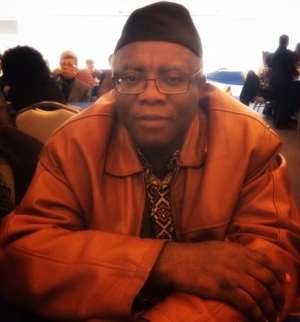 In the "Comments" column under the news story captioned "I'm Personally Committed to the Development of the Volta Region – Mahama" Ghana News Agency (GNA)/Ghanaweb.com 9/11/22), a commentator has written, "What were you doing during the four-and-half years that you were President of Ghana? How many development projects did you initiate and complete in the Volta Region?" Actually, these are not the verbatim words of the aforementioned Ghanaweb.com commentator. Most of them are often not this grammatically coherent or articulate. However, nearly and every one of them manages to put their points and messages across to anybody who cares to make the effort to decipher the same fairly successfully.
You see, the problem that former President John "Akonfem-Kanazoe" Dramani Mahama has in gunning for the Presidency for the third time around, as the jaded American cliché goes, is that the man sounds like a broken record repeatedly played over and over again. It is simply too noisy and jarring to make any sense to the listener, especially when the addressee also has the indelibly eloquent testimony of the speaker's four-and-half-year tenure and track record squarely and harshly confronting our protagonist's shameless and effusive lies. Ranting like a mad man does not look and sound good for any politician on the electioneering campaign trail. But that was precisely how he unmistakably sounded, when Osagyefo Kwame Gonja Ouagadougou John Akonfem-Kanazoe Dramani Mahama appeared before a teeming throng of celebrants and spectators in the Volta regional capital of Ho, at this year's Te Za (Yam Festival) of the Asogli State and the latter's Paramount Chief, Togbe Afede, XIV), formerly known in pre-monarchical life as Mr. James Akpo.
The man had done very little even in his own home region of the Akufo-Addo-created Savannah Region, which he had also – as usual, copycat fashion – promised to create after the then Candidate Akufo-Addo made the same promise. He had done very little that was worth bragging and pontificating about, so he proceeded to do what he has always done best, which was to shamelessly and cynically preen himself. On the latter lurid count, Kwame Gonja told the lukewarm audience gathered on the foregrounds of the Asogli Palace that had it not been for the construction of the Ho Airport, which he had personally supervised, amidst a flurry of criticisms from the New Patriotic Party's opposition politicians, he would very well have arrived at Togbe Afede's durbar very late, as he had been tied down by other equally pressing matters back in Accra, where he had been fiercely fighting for his post-presidential salaries and allowances with operatives of the Akufo-Addo Administration. You see, Dear Reader, every damn thing under the heavens has to be about Kwame Gonja or it is absolutely of no significance or consequence.
Maybe some smart and studiously observant spectator or auditor ought to have promptly alerted this blowhard career politician to the fact that even as he spoke and promised to do the decidedly unlikely for the people of the Asogli State and the Volta Region, in general, there existed at least some 17 settlements and communities in the Yapei-Kusawugu District in Kwame Gonja's own home region of Savannah that had yet to be hooked up to the national power or electricity grid or network. Could a politician this abjectly neglectful of his own Gonja clansmen and women be trusted and expected to bring any form of substantive development programs or projects to the Asogli State, let alone the Volta Region at large? Among the Akan, we have a maxim that "The beginnings of one's own lunacy is often from one's own homestead." This is obviously another variation on the common English maxim that "Charitable giving invariably begins with one's own kinsmen and clanswomen," more commonly cast in rhetorical shorthand as "Charity begins at home" or "Charity must begin at home."
But, of course, the version of the preceding maxims and proverbs that I am most fond of is that which runs as follows: "If Mr. Naked promises you a bolt of wax print, you must simply listen to his name." And listen to his name, I am quite certain that the people of the Asogli State did and then some more, as we New Yorkers are wont to say hereabouts. You see, were he even half as serious as he wanted his Asogli audience to believe, Yagbonwura Kwame Gonja would have also brought along with him, a comprehensive list of the development projects that he had initiated and completed in both the Asogli State and the Volta Region at large, and then explained what had prevented him from completing those projects that he had left uncompleted at the time that Ghanaian voters decided that they had had enough of his Dumsor-cracy and Dumsocratic abuse and insults to their intelligence, about how Dumsor had become a permanent feature of the lives of the Ghanaian people, and also how our spacy-sounding businessmen and women needed to promptly get real and devise a creative means of working around the extremely erratic schedules of Dumsor.
You see, the man Osagyefo Kwame Gonja is a clueless politician who often speaks towards the direction of where the wind happens to be blowing and does not particularly give a hoot about the underlying nuances and implications of what he blows into the public domain. That was why during the bloody season of witch-hunting and witch-stoning in Gonjaland, some seven or eight years ago, the Bole-Bamboi native and his Bono-born wife, Lordina, had the chutzpah to construct a makeshift camp for the largely dementia-afflicted old women accused of witchcraft, instead of availing these veritable victims of crass ignorance and the superstition of a clinically and culturally retarded society the requisite medical treatment and the prompt establishment of readily accessible psychological and cultural retooling institutions, such as the Akufo-Addo-implemented Fee-Free Senior High School System which, by the way, at the very height of his auspicious proposal of the same, Kwame Gonja snidely and sneeringly attributed to the hallucinatory pipedream of a desperate politician hell-bent on grabbing for power at all costs. Could have fooled me, this pathologically and shamelessly parasitic Kwame Gonja.
*Visit my blog at: KwameOkoampaAhoofeJr
By Kwame Okoampa-Ahoofe, Jr., PhD
English Department, SUNY-Nassau
Garden City, New York
E-mail: [email protected]