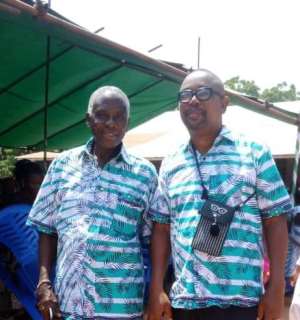 The former propaganda secretary of Akatsi South Constituency, Mr Kondo John, popularly known as Jargon, has reiterated that the National Democratic Congress (NDC) is the only alternative to rescue Ghanaians from the economic hardship they are experiencing under the leadership of President Nana Akufo-Addo.
Advising aspirants and delegates in the Akatsi South municipality in the Volta Region, the outspoken party stalwart added that Ghanaians are yearning for the return of the NDC, hence the need for them to elect radical and intelligent, and skillful aspirants for a resounding victory come 2024.
"Before Victory 2024, you [delegates] should look out for someone with the required skills, someone who can provide competent leadership, someone with the enviable track record to deliver, and someone with the experience to provide you, the delegates, and the entire population with better leadership you have been crying for. You need to look out for a unifier and a leader who can be trusted," Jargon stated in an interaction with the media.
Endorsing the candidacy of Mr. Japhet Festus Gbede, a deputy communication officer aspirant, Mr. John Kondo strengthened that the delegates must be ready to elect skillful and vibrant, energetic youths who have the ability to wrestle power from the NPP government.
He added that the party's delegates must not allow money to elect the next set of constituency executives for the party in the Akatsi South Constituency.
"If the money comes, take it in good faith but vote against them. You must make them aware that, you are above the GHS20, or GHS50.00," he furiously added.
He appealed to the party's delegates to vote massively for Mr. Japhet Festus Gbede a young, skillful, outspoken, vibrant and energetic deputy communication officer aspirant to help in restructuring the communication front of the party in the constituency.
"We cannot afford to fail Ghanaians by electing incompetent executives who will not be loyal, committed, and dedicated to the party's election 2024 victory agenda," he emphasised.