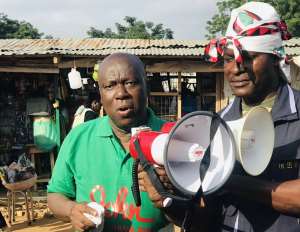 Joseph Kobinah Ade Coker, NDC Greater Accra Regional Chairman
The Greater Accra Regional Chairman of the opposition National Democratic Congress (NDC), Mr. Joseph Kobina Ade Coker, has urged his party members to unite ahead of the party's internal elections.
He urges members not to use insults against their opponents as the party plans to elect regional and national executives on November 12 to 13 and December 17, respectively.
Speaking at the Pokuase Market after a massive health walk, dubbed, "My Polling Station, My Victory 2024" at Pokuase on Saturday, September 24, he explained that the social media warfare will destroy the fragile unity in the party.
He asks members to focus on pushing the agenda of the party and avoid verbal assaults on people's hard-earned reputations.
"I will entreat my party members to stop the social media warfare in the build-up to our upcoming internal elections so we don't get to destroy people's hard-earned reputations and also not jeopardize the unity we enjoy today," he said.
He warned that doing so will set the party apart and consequentially affects their zeal to return to power and help save the citizens from hardships inflicted on them by the "fruitless" NPP government.
The three-term regional chairman hinted at seeking re-election to enable him to finish what he already started.
According to him, he will use his ideas and experience to help the party win more parliamentary seats in the region.
"I'm coming back again as regional chairman. It's not for vanity's sake, but I want to be in the vanguard of bringing back John Dramani Mahama. It is about knowledge, not money," he said.
While engaging the traders at the market centre, he urged them to help unseat the governing NPP come 2024 by voting back former President John Dramani Mahama to build for them a Kejetia Market standard in Pokuasi.