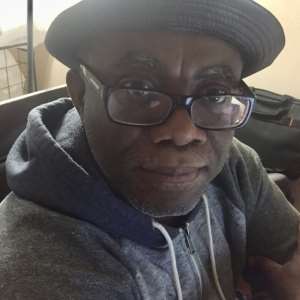 You don't need a doctorate in any widely recognized academic and/or professional discipline to aptly conclude that Dr. Valerie Esther Sawyerr, the willfully reprobate former Deputy Chief-of-Staff of Osagyefo Kwame Gonja, as former President John "European Airbus Payola" Dramani Mahama is also popularly known, is a pathological liar, when the prodigal daughter of the late nationally respected lawyer and astute statesman, Mr. Harry Sawyerr, pontifically asserts that the Bole-Bamboi native, from the Akufo-Addo-created Savannah Region, is a retired President whose constitutionally entitled benefits are being callously denied him by some key operatives of the Akufo-Addo Administration (See "Valerie Sawyerr Takes on Chief of Staff" Classfmonline.com / Ghanaweb.com 9/20/22).
The fact of the matter is that Mr. Mahama does not behave like a comfortably retired President of the Sovereign Democratic Republic of Ghana, in the practically unimpeachable manner that virtually every bona fide Ghanaian citizen agrees that my good, old Uncle Kofi Diawuo John Agyekum-Kufuor is a retired President and, presently, a respectable statesman of the Sovereign Democratic Republic of Ghana. You see, in the case of Yagbonwura Kwame Gonja Akonfem-Kanazoe Ouagadougou Dramani Mahama, we have a questionable character from the Murder Incorporated establishment of the country's main opposition National Democratic Congress (NDC) who flatly and adamantly refuses to accept the fact that he has twice been resoundingly rejected in the polls by Ghanaian voters, as a one-term accidental President who demonstrated beyond any iota of a doubt to be grossly incompetent and decidedly unqualified for the very adult job of substantive President of the Sovereign Democratic Republic of Ghana.
Plus, he is a "questionable character," obviously because John Mahama may very well be an unindicted palace assassin of his late immediate boss, to wit, President John Evans Atta-Mills, the very first Sitting-President of Fourth-Republican Ghana to have expired in office under some weird and murky set of circumstances that even the so-called Akufo-Addo-led "Reign-of-Terror," in the blasphemous words of the former Mahama Chief-of-Staff Second-Bananas, feels visibly too petrified to launch a long-overdue official investigation or inquest into, circumstances which Kwame Gonja has bizarrely, cavalierly and euphorically blamed on Divine Providence, in whose purportedly "inscrutable wisdom," nonetheless, peremptorily decreed the auspicious liquidation of a decidedly jaded and irredeemably superannuated presidential dead-wood that needed to be felled and carted out of the way, pronto, in order to make way for the opportune accession to the august Presidency by the first postcolonial-born leader of the Sovereign Fourth-Republican Democratic Republic of Ghana.
Now, Dear Reader, tell me, between Nana Akufo-Addo and Yagbonwura Kwame Gonja, who really looks and sounds like a state sponsor or terrorism? Remember the Savannah Region native's proud and virulent declaration, while on an electioneering-campaign stumps in the Old Volta Region, to the patently flagrant effect that the National Democratic Congress had an unrivaled track record of state-sponsored terrorism, and that he, Kwame Gonja, would not hesitate to use violent means to achieve his ultimate political objective of being returned to Jubilee House, that is, the Presidency, for the second time so he could correct his past mistakes? You see, Dear Reader, the convention or routine tradition until Kwame Gonja accidentally appeared on the national political scene had been that retired Presidents did not run around the country screaming and barking and bucking the system and literally talking trash about their visionary and hardworking successors who, in this particular instance, have been criminally saddled with the tedious task of cleaning up the humongous mess that unconscionably populist, spendthrift and morbidly self-infatuated nation-wreckers like Osagyefo Kwame Gonja left in their wake.
Even more significant ought to be underscored the fact that even as yours truly writes, the Yagbonwura of West-Gonja has been crisscrossing the length and breadth of the country desperately pleading with Ghanaian voters to let him back into Jubilee House, "So that I can correct my past mistakes as your President." This is rather ironic, because it was the same Kwame Gonja who sternly warned Ghanaian voters, in the runup to the 2016 Presidential Election, that they had absolutely no right to criticize his abjectly poor presidential job performance, because none of them, except the late Presidents Jeremiah "Jerry" John Rawlings, John Evans Atta-Mills and former President John Agyekum-Kufuor, had ever been elected to occupancy of the highest seat of the land. You see, the low-60-something-year-old third-class graduate of History from the University of Ghana, with another mediocre certificate in communications propaganda from Moscow, does not even understand what being President of Ghana means or entails.
Which is why he finds absolutely nothing wrong with insulting the intelligence of the Ghanaian electorate, in particular the Gonja Community, where at least 17 towns and villages have yet to be connected to the national electricity grid and, in the Yapei-Kusawgu District, which is scandalously not blessed with even a single general-purpose Senior High School, let alone the existence of a Secondary-Technical School. Which, by the way, is not the least bit surprising, in view of the fact that Kwame Gonja fiercely fought against the salutary implementation of the landmark Fee-Free Senior High School by Nana Addo Dankwa Akufo-Addo, which a then-President Mahama disdainfully attributed to the delirious imagination of a desperate politician hell-bent on grabbing for power by hook or crook.
At any rate, here in the United States of America, a "prematurely retired" President John Dramani Mahama would not be drawing a pension or social security benefits, save under such special or anomalous circumstances as work-related disability or an unforeseen health-related incapacity or incapacitation. You see, what the Bole-Bamboi petty chieftain needs is a real job so that he will be able to pay his own staff of state-salaried parasites like Mr. Felix Ofosu-Kwakye, the former Deputy Communications Minister, and stop pretending as Ghanaian taxpayers were his inalienable constitutional slaves to be recklessly and wantonly milked and exploited at will or on order. Maybe Dr. Sawyerr would be much better off explaining to the Ghanaian people precisely the sort of civically indispensable duties performed by her former boss and prime benefactor whose stoppage or cessation could result in the immediate collapse of Ghana's economy and the stability of our national security at large.
You see, Dear Reader, a pathological scofflaw like the SADA Scam-Artist who demanded to be literally gifted the official residence of the Vice-President of Ghana at a time when he was not even the Vice-President of Ghana, should not the least bit be entertained. His is the criminal and kleptocratic mindset of a State-Capturing Robber-Baron who deserves to be serving a prison term at Nsawam, not living comfortably at the expense of hardworking and woefully underpaid Ghanaian civil and public servants.
*Visit my blog at: KwameOkoampaAhoofeJr
By Kwame Okoampa-Ahoofe, Jr., PhD
English Department, SUNY-Nassau
Garden City, New York
September 22, 2022
E-mail: [email protected]