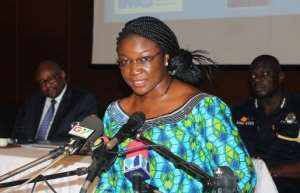 Joyce Bawa Mogtari
The Special Aide to former President John Dramani Mahama, Joyce Bawa Mogtari has sent a simple note to judges in the trial of the Chinese Galamsey kingpin, Aisha Huang.
Deporting or repatriating her after the court must have found her guilty, as happened in 2018, according to the lawyer, must not happen this time around.
She explained in a tweet seen by Modernghana News on Wednesday, September 21 that since the lady in question is just a foreigner without diplomatic status, the indigenous laws can try and convict her if found guilty.
"Reference the Aisha Huang trial, the law is clear and explicit, the foreigner, who commits a crime in Ghana, will be tried under the laws of the country and if found guilty will be convicted and sentenced, deportation and repatriation etc are not forms of punishment for crime," she tweeted.
Repatriated in 2018, Aisha Huang has been in police custody for nearly three weeks after being apprehended in her hideout by National Security.
She has since made two court appearances for charges of illegal mining and the sale and purchase of minerals without a license.
On September 27, she and three others will reappear before Court.