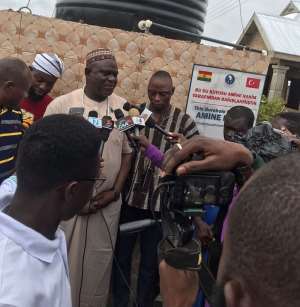 The former Northern Regional Minister Hon. Salifu Sa-eed has donated fully mechanized boreholes to three communities in the Bimbilla Constituency.
The beneficiary communities include Dangbe, Kunkuna and Japanese Estate.
At a ceremony held in Bimbilla, the incumbent NPP constituency chairman Mohammed Mbo (Ganguyili Doo) handed the facilities on behalf of Hon. Salifu Sa-eed to the beneficiary communities.
In his address, Chairman Ganguyili Doo as affectionately known thanked the former northern regional minister for always prioritizing the development of the Constituency at every given opportunity.
"I was there when he (Salifu Sa-eed) came with the NGO to start this project and today we are giving water to the people."
The constituency chairman lauded Salifu Sa-eed for the initiative and admonished the people to continue to maintain faith in the NPP. He also called on the people to embrace peace.
Chairman Ganguyili Doo was accompanied by the constituency secretary and the immediate past chairman Mr. Amos Nimotimi Tina and Alhaji Alidu Iddi respectively.
Alhaji Jamal who is the representative of Amine Hanim Foundation encouraged the communities to practice good maintenance culture.
According to him, Bimbilla was not on the list of areas for their operations. However, the foundation was left with no option but to include Bimbilla in the list.
"Salifu Sa-eed did everything humanly possible to get us to Bimbilla and truly we saw that the situation was really dire. You need to thank God for having Salifu Sa-eed as your son.
"Apart from the water, we are also in the process of finalizing scholarship for three young people from the Bimbilla Constituency to study in Turkey," Alhaji Jamal added.
Alhaji Jamal assured the people of the foundation's readiness to expand its operations in the constituency. He gave a hint of the foundation preparedness to construct a learning center in Bimbilla for orphans. According to him, the center will have boarding and will accommodate three pupils. He pleaded with the people to peacefully co-exist and eschew all tendencies that promote conflict.
Imam Issahaku Musah on behalf of the chiefs and people of the beneficiary communities expressed gratitude to Hon. Salifu Sa-eed for having the people at heart. According to him, women and children hitherto traveled long distances to search for water. "We are happy that the boreholes provided to us by Salifu Sa-eed and the NGO will help keep school girls in school and reduce the burden of women in the communities."
Hon. Salifu Sa-eed at the commencement of 2022 launched a program dubbed 'Hope for All' whose objective is to partner with the development community to provide some development interventions across the constituency. In addition to the boreholes and financial support to some individuals, the project has also donated construction materials and cash in support of the construction of a fence wall for the Bimbilla community cemetery.