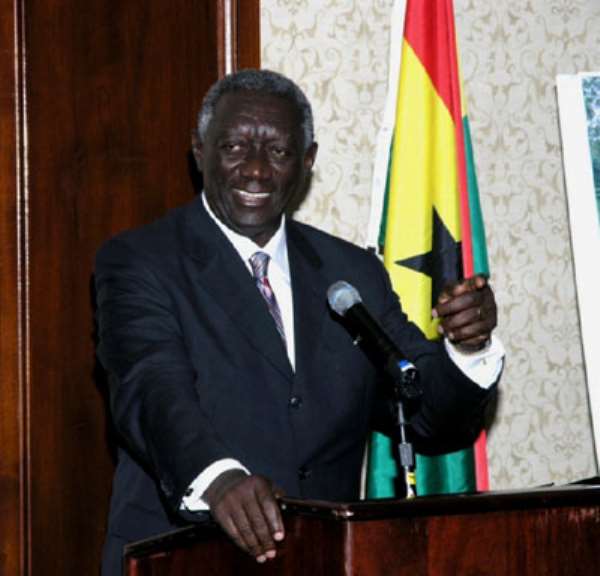 The last time I wrote an article for Ghanaweb I was seething over an article the Statesman newspaper had written about Ghana with the headline, "Foolish Country" ostensibly to defend the powers that it is claimed to have enabled the editor in chief "Lawyer" Gabby Otchere-Darko to get a law degree. (You remember Gabby- the man who called a learned law lecturer a poodle and yet……….his papers are not good enough to be kept at the law school that they have gone missing apparently!) Well, my rejoinder was very well received, apart from a few people who wrote to me asking me to check the record of the NDC and not to blame the NPP for not delivering. I have taken their comments on board and have corrected my mistakes! I am sure if we are all humble enough to accept our mistakes, our society will be a better place. The point is that there are a lot of good things about this current administration, but many bad things as well. The trouble most of the people at the helm are facing is the lack of vision. My main worry is that some of them might crack up. Oh yes, they might. The signs are there! And it will be self- inflicted. As most of them are jostling for positions in the next administration, we have heard very bad stories about some ministers. Believe me or not, most of these stories come fr! om the NPP members themselves, to apparently undo each other. That is enough for now.
My main worry now is about the current spate of writing about the Kufuor administration. Some are just plain lies, but many are rumours, gleaned from the lifestyle of the people themselves. Some NPP party members are really hurt about the insults they are getting and the lies peddled around. Per Diem, lavish lifestyle, corruption etc. Kwabena Agyepong sounded confused; in fact dazed when he debunked the Enquirer story about the cash blowing antics by the people the good people of Ghana "had sent to market Ghana in America". In fact, he was worried that despite the fact that they have a busy schedule and that they are struggling to even get some sleep, some people have gone ahead to just publish falsehood about them. According to some reports, Kwabena is quoted as saying this is "political journalism". What that means I don't know. The most important thing! for Kwabena to note is that if the Kitchen is too hot for them, they should get out. Even though the NPP is the party in power, their attitude has been like that of an opposition party. What they must realise is that opposition is just a natural progression. If you don't win, you naturally join the opposition bandwagon, no special skills or training to be there. But wining is another thing. The NPP "skilfully" have won all their elections since 2000. But have they managed to make the transition from opposition to party in government? I am not really sure.
The opportunity was offered by the Enquirer article for Mr Agyepong to tell Ghanaians what good had come out of the trip. Form his response, and that of the Ghana Mission in the USA, nothing concrete it would seem, yet, there should be something in the pipeline. The product line must be rusty then. Were these really the salesmen we sent to market Ghana? I bet they sold to the people of America good political governance as the Bush Administration is stuttering now with domestic problems. The NPP party is so paranoid and worried about what people are saying about them. Is it not funny that a prospective minister will go to parliament and try to debunk the use of the name Ghanaweb for a website? We have people who shamelessly believe that they are untouchable. If our dear President Kufuor wants to be left alone, then he should not be in public life. The past administration was called all sort of names.! They endured a lot and sadly, some of their ministers had to go to jail for their sins. The truth is that there are more people who would be jailed today in the present administration, given the definition of causing financial loss to the state, a law that had been described many times as nebulous by some of the people in government today, when they were in opposition. Kufuor must jail some of the perceived crooks before it is too late. There are skeletons in the cupboard for some of them that it is extremely bad to think of it. No matter how busy the trip to America was, it was not really necessary. The Whitaker Group has questions marks all over it, and those of you who have followed their activities with AGOA would know what I am talking about here. The sort of PR information they put about too was pretty poor. Kufuor sells Ghana is no news. There is not going to be influx of the so-called businessmen and tourists going to Ghana today just because of that trip or just because! our president was a humble tour guide in the documentary. If anything at all, the Asantehene's appearance at last year's Expo was just too good for Ghana. The Asantehene's entourage were marketing Ghana in traditional dresses, not some £400 suits with cufflinks double-breasted shoulders, pants, etc. Sometimes, the type of suit that our ministers wear does not even impress the conservative American. A meeting with the IMF or World Bank boss is no meeting. Probably good for holiday but no good for the good people of Ghana. I am sure you the reader know how the World Bank and the IMF works, so Kufuor meeting him is just a photo opportunity, one for his many private collections. (By the way he has his own man responsible for his library, photographs etc). What about the walk on Kakum? Please, give us a break! Kakum has been shown many times over. It has been on discovery channel many times and in many holiday programmes.
The point I am trying to make here is that Kufuor and his henchmen must be circumspect by the way they are dealing. The money spent on the trip is not their money. It belongs to the good people of Ghana. They are only there as stewards of the money and must make sure that it is spent in the good interest of the country. That is why people will always talk. If indeed they don't like what people are saying, they should just resign enmass. But would they? It is too good to give up! We shall surely watch the movement of the government and we shall be making mistakes because the president says we should come up with all the evidence about corruption before he can investigate. Once we are happy with their performance, we will keep quite. But for now, the talk is just too much and the arrogance is just bad. Views expressed by the author(s) do not necessarily reflect those of GhanaHomePage.