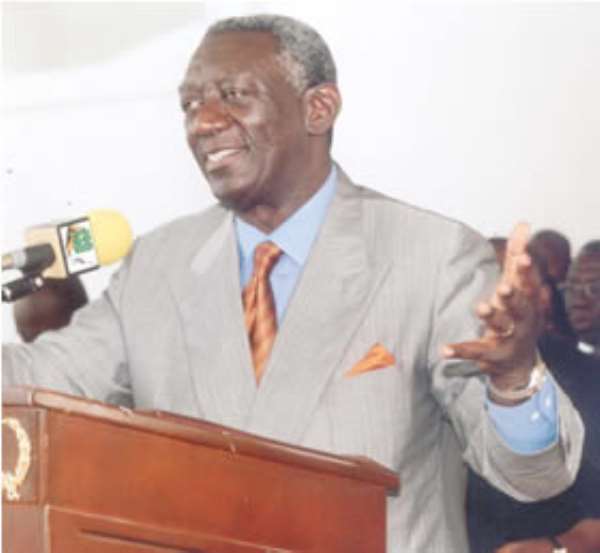 KUFUOR'S IMPERIAL PRESIDENCY STILL LACKS MOJO Although we all know that politicians are often so eager to claim success for others' hard work, it seems overly hypocritical of Kufuor to claim success for every development when he works so hard to deny it of others. Like the late U.S. President John F. Kennedy oncesaid, "Victory had a hundred fathers and defeat is an orphan." But Kufuor and NPP appear to take this saying to the extreme; everything good is the result of Kufuor's policies, while claiming that almost nothing good happened to Ghana before his presidency.
They are now saying that unprecedented Indiscipline tearing at the social fabric, from sexual promiscuity, child prostitution, thefts, armed robbery, etc under the rule of the NPP is the fault of the NDC! Are we now seeing the rise of the imperial presidency? Mr. Kufuor still lacks MOJO which Rawlings has, Charm, Power and Luck, all intact, which MOJO, is as solid as rock (vide Part two of the MOJO Series).
I crave your indulgence in abandoning comparison between the Living Rawlings and the Dead Nkrumah (as intimated in my last MOJO Odyssey), since I have come to a realization that what is similar or dissimilar between them have already been captured in the earlier MOJO pieces. Reference to Presidents in this piece will be centered on Living Souls who have sat on the "Stool" in the Castle, Mr. Kufuor and Flt Lt Rawlings.
The challenge of this endeavor, however, is to question the real motive of these two people, Rawlings (1992) and Kufuor (2000, at the time they each begged the masses to elect them President of the Republic of Ghana. Which of them knew what they were about from the get go?
A task of this nature necessarily leads to the question whether any of them had altruistic intention geared at eliminating poverty and misery of the masses. Specifically, can one determine whether any of the two presidents understood the need to steer Ghana on the path to a Developmental Nation rather than bellowing from near the Osu Military Cemetery "Democracy, Democracy" without even knowing that a Nation without Capital Accumulation makes true Democracy amorphous and a different creature from what it HAS to be.
Is liberal democracy in free market economy that does not have room for the socially disadvantaged subscribed to by Kufuor and NPP the real deal? Zero tolerance for new babies born at the Maternity Ward of Korle Bu or other Hospitals, who came into this world through no choice of their own and without any currency, Dollar, Pound or Cedi, in their palms and often protesting by shrill crying, the poor, the aged.
Full Cost Recovery, Kufuor's NPP Liberal Democracy system intones.
Is social democracy in a free market economy with State Intervention for the Socially Disadvantaged as espoused by Professor Mills as NDC Flag Bearer embraced by Rawlings' NDC the real deal? The poor must have access to Kenkey, Ampesi, Tuo, Gari and decent affordable housing, the weak and the helpless must not be left weak and helpless (contrast with the Lazy and slothful), children and women protected by society to the extent they are incapable of helping themselves.
State Intervention on the side of the socially disadvantaged as practiced in Western Europe's Scandinavian Countries, Rawlings' NDC Social Democracy under Free Market Economy allows.
Rawlings has been pilloried and condemned unjustifiably that the Revolution was a waste and for the 11 years it lasted, Ghana did not achieve anything. Not true at all! Rawlings' Revolution set up all the nuts and bolts, even the foundations that have distinguished the 4th Republic from its predecessors, in terms of sustainability. Allow me to explain a little further. Typical examples are the BNI, SFO, GSE and CHRAG, which has just announced the celebration of its 12 anniversary. Who was the Leader of Ghana 12 years ago? JJ Rawlings! In 1989, JJ Rawlings was still the leader of Ghana when the World Bank came out with a Report on Africa titled "Sub-Saharan Africa: From Crisis to Sustainable Growth" and linked the idea of Good Governance as a sine qua non to Development. Rawlings took note and accelerated Ghana's return to Civilian rule. Could he not have defied everyone and perhaps still be in power today like Uganda's Yoweri Museveni, JJ Rawlings' contemporary, had done?
Like the chicken and the egg debate as to which came first, does the democratic state precede the developmental state, or does developmental state come before democratic state? At the initial stage, does democracy and development resemble Siamese Twins? Are they not different creatures?
JJ Rawlings' allusion to his Revolution as breaking an egg to make an omelet is apposite. The argument today by rabid Rawlings haters is that Rawlings did nothing for the good of Ghana in his 20 years at the helm. Call on them to name or match Kufuor's record (none) against Rawlings' creation of structures for the maintenance of the security of the State and enhancement of the economy.
Renowned scholars agree with Rawlings. S.M. Lipset's 'Political Man', Adrian Leftwich's "Governance, Democracy and Development in the 3rd World", R.A. Dahl's "Polyarchy' amongst others, are profound works that examine the dichotomy between Democracy and Development at initial stages of a nations' progress similar to what Rawlings confronted in 1981. Democracy has been looked at 'as a concomitant of "modernity" and hence an out come of socioeconomic development, not a condition of it. It has been convincingly argued that "Democracy required a high level of literacy, communication and education, an established and secure middle class, a vibrant civil society." The argument has been made that "prior economic development yield these necessary conditions for sustainable democracy".
Adrian Leftwich particularly, points out that economic development has never been preceded by liberal democratic institutions. Leftwich draws inspiration from History and says emphatically that "THE FOUNDATIONS OF MODERN ADVANCED INDUSTRIAL ECONOMIES WERE LAID UNDER NON-DEMOCRATIC OR HIGHLY LIMITED DEMOCRATIC CONDITIONS-as in Britain (1750-1850), much of Western Europe, and especially Germany during Bismarck's era and Japan under Meiji. MOREOVER, MOST MAJOR POST 1960 SUCCESS STORIES OF ECONOMIC GROWTH IN THE THIRD WORLD-BRAZIL, SOUTH KOREA, TAIWAN AND MORE RECENTLY THAILAND AND INDONESIA- HAVE NOT OCCURRED UNDER CONDITIONS REMOTELY APPROXIMATING CONTINUOUS AND STABLE DEMOCRACY" QUITE THE OPPOSITE. EVEN IN THE DEVELOPMENTALLY SUCCESSFUL DEMOCRATIC SOCIETIES-SUCH AS BOTSWANA, MALAYSIA AND SINGAPORE- DE FACTO ONE-PARTY HAS BEEN THE NORM FOR 30 YEARS".
Adrian Leftwich could find "NO EXAMPLES OF GOOD OR SUSTAINED GROWTH IN THE DEVELOPING WORLD HAVE OCCURRED UNDER CONDITIONS OF UNCOMPROMISING ECONOMIC LIBERALISM, WHETHER DEMOCRATIC OR NOT. FROM COSTA RICA TO CHINA AND FROM BOTSWANA TO THAILAND, THE STATE HAS PLAYED AN ACTIVE ROLE IN INFLUENCING ECONOMIC BEHAVIOR AND OFTEN HAD A SIGNIFICANT MATERIAL STAKE IN THE ECONOMY ITSELF."
Why then is Kufuor's NPP throwing dust into the eyes of Ghanaians that they would be able to 'develop' Ghana by mere adaptation of Liberal Democracy? Do they understand the incidence of Liberal Democracy? It is not arguable that already advanced nations which have capital accumulation for infrastructure and investment and consequently have advanced welfare systems or high wages, are best suited for Liberal Democracy? Is it not the democratic right of a citizen to have affordable housing or food, though, it is equally the democratic right of the entrepreneur to make profit?
Leaving market forces to strike the balance in a precarious economy such as Ghana's without any intervention whatever, whenever appropriate from the State, a recipe for disaster, surely.
The evidence is clear: Rawlings' non-democratic rule is the true foundation upon which modern Ghana is anchored, unless Kufuor apologists can say under Kufuor there has been no development! A catch 22 situation, if such apologists say Kufuor has built on where Rawlings left off, the door is opened for NDC apologists to say Kufuor is only 'enjoying' the fruits of Rawlings' labor.
Is Kufuor doing right by Ghana? Before he took office, constitutional and political legitimacy had been secured under the 1992 Constitution. The NDC having lost both 2000 and 2004 elections accepted the outcome and 'collapsed' into its present opposition status.
NDC did not devolve into a dissident anti-democratic group. NPP on the other hand took the attitude of winner takes all, notwithstanding Ibn Chambas and Ecowas. Known NDC folks were thrown out of their jobs not because they were unqualified. Many were asked to proceed on leave never to return.
On assumption of office, cruel jokes Kufuor played on the masses were many. Yet the one that stands out is that which involved the sponsorship to Ghana of the world renowned Reformist H. De Soto, author of "THE OTHER PATH. THE INVISIBLE REVOLUTION IN THE THIRD WORLD". Whilst in Ghana, De Soto mounted seminars and proclaimed the need for Land Reform, extension of property rights, training, job creation and imaginative forms of credit. What have has Kufuor done about the De Soto 'prescription' to empower the economically disadvantaged in Ghana, who certainly are not the 230 Members of Parliament, unwisely slated recently to receive 100 free acres of land plus cash plus tractors plus loans plus whatever that will ensure Ghana goes broke or, accentuate the class society Kufuor is building, "The Ebiteyies" (NPP folks) as against "The Mmobrowas" (all other Ghanaians)? After Rawlings left office, Ghana has been stuck in neutral gear.
Ghanaians must heed the call of Adrian Leftwich: "……if eliminating the continuing offence of poverty and misery is the real target, then unlimited Liberal Democracy and unrestrained economic liberty may be the last thing the developing world needs as it whirls towards the 21st century." Proponents of unrestrained Liberal Democratic Philosophy as a panacea for Ghana's Development, need proper examination, medical or otherwise.
President Kufuor has unwittingly hood-winked himself into believing he would leave any legacy worthy of emulation. The cruel hands of Time is slowly grinding on and cheekily ushering Kufuor out of office, 1,200 days more or less from today, January 6, 2009, the "D" Day as in "Departure" without any tangible legacy.
Kufuor has zero legacies. In Constitutional Democracy, nothing is as permanent as the end of a mandated term limit. History is a dispassionate judge, a jealous keeper of records and amongst other attributes, empowers present and future generations a spectacular 20/20 hindsight into what politicians did as opposed to what they ought to have done.
To answer the question as to which of the two presidents knew what they were about from the time they swore their oath, I submit, from the foregoing, that it was Rawlings who knew what he was about.
Rawlings had the common man in mind when he swore his oath. He gave up Autocratic Power and won Constitutional Power for the sake of the common man. Kufuor is so happy to be gallivanting around the world, paying scant attention to the woes of his countrymen. What became of his pledge of "ZERO" tolerance to corruption? Did he not merely substitute "Abundant" for "Zero"?
What should Kufuor do to catch up to RAWLINGS' MOJO?
My next segment in these MOJO series will make some subtle suggestions to whoever has ears to hear.
The MOJO ODYSSEY continues. Views expressed by the author(s) do not necessarily reflect those of GhanaHomePage.