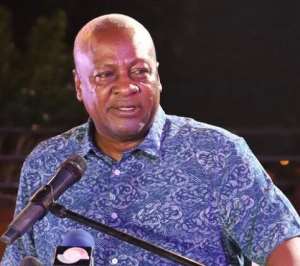 ANYTIME I resolve to postpone any discussion concerning President Ogwanfunu in this column till the election year, the man does something that makes it difficult for me to keep my promise. His hypocritical tendencies make it difficult for one to resist the temptation to use harsh words on a person of his calibre. He epitomises the saying, "A man without principles and will is like a ship without compass; it changes direction with every change of wind."
It's public knowledge that the man has lost two consecutive presidential elections in Kwame Okro's homeland. He is also the only sitting president to have lost an election. It is thus understandable to see him eagerly working to change his fortunes in the next election.
But many, yours truly inclusive, have become worried because his actions transcend eagerness. His is now of desperation. Yes, desperation may be a form of inspiration. But the kind of desperation being displayed by President Ogwanfunu is anything but inspirational. It is nothing but pure hypocrisy.
Let's take a trip down memory lane to the 2012 elections and the aftermath. The Great Elephant went to court to challenge the 2012 election results citing several cases of infractions including over-voting and voting without verification. The petitioners' main witness, Dr. Mahamudu Bawumia, put up a brilliant display in the witness' box as he pointed out glaring errors on the pink sheet. But the Supreme Court (SC) threw out the petition with a 5-4 decision after almost eight months of litigation.
A clearly elated Ogwanfunu was seen on television celebrating with his folks from the Umbrella fraternity. Listen to him: "This was a test case for our SC; and I believe at the end of it all, our SC weathered that test and gave out a verdict. All of us had, before the verdict was given, pledged to accept the verdict. So I believe the current commentary going on about the Justices of the SC and all that are absolutely unnecessary."
In 2016, President Ogwanfunu, a sitting president, lost the polls by over 1 million votes. He couldn't contest the results because the gap between him and the victor was very wide.
Fast forward to 2020 elections, he lost again, but with a lesser margin of over 500,000 votes. The improved performance encouraged him to litigate. He then cried foul, alleged he had been shortchanged and threatened to petition the SC, which he eventually did.
But many of his compatriots knew better. We knew he had been preparing the grounds to contest the 2020 polls, because that was the only viable option left for him to stay relevant after losing. He started by forming the Inter-Party Resistance Against A New Voters' Register (IPRNA) which resisted the Electoral Commission's decision to compile a new electoral roll. They organised three demonstrations in Tamale, Kumasi and Accra to protest the move to have a new voters' register. The Tamale protest was particularly rowdy as the protestors burnt car tyres and tried in vain to lure the security personnel on parade to react.
When the demonstrations, threats and name-calling failed to yield any results, they resorted to the court – an option they were initially advised to take advantage of but rejected. After all the legal gymnastics, the SC gave EC the go ahead to​ compile a new electoral roll without the then existing voter ID.
So, you see, President Ogwanfunu disputing the 2020 election results was expected. It was also not surprising that he went to court with no evidence, not even a single pink sheet or collation document. He went to court because he had to do something to hoodwink his party folks into believing his cock and bull story.
One of my highlights of the 2021 presidential petition was when one of the judges wanted to know the figures the Petitioner's 1st Witness, General Ntontom, had brought to court in relation to the total valid votes, Petitioner's votes and 2nd Respondent's votes. One could hear the sound of a pin drop when General Ntontom said he had brought no figures to court with regard to the three important questions.
The tea-drinking episode was another that kept ringing in my mind. It was instructive to note that Petitioner's 3rd Witness (P3W) had gone drinking tea and abandoned his core responsibilities at the so-called Strong Room. His insistence that he only drank tea without biscuits made my day.
President Ogwanfunu's impending defeat at the SC was clearly written on the wall. So, most people were not surprised at the SC's verdict. Even those without any legal training could easily predict the outcome.
President Ogwanfunu has since not forgiven the Justices of the SC for that judgment. He has gone on rampage, tongue-lashing the SC at any given opportunity. He has so soon developed amnesia and forgotten the advice he gave his compatriots when the same SC affirmed his victory in 2013.
I feel very sad to see my former President and a fellow Gonja exposing himself to public ridicule. I may not like the party he belongs, but I like his person. If only he knew that the only vice that cannot be forgiven is hypocrisy, because the repentance of a hypocrite is itself hypocrisy!
See you next week for another interesting konkonsa, Deo volente!