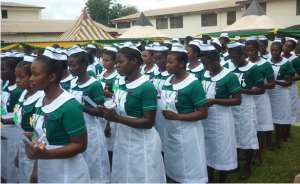 A B S T R A C T
Nursing practice in the 21st century is confronted by various demands such as the elevating numbers of elderly patients, critically ill patients, increasing healthcare expenses, increasing deficit in nursing staff and nurse educators and a shift in the age of the nursing workforce.
To adapt to the rapidly varying and advancing healthcare settings, there is the need to investigate into access to nursing education, its merits, demerits and the way-forward.
Background to the study
The primary goals of nursing education remain the same: nurses must be prepared to meet diverse patients' needs; function as leaders; and advance science that benefits patients and the capacity of health professionals to deliver safe, quality patient care. According to the World Health Organization (WHO), a healthy population make a healthy nation.
Definition of education is that which makes a man of a good character and useful to the society (Yajnavaikya).
Vivekananda also defined education as the manifestation of divine perfection already existing in man.
Nursing education is the professional education for the preparation of nurses to enable them render professional nursing care to people of all ages, in all phases of health and illness, in a variety of settings.
It is a professional education which is consciously and systematically planned and implemented through instruction and discipline, proper conduct and technical competency.
It thus focuses on the cultivation of skills, trades of professions as well as mental, moral and aesthetic development.
According to Jamshidi, mehrdad,&jamshidi, (2012), nursing practice in the 21st century is confronted by various demands such as the elevating numbers of elder patients and critically ill patients, increasing healthcare expenses, increasing deficit in nursing staff and nurse educators and a shift in the age of the nursing workforce. To adapt to the rapidly varying and advancing Healthcare settings; nurse educators must regularly assess and review education curricula, teaching-learning strategies and programs adopted to prepare new professional nurses. To tackle these obstacles, employers will pursue nurses whose competencies are compatible with the practice settings demands, can function potently in inter-disciplinary teams across a wide range of healthcare environments. They should also be able to offer conventional nursing services in addition to other facilities such as case management and practice leadership, health advocacy and illness prevention.
Nurses are a critical component of the health workforce globally due to the proportion of the care they provide compared to other health professions (World Health Organization, 2020).
All countries need to ensure that the nurses being trained and recruited into healthcare systems are competent to provide quality and safe healthcare to the population they serve (World Health Organization, 2020). The United States of America (USA), Canada, the United Kingdom, Australia, China, South Korea, the Philippines, Japan and Ghana conduct national nursing licensing examinations to ensure that only competent nurses are licensed to provide quality and safe healthcare for patients (Amilia & Nurmalia, 2020; Christmals & Gross, 2019; Hou et al., 2019; Kim et al., 2014; Park et al., 2016; Shin et al., 2017). Other countries, such as Brazil and South Africa, are introducing such forms of assessment (Silva & Cabral, 2018). Registration of nurses is varied in different countries in terms of fees, application processes and the examination (Silva & Cabral, 2018).
Countries that use examinations to license nurses need to ensure that the content of the examination meets the quality assessment criteria (Norcini et al., 2011; Oducado et al., 2020; Tsai & Kramer, 2014). Regular research on and reviews of the assessment system, process and outcomes are necessary to keep it consistent with current trends in nursing practice and in alignment with the curriculum of Nursing Education Institutions (NEIs) (Gorham et al., 2012; Nurakhir et al., 2020; Woo & Dragan, 2012).
The National Council of State Boards of Nursing of the USA, which is used as a benchmark for many countries, regularly calls for institutions to research the National Council Licensure Examination (NCLEX) for quality improvement (Fukada, 2018). Candidates are assigned both basic and advanced nursing skills during the examination. Basic skills include checking vital signs, bed making, bed bath, washing patients' hair, documentation, and record-keeping. Advanced nursing procedures include care of wounds, blood transfusion, intravenous infusions and medications, preparing patients for laboratory and radiological tests. These procedures and others are included in the logbook for students. They are supposed to indicate when they are taught each procedure in class, demonstrate at the clinical laboratories, and perform it at the clinical facilities (Nursing and Midwifery Council of Ghana, 1971, 2016).
Although the assessment system is nationalized and centralized, there has been some ad hock changes that have been made over the last decade. As a result, students complained that they were not uniformly evaluated, resulting in an unfair and unreliable system. There is a high risk of competent students failing and vice versa.
Students are assigned to patients randomly by the examiners and have 30 minutes to do an assessment, identify the patient's health problems and plan care. Students are subsequently assigned two clinical competency skills identified in the care plan to perform and are graded by two examiners. The examiners assign live patients; therefore, the procedures performed can vary for each candidate. Students complain that they are not uniformly evaluated, resulting in an unfair and unreliable system. Complaints include biases in the allocation of patients, examiners and procedures/tasks during clinical examinations in Ghana; no determination of interrater reliability of examiners; selection of patients for the examination is based purely on convenience. The final grade is the summation of scores for the care plan prepared by the student and the two clinical competency skills assessed.
Nursing education institutions are expected to support the licensing examination by hosting the examiners, including accommodation, meals and transportation. Most of the schools are financially constrained, so nursing students are expected to contribute financially to support the examiners. The students also bear the cost of consumables used at the examination centers. A study conducted by the regulatory body in 2013 to investigate factors that contribute to nurse and when we narrow it down to Ghana
Nursing is a unique profession in that there are many different educational pathways to entry. A student may prepare for a career as a registered nurse (RN) in educational programs leading to a master's degree, a baccalaureate degree, an associate's degree, or a diploma in nursing. Some nurses who graduate with an associate's degree or diploma go on to enroll in baccalaureate completion programs, either before or after licensure. And increasingly, some nurses with baccalaureate degrees in other fields begin their nursing education in so-called direct entry master's degree programs, in which the first phase of their education prepares them for the licensure examination. Regardless of the pathway taken, students must pass the National Council Licensure Examination for Registered Nurses (NCLEX-RN) before entering the field (Altman et al., 2016).
According to The Future of Nursing, transformation in the health care system and practice environments requires a corresponding transformation in nursing education. If nurses are to be prepared to meet increasingly complex patient needs, function as leaders, and advance the science of care, they need to achieve higher levels of education upon entering the workforce and throughout their careers.
Nurses are a critical component of the health workforce globally due to the proportion of the care they provide compared to other health professions (World Health Organization, 2020). All countries need to ensure that the nurses being trained and recruited into healthcare systems are competent to provide quality and safe healthcare to the population they serve (World Health Organization, 2020). In view of that we want to research into access to nursing education; merits, demerits etc the way-forward.
Scope of Nurses Training in Ghana
Most nurses in Ghana are educated in training colleges, which are often, but not necessarily, affiliated with teaching hospitals (KALKHORAN, Sara; BENOWITZ, Neal L .; RIGOTTI, 2018).
Nursing education in Ghana is primarily provided in training institutions and universities in Ghana, this is regulated by the Nursing and midwifery council of Ghana (N&MC).
Currently, there are a number of state institutions as well as private institutions in Ghana that offer nursing programs at different levels to qualified students. Degree nursing students receive training in research and leadership as part of their education, in order to position them for future leadership positions. All successful graduates from diploma, certificate or degree programs are eligible to take the nursing certification examination administered by the Nursing and Midwifery Council of Ghana. Averagely, the training of a qualified nurse takes two to four years of intense theoretical and practical training.
The auxiliary nursing program which started over a decade ago was intended to augment the shortage in professional nurses and these category of staff were expected to be trained for two years and after which they will write a licensing exams administered by the Nursing and Midwifery Council of Ghana. This has since become a regular training program for those who do not have the qualification to take up the professional nursing program.
It aims at harmonious development of the physical, intellectual, social, emotional, spiritual and aesthetic power or abilities of the student in order to render professional nursing care to people of all ages, in all phases of health and illness, in a variety of settings, in the best or highest possible manner.
Problem statement
Despite numbers of nursing college across the country there is still shortage of nursing workforce and growing concerns of poor quality of nursing Care because of inefficiencies in the nursing education system. The review was guided by the following research Questions: what is the status of nursing education now as to compare to before Saharan Africa? (Ghana) and what are the solutions or innovations being taken to improve nursing education? What are the measures in place to bridge knowledge gab in emergence of new diseases across the globe? The group want to access the nursing education in the contest of merits, demerits and the way-forward when it comes to nursing development.
Objective of the study
To identify the merits and the demerits in nursing education.
Specific objective
To determine the merits of nursing education
To determine the demerits to nursing education
The factors influencing access to nursing education.
Justification of the study
This study will unearth the merits and the demerits in nursing education and possible way-forward.
And it will pre-inform policy makers to review nursing education systems in and around the world.it will help improve institutional based education system.
Literature Review
The World Health Organization (WHO) estimates that 1.3% of the world's health workforce resides in sub-Saharan Africa, yet the continent assumes 25% of the disease burden (WHO, 2004). The shortage of nurses represents the most significant of the health worker shortage in Africa (Munjanja, Kibuka & Dovlo, 2018). Throughout Africa, nurses play a crucial role in the provision of health care, providing primary health care services in many rural areas. Increasing the nursing workforce is a critical need. The Millennium Development Goals (MDGs), set by the United Nations and member countries in 2000, provide health and development goals for the least developed countries (United Nations, 2010). Dovlo (2007) predicts the MDGs will not be met by the target date of 2015, in part due to the current shortage of health care workers.
Studies that seek to understand the status of nursing education in sub-Saharan Africa are few, though the widespread need for increasing the nursing workforce is acknowledged.
Plager and Razaonandrianina, (2019) conducted a comparative analysis of nursing education in Madagascar, Kenya, and Tanzania for the purpose of improving nursing education to strengthen the Malagasy workforce. Their study represents the only published assessment of nursing education in Africa found through a literature search. Baseline data on the status of nursing education in individual countries in Africa as well as the developing world is needed to better understand and address global nursing workforce issues.
Perspectives on contemporary nursing education
Most contemporary nurse education aims to develop in the nurses a sense of certainty and self-reliance (Hack-Polay, 2020; Porter et al., 2013). Clinicians define confidence as a certainty of a professional approach that brings a valuable outcome (Bonsall, 2020). The attributes of confidence include terms such as self-efficacy, self-belief, credence, assurance, courage, firmness, nerve, self-regulation and self-possession (Waite and Hawker, 2009). In this study, the concept of clinical confidence is based on the understanding that undergraduate nursing students' confidence in clinical settings depends on traits exhibited in specific situations (Owens and Keller, 2018). In addition, the term confidence is grounded in the principles of self-efficacy, and hence, these two terms, confidence and self-efficacy, have often been used interchangeably (Bandura, 1977). The literature highlights the importance of clinical confidence in nursing practice, and it is clearly stated that individuals with confidence experience a sense of assurance that contributes to competent or outstanding performance in their duties (Hemingway et al., 2016; Owens and Keller, 2018). For example, Thackrey (1987) discussed how confidence is particularly important in managing patients/clients with mental illness, as it allows nurses in the mental health setting to deal with their patients/clients effectively and comfortably. Similarly, Liew (1996) reported that clinical confidence allows nurses to competently deal with aggression or other challenging behaviors displayed by patients in the mental health setting. Most global nursing educational frameworks posit that integrating theory and practice is a critical tandem in preparing efficacious nurses for the job market. The notion of practice no longer refers to the emotional attention to the patients but also the articulation of modern developments that allow the patients to feel a sense of connection with society and 'normality' despite being hospitalized or receiving outpatient care. Although theory is an important component of nursing, clinical experience is generally viewed as an integral component of nurse education. It is the clinical experience that provides student nurses with the framework to develop clinical confidence to practice in clinical settings (Bell et al., 1998). The technology-in-practice theory is a suitable theory for examining the use of technology innovation in nursing education as it can help to appreciate how the nursing field and the nursing student engages with non-psychological dimensions of patient care, which at the same time can enhance the healing process, considering Booth, Strudwick, McBride, O'Connor and Solano L´opez's (2021) findings. Timmermans and Berg (2003) contend that while the technology-in-practice orientation means allowing social scientists to critique the high promises and grim cautions encoded in medical technologies, it can be argued that the obvious next step of this viewpoint is to influence the invention and deployment of medical technologies. Such an endeavor is a determinant of self-confidence among professionals but also healthcare users [patients and families]. As reported by several authors (e.g. Achterbosch et al., 2015; Bonsall, 2020; Hack-Polay, 2020), confidence emerges from the interaction of environmental, experiential and behavioral factors influencing a person. Similarly, student nurses require theoretical knowledge, exposure to the clinical environment, interaction with clinical educators, nurses and patients so that they can develop clinical confidence. In addition, clinical experience in the mental health setting provides students with the opportunity to develop cognitive and psychomotor skills in key areas of mental health nursing such as assessment, communication, patient/client education, medication knowledge, self-management and teamwork (Happell and McAllister, 2015; Owens and Keller, 2018). In social cognitive theory, modelling influences learning and attitude development. This capacity to learn by observation enables the learner to acquire rules for generating and regulating behavioral patterns, reducing the chances of them forming these through trial and error (Kurian and Mekoth, 2021; Tenenberg, 2016). Bandura postulated that some complex procedures could only be mastered through the aid of modelling. Similarly, student nurses in clinical practice learn clinical procedures by observing registered nurses provide patient care. It exemplifies the effectiveness of mentorship advocated by DeForge et al. (2019). Hence, clinical educators and mental health nurses with expert knowledge should be professional role models to students on mental health clinical placements. Technology-in-practice theory sees technological learning as part of a social transmission in which institutional practices are taught to new members by selective reinforcement. Nursing is, therefore, a practice-based profession that requires student nurses to learn in clinical settings (Mthiyane and Habedi, 2018). Furthermore, Mthiyane and Habedi (2018) argue that nursing is an applied science that cannot be fully developed in the classroom or clinical laboratory skills. Therefore, student nurses on clinical placements learn high-quality nursing skills with the help of reinforcements such as clinical supervision, post-clinical conferences and clinical tutorials. We have used Technology-in-practice theory because it supports the two dimensions of our research (the technological and the psychosocial dimensions). A significant additional perspective of modern nursing education is forethought ability. It is thought that an individual's behavior is purposive and regulated by thinking ahead (Kurian and Mekoth, 2021). Individuals anticipate the likely consequences of their actions; they set goals, plan, weigh evidence from different sources and recognize actual success and failures, which influence later performance. Similarly, student nurses on mental health clinical placements assist patients in resolving problems by formulating care plans. This requires skills of assessment, problem identification, and care planning, implementing and evaluating health-related problems (Happell and McAllister, 2015). The implementation of care using nursing care plans assists students to monitor patients/clients' progress and ultimately helps them self-regulate their nursing activities. However, it is thought that with increasing technological changes in society at a large and medical practice, in particular, nursing education requires some re-engineering in order to increase resilience in nursing practice. The next section of the literature review examines some of these key changes and their impact on healthcare
Methods
Study design
This is a systematic literature review. The search of the literature was guided by the Preferred Reporting Items for Systematic reviews and Meta-Analyses (PRISMA;. The strategies of the search were developed by all the group members.
Databases sources
Databases searched included MEDLINE via PubMed, CINAHL, PsycINFO, and ProQuest Search. Search terms included 'dropouts,' 'attrition,' 'graduation rate,' 'faculty,' 'instructor,' 'professor,' 'nursing,' and 'caring.' The search terms were first mapped to the MeSH Headings in PubMed and then combined with keywords for the search. The initial search was restricted to the title and abstract fields of articles. Full texts of articles were read to further screen the
Sample size
Total of 100 article were reviewed.
Inclusion and exclusion
The initial search yielded 70 results. Records were duplicated using first EndNote and then Covidence. Following deduplication, 45 unique citations remained.
To be included, 120 articles were reviewed and read around the topic and Titles and abstracts were screened in Covidence by the students. The full text of 41 articles was reviewed by the students with ten articles meeting the inclusion criteria of the reviews.
Exclusion criteria
Out of the 100 articles reviewed 90 Studies were excluded since they were not relevant to the study or related to course workload and rigor in the nursing programs.
Search process
The search was mapped to the controlled vocabulary and syntax for the remaining databases. Results were restricted to the last five years and English language publications to obtain the most current studies in the area of the review. The latest search was completed on 20 July 2022. Records were deduplicated using EndNote and then loaded into Covidence for further screening of duplicates. The titles and abstracts were screened for relevance, after which the full texts of articles were reviewed.
Quality assessment
The quality assessment of the studies was conducted using the Mixed Methods Appraisal Tool. Each article was assessed based on the relevance of the sampling strategy to address the research question, the representation of the sample on the target population, the appropriateness of the measurements, the risk of nonresponse bias, and the suitability of statistical analysis to answer the research question. Every "yes" to the criteria was assigned 20% for a total of 100%. We listed the assessment scores.
Data extraction and synthesis
The following information was extracted from the studies: study design, data collection instruments, results of each study, and notes or recommendations. The authors read every article thoroughly before extracting the data. A constant comparison strategy was used to compare the findings of each article as they emerged and find major themes among the data extracted.
Discussion
Merits
Building students' confidence
Based on the findings of this review, students' confidence was defined as the ability to be self-reliant in new situations. Instilling confidence and being respectful were the most personal caring
Behaviors. Differences occurred based on students' social demographics, such as different countries and ethnicities. In the studies which examined students in Greece, India, the Philippines,
And Nigeria, the most important caring attribute for an instructor was "instills confidence through caring". In contrast, a research study in Iran found that the most important attribute among nursing students was that the instructors were respectful to students and had positive sharing behaviors. Instilling confidence in students through caring ranked as the second most important attribute, according to the study. Nursing students in the United States had similar perceptions of their instructors, with the highest-ranking attribute being "instills confidence through caring". This article also found a correlation between increased age of students and increased perceptions of their professors caring. This could be due to students' life experiences and generational similarities between older students and their professors. Fifer also connected an increase in working hours of students to a decrease in the perception of their instructor caring, which could be attributed to the increased levels of stress on students both financially and mentally. In regard to race, Fifer and Torregosa et al.found that non-white students had an increased perception of their instructors caring overall. When students perceived caring in their faculties, who showed a personal level of care and helped students build their confidence, students were better apt to listen and learn.
Creating a compassionate learning environment
A compassionate classroom environment was referred to as an environment in which students felt understood, challenged, and encouraged. Students least reported attribute in all studies was that instructors exhibited "control versus flexibility. Control was defined as not allowing students to problem-solve and forcing students to follow instructions exactly as what faculties said.
Flexibility, in contrast, allowed students to learn in a way that fit students the best while faculties provided support and guidance on safe practice. Students reporting a lack of flexibility perceived
Being competent
Based on the literature reviewed, being competent was referred to as students' perceptions of their instructors' capacity to effective teaching and student learning. One study found that 61.8% of the students had either sometimes or always experienced "unfair assessment" from their instructors in the previous year. The same study also found that almost 15% of the students had experienced "insincerity and coldness to others" from their instructors, and 14% had always experienced "inefficient or ineffective teaching methods" and "refusing to talk about re-examinations, test deadlines, or revising grades. "These findings were connected to a study that looked into why students chose nursing as a professional career. Students typically chose nursing because of the aspect of human contact and care. For the students in the study who had considered dropping out, the man in reasons included dissatisfaction about the training program,
Lack of support from faculties, being unprepared for clinical practice, and personal life circumstances. When instructors did not exhibit competent teaching abilities and did not compromise with their students, a negative impact was made on their learning environment.
Faculties' caring competence had an impact on students 'drive to continue the nursing program, which was instrumental to the success of a nursing student.
Greater nursing confidence and responsiveness in changing epidemiology
The review results show that technology can help respond faster in a healthcare setting and save lives. In fact, it can help deliver quality and accuracy in diagnosis. Some nurses resist technology because they fear technology taking over their jobs, thus diminishing their influence. Previous research (Biancone et al., 2021) has identified technology anxiety as a key determinant of technology adoption in healthcare. For instance, whilst Span`o et al. (2021) highlight the ways block chain technology can contribute to value creation in the healthcare sector, Massaro (2021), however, found that practitioners tend to be skeptical about its potential. However, our findings show that AI and digital technology as well as health-related engineering equipment can help reduce stress in the profession as machines become critical aid. Technology is, thus, not a threat but a necessary complement that can upskill nurses for contemporary practice.
Demerits
Poor Collaboration and partnerships:
We found that the complexity of healthcare demands and practice environment require a coordinated and collaborative approach to training of health professionals including nurses. However, the review show that nurses 'engagement in policy making is still complex and contested. Evidence based practice requires decisions about healthcare based on best available, current, valid and relevant evidence. Goose by and vonZinkernagel highlighted that partnerships form a strong foundation for planning and delivery of evidence based health services. We found that the changing learning environment, competition for learning opportunities and limitations interns of clinical support pose challenges for professional nurses to perform their multifaceted role. Professional nurses play dual roles of service delivery and clinical teaching and mentoring. Careful planning of students learning experiences is imperative to ensure that students get maximum benefits from their training. Middleton et al. reported that current reforms in nursing education demands sharing of knowledge and information. National and regional networks increase opportunities for sharing best practice this is missing in the institutions.
Lack of Capacity building.
Challenges facing nursing education in Sub Saharan Africa demands strong committed leadership to see mutual goals and strategic contribution and effective use of resources. Building management capacity of nursing training institutions is one strategy that various countries have put in place to ensure adequate and quality education of nurses to strengthen their weak healthcare system. Nursing education operates within a complex environment which has to constantly be put under vigorous evaluation in order to encourage innovations that will improve nursing education.
Lack of Infrastructure and resources.
We found that lack of infrastructure, absence of trained human resources experts and lack of material resources posed big challenges to nursing education among Sub Saharan African countries. With the continuing growth in the world's population and the growing disease burden, there is a critical need for increased numbers of qualified health-care personnel and increasingly more efficient healthcare systems. The review shows that the shortage of nurses and midwives has led to increased student enrolment in most countries. Increase in student enrolment has resulted in a strained clinical learning environment, competition for learning opportunities among students. We found that infrastructure investment will facilitate better quality education. The strategy involved providing infrastructure development for the nursing training institutions to accommodate more students and to provide student training fees.
Curriculum enhancement
Continuous curricular modifications are an essential phenomenon in nursing academia in order to level learning with the rapidly evolving professional practice. Faculty members gain insight on the students' feedback on their clinical placements by the end of each semester through individual and group discussions using Interpretive Descriptive qualitative research methodology. Nursing programs aim to prepare nurses who are able to deliver safe and high quality care and would be able to adapt to the evolving environments of practice. Nursing pedagogues endeavor to expose the students to various learning experiences to make sure that they receive their information through multiple channels and would have access to the best available evidence. This strategy takes a lot of time and energy from the nurse educators, and might face multiple challenges (Landeen et al., 2016).
Economic challenges
Tuition fees pose obstacles to prospective candidates where the economic depression in the US and regression in financial aid programs have changed the student's study plans. In 2009, 15% of post-graduate nursing academic programs have recognized financial status and costs of the programs as barriers of enrolling in such programs (National M.A. Fawaz et al.)
League for Nursing, 2011). Moreover, program location can be a hindrance to nurses who are place bound by responsibilities to support family and provide income. Nursing programs are less available in rural areas despite the increased and crucial necessity of such programs in such areas, where nurses have to be satisfied with longer shifts for less pay (Fitzgerald, Kantrowitz-Gordon, Katz, & Hirsch, 2012). Furthermore, nurses who are employed in hospitals find it difficult to continue their educational career and specialize in certain areas of nursing, as employers usually have to pay replacement fees to in order for them to attend their classes thus posing an added economic challenge.
Economy and resistance as causes of slow adoption of digital technologies
Many factors explain the slow adoption of digital technologies in nursing education and practice. In our participants' eyes, these mainly center on economic issues and resistance due to fear of machines potentially 'taking over jobs'. As some participants put it: "Many training institutes and hospitals do not have the funds to buy digital technologies. Some of the traditional machines are still rudimentary, so digital technologies could seem like a fantasy."
Poor Faculty development.
Quality education relies largely on well-trained and competent faculty members. Faculty development and faculty vacancies are demanding challenges in nursing education. Inadequate capacity in nursing schools, increasing requirements to take part in non-academic university activities and relatively low pay are a primary contributing factor to the deficit of nurses and the lack of nursing faculty is a primary causative factor of the capacity restrains. Educators need practice to allow them to integrate theory into practice through synchronization of theoretical themes with the practice courses as well as evidence-based educational strategies more effectively and equip nursing students with the competencies demanded in the 21st century's healthcare environment. Nursing schools demand faculty members who are experts in nursing education and have the knowledge base to function in an advanced practice role. Furthermore, deans of schools of nursing are demanded to applaud these experts and act to cultivate systems that celebrate and reward expertise in nursing education (Bvumbwe, 2016).
The WHO (2009) Global Standards for Nursing and Midwifery recommend the head of the nursing program is a nurse who holds a graduate degree, is educated and experienced in leadership and administration, and demonstrates knowledge as an educator. Both programs require a doctoral degree as the minimum standard to be the dean (defined as the head of the department) of the program.
The need for Curriculum reforms
A curriculum is at the heart of every educational enterprise. The change in the global health care landscape is putting much pressure for reforms on how Table 1 Summary of records reviewed (Continued) Author and year Country Tittle Contribution to nursing education patients at the at the non-tertiary facilities than at the tertiary hospital. Health workers at the non-tertiary hospitals also reported improved quality of patient care, increased job satisfaction, and greater interest in research. County hospitals have retained employees and the nurses are upgrading their skills without losing income. Blaauw, D., Ditlopo, P.& Rispel, L. 2014 South Africa Nursing education reform in South Africa –lessons from a policy analysis study. The study found significant weaknesses in the policy capacity of the main institutions responsible for the leadership and governance of nursing in South Africa, which will need to be addressed if important nursing education reforms are to be realized (Appiagyei, A.A. Kiriinya, R.N., Gross, J.M., Wambua, D.N., Oywer, E.O., Kamenju, A.K., Higgins, M.K., Riley, P.L.& Rogers, M.F. 2014)
Kenya Informing the scale-up of Kenya's nursing Workforce: a mixed methods study of factors Affecting pre-service training capacity and production. To scale-up the nursing workforce in Kenya, concurrent investments in expanding the Number of student nurse clinical placement sites, utilizing alternate forms of skills training, Hiring more faculty and clinical instructors, and expanding the dormitory and classroom space To accommodate new students are needed to ensure that increases in student enrolment are not at the cost of quality nursing education
Discussion
This integrative review has attempted to synthesize relevant published work on nursing education in Africa and made recommendations towards improving the quality, quantity and relevance of nursing education in Sub Saharan Africa (Ghana). Despite the reported severe shortage and maldistribution of nurses between and within countries, nurses remain the single largest available group of available health workers. This positions nurses to be global leaders in driving the quality of health care delivery especially in low –resource settings. Numerous literature report a very significant relationship between nursing and patient safety, patient satisfaction and quality care. However, nursing education programs have failed to produce the required graduates who are responsive to the local health policies and programs and the needs of the health care users.
5. Recommendation and implication
This review shows that students' perceptions of faculty caring can have a crucial impact on their success in education. Correlations exist between faculties' caring behaviors and students 'positive Outlook of their education. Based on the literature reviewed, we summarize the following suggestions for nursing faculty.
Focusing on individual students' needs Faculties need to be aware of students' learning environment and tailor their teaching in the most beneficial way possible to students' learning outcomes. Students express positive and negative experiences with faculties when they are part of a larger group and express the desire and need for an individualized teaching plan. Individual students need to be the primary concern of a nursing instructor. Nursing instructors who are consciously aware of their teaching strategies and behaviors and adjust them to fit the needs of the students create a more responsive and comfortable learning environment.
Providing continuing education and mentoring programs for instructors. Finding new ways to educate instructors on appropriate caring behaviors is beneficial to students. Mikkonen et al. Suggest providing continuing education for instructors, in which instructors can develop and increase their empathic skills and understand the importance of showing empathy on students' learning and professionalism. Other suggestions for continuing education of instructors come from Labrague et al. who suggest nurse educators become certified, which can benefit both instructors and students. Continuing education on instructing faculty empathy skills may promote students' perceptions of what nursing means to them and keep students on the path to finish their nursing education. Faculty mentoring programs are also valuable to develop junior faculties. Swanson, Larson, and Malone find that successful mentoring programs foster junior faculties' academic success as scholars and educators. Effective mentoring programs help mentors and mentees build a productive relationship that is consisted of mutual respect, trust, and open communication. Effective mentoring programs can provide a win-win situation for both nursing schools and junior faculties. Faculties can build their reputations and careers, and universities can benefit from the increasing contributions of the junior faculties.
Developing students' empathetic and caring behaviors. Another aspect of the learning environment where professors have influence is to facilitate the development of students' caring behaviors. Teaching strategies should include simulations, games with educational value, and patient narratives, which could actively engage students in developing and using their empathy skills and caring behaviors. These teaching strategies can promote students' perceptions of faculty 'control' versus 'flexibility,' which is ranked low by students in the studies reviewed. Simulation activities allow instructors to give full flexibility to students and explain to them what can be done differently.
Expand opportunities for nurses to lead and diffuse collaborative improvement efforts. Private and public funders, health care organizations, nursing education programs, and nursing associations should expand opportunities for nurses to lead and manage collaborative efforts with physicians and other members of the health care team to conduct research and to redesign and improve practice environments and health systems. These entities should also provide opportunities for nurses to diffuse successful practices.
Increase the proportion of nurses with a Bachelor's degree to about 80 percent by 2030. Academic nurse leaders across all schools of nursing should work together to increase the proportion of nurses with a Bachelor's degree to about 80 percent by 2030. These leaders should partner with education accrediting bodies, private and public funders, and employers to ensure funding, monitor progress, and increase the diversity of students to create a workforce prepared to meet the demands of diverse populations across the lifespan.
6. Limitation
The focus of the literature review is mainly on nursing education; merits demerits and the way-forward. Based on the findings of the review, research gaps are recognized.
Research is needed to examine the practical ways to promote faculty caring and the long-term effects of faculty caring on students' professional development.
For example, future research may longitudinally study the impact of faculties' caring in nursing schools on promoting nurse confidence and resilience and reducing job-related stress or burnout. And also time factor.
7. Delimitation
There was a lot of articles to read around.
8. Funding
This study was not supported by any grant.
9. Conclusion
This paper has critically evaluated and summarized the current literature about access to nursing education: merits, demerits and the way-forward.
The learning environment faced by nursing students has an impact on their ability or intention to graduate. Improving graduation rates in nursing schools will impact the overall field of nursing.
A significant impact on the learning environment is the faculty of nursing schools, who is the anchor of the nursing program. Faculties need to balance their control versus flexibility and exhibit caring behaviors to build students' confidence, create a compassionate learning environment, be competent, and promote students' growth and success in their nursing skills and knowledge.
In order for the nursing workforce in Ghana to be expanded, a strong emphasis should be placed on the development of academic programs to prepare nursing faculty.
To accomplish this goal, nurse educators will need to obtain a doctoral degree to meet the university requirements for promotion and tenure.
A core group of doctorally prepared nurses could serve as the foundation on which to expand nursing.
BY: Department of Nursing and Midwifery,
Catholic University.
References
Abdel-Basset, M., Chang, V., Nabeeh, N.A., 2021. An intelligent framework using disruptive technologies for COVID-19 analysis. Technol. Forecast. Soc. Change 163, 120431. https://doi.org/10.1016/j.techfore.2020.120431 .
Achterbosch, B., Hocking, W., Nulty, L., Greenslade, D., 2015. Australian college of mental health nursing 41st international mental health nursing conference – 'mental health nurses: shifting culture, leading change. Int. J. Ment. Health Nurs. 24 (S1), 1–49. https://doi.org/10.1111/inm.12172. Bandura, A., 1977. Social Learning Theory. Prentice-Hall.
Bandura, A., 1986. Social Foundations of Thought and Action. A social cognitive theoryPrentice-Hall, Inc. Basile, L.J., Carbonara, N., Pellegrino, R., Panniello, U., 2022. Business intelligence in the healthcare industry: the utilization of a data-driven approach to support clinical decision making. Technovation 102482. https://doi.org/10.1016/j .
Education. Medical Education Online, 16(1), 6035. https://doi.org/10.3402/meo.
v16i0.6035. Bvumbwe, T. (2016). Enhancing nursing education via academic -clinical partnership: An integrative review. International Journal of Nursing Sciences, 3, 314–322.
Daniel, E. S., Ramnarine, N., & Kathiravan, G. (2017). Effective mentorship for recruitment
and retention of newly registered nurses at a tertiary care hospital. Trinidad.
Imperial Journal of Interdisciplinary Research, 3(2).
Decker, S. I., Erson, M., Boese, T., Epps, C., McCarthy, J., Motolatechnovation.2022.102482. Basu, A., 2021. Mental health: the role of AI-powered solutions. Medtech Innovation. Retrieved 07 December from. https://www.med-technews.com/medtech-insights /ai-in-healthcare-insights/mental-health-the-role-of-ai-powered-solutions/. Batth, R.S., Nayyar, A., Nagpal, A., 2018. Internet of robotic things: driving intelligent robotics of future - concept, architecture, applications and technologies. In: 2018 4th International Conference on Computing Sciences (ICCS). Bell, A., Horsfall, J., Goodin, W., 1998. The Mental Health Nursing Clinical Confidence Scale: a tool for measuring undergraduate learning on mental health clinical placements. Aust. N. Z. J. Ment. Health Nurs. 7 (4), 184–190. Berghoff, H., 2001. Business history. In: Smelser, N.J., Baltes, P.B. (Eds.), International Encyclopedia of the Social & Behavioral Sciences. Pergamon, pp. 1421–1426. https://doi.org/10.1016/B0-08-043076-7/02649-8. Biancone, P., Secinaro, S., Marseglia, R., Calandra, D., 2021. E-health for the future. In: Managerial Perspectives Using a Multiple Case Study Approach. Technovation, p. 102406. https://doi.org/10.1016/j.technovation.2021.102406. Bonsall, L., 2020. Giving Meaning to Resilience during COVID-19. Lippincott Nursing Center. NursingCenter. Retrieved 12 August from. https://www.nursingcenter. com/ncblog/ may-2020/ giving-meaning-to-resilience-during-covid-19. Booth, R.G., Strudwick, G., McBride, S., O'Connor, S., Solano L´opez, A.L., 2021. How the nursing profession should adapt for a digital future. BMJ 373, n1190. https://doi. org/10.1136/bmj.n1190. Bryman, A., 2006. Integrating quantitative and qualitative research: how is it done? Qual. Res. 6 (1), 97–113. https://doi.org/10.1177/1468794106058877. Cao, G., Duan, Y., Edwards, J.S., Dwivedi, Y.K., 2021. Understanding managers' attitudes and behavioral intentions towards using artificial intelligence for organizational decision-making. Technovation 106, 102312. https://doi.org/10.1016/j. technovation.2021.102312. Cashin, A., Heartfield, M., Bryce, J., Devey, L., Buckley, T., Cox, D., Kerdo, E., Kelly, J., Thoms, D., Fisher, M., 2017. Standards for practice for registered nurses in Australia. Collegian 24 (3), 255–266. https://doi.org/10.1016/j.colegn.2016.03.002. Chakraborty, D., Paul, J., 2022. Healthcare apps' purchase intention: a consumption values perspective. Technovation 102481. https://doi.org/10.1016/j. technovation.2022.102481. Chang, Y.-C., Yang, P.Y., Martin, B.R., Chi, H.-R., Tsai-Lin, T.-F., 2016. Entrepreneurial universities and research ambidexterity: a multilevel analysis. Technovation 54, 7–21. https://doi.org/10.1016/j.technovation.2016.02.006. Cobianchi, L., Dal Mas, F., Peloso, A., Pugliese, L., Massaro, M., Bagnoli, C., Angelos, P., 2020a. Planning the full recovery phase: an antifragile perspective on surgery after COVID-19. Ann. Surg. 272 (6). https://journals.lww.com/annalsofsurgery/Fulltext/ 2020/12000/Planning_the_Full_Recovery_Phase__An_Antifragile.51.aspx. Cobianchi, L., Pugliese, L., Peloso, A., Dal Mas, F., Angelos, P., 2020b. To a new normal: surgery and COVID-19 during the transition phase. Ann. Surg. 272 (2). https://journ als.lww.com/annalsofsurgery/Fulltext/2020/08000/To_a_New_Normal__Surgery_an d_COVID_19_During_the.13.aspx. Cohen, B., Amor´os, J.E., Lundy, L., 2017. The generative potential of emerging technology to support startups and new ecosystems. Bus. Horiz. 60 (6), 741–745. https://doi.org/10.1016/j.bushor.2017.06.004. Cole, D., 2022. Russia's strike on Ukraine maternity hospital is part of a terrible wartime tradition. NPR. Retrieved 20 March from. https://text.npr.org/1086982186. D'Este, P., Mahdi, S., Neely, A., Rentocchini, F., 2012. Inventors and entrepreneurs in academia: what types of skills and experience matter? Technovation 32 (5), 293–303. https://doi.org/10.1016/j.technovation.2011.12.005. DeForge, R., Colquhoun, H., Richmond, S.A., Emberly, D., Newman, K., 2019. Developing a theory of peer mentorship in a knowledge translation trainee context. Stud. High Educ. 44 (12), 2385–2401. https://doi.org/10.1080/ 03075079.2018.1504909. Drago, C., Gatto, A., Ruggeri, M., 2021. Telemedicine as Technoinnovation to Tackle COVID-19: A Bibliometric Analysis. Technovation, p. 102417. https://doi.org/ 10.1016/j.technovation.2021.102417. Eccleston, L., Richardson, S., 2019. Clinical collaboration with application development. In: Marx, E.W. (Ed.), Voices of Innovation: Fulfilling the Promise of Information Technology in Healthcare. CRC Press, pp. 227–241. Edward, K.-l., Warelow, P., Hemingway, S., Hercelinskyj, G., Welch, A., McAndrew, S., Stephenson, J., 2015. Motivations of nursing students regarding their educational preparation for mental health nursing in Australia and the United Kingdom: a survey evaluation. BMC Nurs. 14 (1), 29. https://doi.org/10.1186/s12912-015-0084-8. Elia, G., Margherita, A., Passiante, G., 2020. Digital entrepreneurship ecosystem: how digital technologies and collective intelligence are reshaping the entrepreneurial process. Technol. Forecast. Soc. Change 150, 119791. https://doi.org/10.1016/j. techfore.2019.119791. Ellis, P., 2016. Understanding Research for Nursing Students. SAGE Publications. Fawaz, M.A., Hamdan-Mansour, A.M., Tassi, A., 2018. Challenges facing nursing education in the advanced healthcare environment. Int. J. Africa Nurs. Sci. 9, 105–110. https://doi.org/10.1016/j.ijans.2018.10.005. Greene, J.C., 2007. Mixed Methods in Social Inquiry. Wiley.