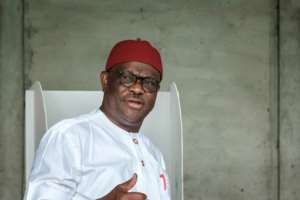 The personalities and qualities of political pioneers are known to completely influence political sentiment and leadership.
Nyesom Wike, Rivers Governor and one of the political leaders of recent times, exemplifies three qualities voters should expect in leaders: competence, fairness, and legitimacy.
A political leader must be seen as someone who has a connection with the lives and thoughts of ordinary citizens in order to be considered genuine.
Since Wike is undoubtedly dogged in political matters, some politicians strongly dislike him, while others consider him the ideal political accomplice for any adult public servant if they are looking for a posh political personality to take care of their family's political presence.
Affirming its meeting with Asiwaju Ahmed Bola Tinubu, the official competitor of the All Progressives Congress (APC) as part of the conference cycle for a superior Nigeria, Wike said the meeting also met new officials of the People's Democratic Party, Atiku Abubakar and Labor Party (LP) Peter Obi, along with former President Olusegun Obasanjo in London.
This was expressed by Wike shortly after demonstrating this spirit from London on Friday August 26, 2022, at Port Harcourt International Airport, Omagwa, Ikwerre Local Government Area, with the participation of the main representatives. Principal representatives: Samuel Ortom (Benue) and Okezie Ikpeazu (Abia). Wike said the meeting they had goes beyond tough government issues, adding that it's only intended for a better country.
Wike said: "I can say that this is the first time we have met new people officially. We have met the official rival of the All Progressives Congress (APC) and we met with our leader, former President of Nigeria, Olusegun Obasanjo. We met the official competitor of the Labor Party. We also caught up with our official newcomer, Atiku Abubakar.
"All other things being equal, the discussion is ongoing. Everything we discussed benefits Nigerians. It is not relative and tied to an individual or a group. We accept that what is happening will ultimately help the people of Nigeria."
However, it has been found that the overt enemies of opinion are constantly increasing in Nigeria, and this is accompanied by an adjustment of assumptions for politicians.
While the people always accept "a decent politician" with characteristics related to integrity and competence, politicians are expected to gradually become "human", "ordinary" or "in touch" for easier, more authentic individual wellbeing. Political bigweight, de Wike, is a term that is saved when unmistakable traits of vision, authenticity, and credibility are found.
Existentialist writings by rationalists like Jean-Paul Sartre and Michel Foucault, concerned with the pain of self-disclosure and invention, show how extraordinary A-level politicians and government issues are and what government affairs mean to us, breaking the deception that we are separate from them.
Wike's new political elevation has allowed us to look beyond our basic belief that we have no real say in running our country. It really shows us an essential component of society and helps us understand that, if we participate in political cycles, using pressure axes built into the framework, each individual really has a chance to impact the world.
Wike has shown us that in government affairs, reading political materials are forever out of date when they are distributed. Why? Politics is changing day by day, with new models constantly appearing in the society. Choosing which guidelines to use in your responses to the exposure questions is really intriguing because something happened the day you considered the new political tie.
It is a remarkable improvement that thoughts that were once reserved for peripheral groups now appear in the age-old press. In its latest report, Wike has more than once voiced the importance of majority government, pointing out that some basic needs need to be addressed.
It is a pity that in Nigeria, a system of majority rule is not, in fact, synonymous with opportunity. It's, however, a skewed majority rule system here, where voting continues, but liberal elements, such as an autonomous legal operator and a free press, have been ignored.
Odimegwu Onwumere writes via: [email protected]