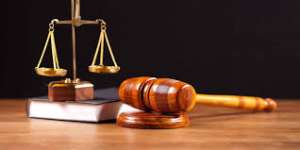 At the end of the day, we are each our own biggest fans. It makes sense, does it not? To agree wholly, as much as practicable, with our very own thoughts, motives, actions, and the very essence that proceed from our individual principal habitats (i.e., our bodies), that's got to be as human as it gets. There is no other way around this, a person is bound to be their own biggest fans. But it's dangerous, is it not? I mean, just because one is a fan of something does not make that thing necessarily good. Oh man! at the mention of this someone just gave a mischievous side-eye to the Man U fans. Please let's not get red on our hands this glorious Wednesday...
My thoughts, to me, are good, because it is ultimately weighed against…well, my own thoughts. My supposed moral actions, to me, are good, because, again, it is ultimately weighed against my own sense of morality—as acquired as they are from our human perception of the Creator, concepts of natural justice, common good, etc.,
Although derived, these sense of morality, in the end, are my own customised version, my mixtape, if you will—the greatest hits… Those moralities I have deemed as good enough to accept upon my own self, good enough to live my life by. And oh, my actions, they are of course a manifestation of all that's in me—all that's, among others, in my thoughts, my conscious and subconscious thoughts.
And this might just be the same for you too.
The Paradox of Freedom
But it's dangerous, is it not? For each human to walk freelyabout, with their own versions of the conception of the world—their own mixtapes of the concept of morality and the very essence of living, and their consequent manifestations into this world, that's undoubtedly got to be dangerous for the human ecosystem. Because if we be our own ultimate yardstick for how to live our lives, things we choose to believe, with no care in the world, how our thoughts, beliefs, actions affect one another, what we derive for a society of humans, as we indispensably are,is not one where freedom abounds, but one where freedom is ultimately curtailed. Because what is it that they say? Where one's freedom ends is where another's begins. So, for our own sakes, we have had to rethink our supposed freedoms.
To coexist in this world, we have each had to live outside our own selves every now and then. At the end of the day, we are each our own biggest fans—true. But for the proper functioning of this world of ours, for our own peace of mind, forming part, as we indispensably are, of this world, we have had to, every now and then, remove our jerseys of individualism and live, think, act in ways that fosters the common good. This is a kind of selflessness reminiscent of God Himself. Because look at you not driving a knife through the heart of that male co-worker of your wife's who is supposedly 'always saying the right things'(you feel the quotes?)—even though technically this dagger-in-the-heart approach could have solved your problem... Or that female co-congregant of your church who apparently always has a problem whose resolution can only be found in your husband's counsel—so there she comes with the incessant texts and calls… Yet, she's still alive, isn't she? Congratulations! Such exhibition of selflessness—reminiscent of God Herself!
You and I, we declare on this fateful Wednesday, how proud we are to be on this team of selflessness... This selflessness that quite literally makes the world go round—that has seen to the preservation of this world as we came to inherit it and the inhabitants contained therein. Ah! What God's people we are! I have a theory: we are living in our own version of the Biblical times. Our actions are being put in writing as they were in the times of Esther, Paul, Ruth, David, Mary, Abraham, and co. I tell you, minstrels will, in the millennia to come, write and sing psalms about you. The Bible will read, 'The Book of Edzordzinami Butsormekpor', 'The Book of Kofi Amponsah'… I don't know your name; I would have added it here.
What is life without the occasional harmless bragging? But here is the thing though, as you and I sit here bragging about our strides at uprightness, at morality, at goodness, we do so, knowing full well that it is not by our might, neither is it by our power, but by… the law.
So then, an exploration into the law it is. In the upcoming weeks we are going to take a look at this leviathan, requiring and in fact acquiring worldwide obedience—the law. It is a mighty thing, the law. It is arguably the best demonstration of selflessness by us humans yet.
This has been brief. Speak to you next week.