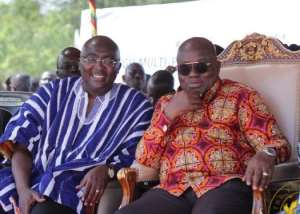 Nana Akufo-Addo (right) and his 'Walewale Adams Smith' Dr. Mahamudu Bawumia
The Kenyan Vice President, William Ruto, who was not supported by the outgoing President has won the general election. Mr Raila Odinga who was supported by the President Uhuru Kenyatta has lost.
Odinga lost Kenya's elections despite enjoying all the support from Kenyatta. Upon all the machinations by the powers that be including the President, Mr. Ruto won.
This has caused observers to say that this will be repeated in Ghana and whoever the Presidency supports will lose the NPP Presidential Primaries or the 2024 elections of Ghana. In the recent NPP Regional Elections, Jeff the current Eastern Region Chairman who was allegedly opposed by the Presidency won hands down. At the National Election it is alleged that President Akufo-Addo's candidates lost.
The multi-million-dollar question is who does the President supports in the NPP Presidential primaries? His darling boy the Vice President who he named Walewale Adams Smith or his best friend Dr Akoto? This is the question people are asking. Who does the President support?