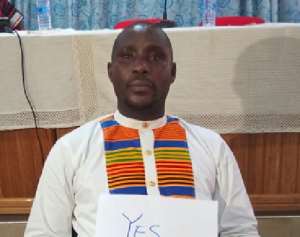 A leading member of the pro-Alan group in the Ashanti Region Hon. Abraham Boadi popularly known as Opooman has asked persons attacking NPP stalwart Hopeson Adorye to ceasefire.
He claims the alleged ethnocentric comment was orchestrated by opponents to paint them black.
Hopeson Adorye is alleged to have made an ethnocentric comment against Northerners in the NPP during last Saturday's "Walk with Alan" event in Kumasi.
Speaking on Otec FM's morning show dubbed 'Nyansapo' on Monday August 15, 2022, Hon. Abraham Boadi who is also a former Presiding Member of the Kumasi Metropolitan Assembly (KMA) said they had earlier picked an intelligence which revealed that he (Opooman) was the main target.
According to him, he refused to make a comment at the event.
He added that the plotters who were bent on achieving their aim turned to Mr. Adorye who spoke at the event.
He told the programme's host Captain Koda that he believes the speech of Hopeson Adorye has been doctored just to divert attention from the message of the walk.
Asked why the group defied orders of the party's General Secretary Justin Kodua to embark on its "Walk With Alan" event, the former KMA Presiding Member stated that the message came in too late and there was no way they could stop it.