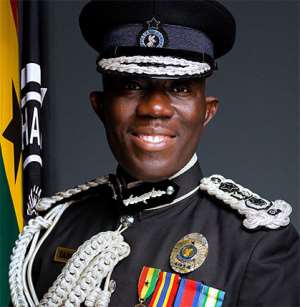 IGP Dr. George Akuffo Dampare
For the first time in the history of the stereotyping of the police as the most corrupt public institution in the country, an IGP has fought back.
Dr. George Akuffo Dampare, while speaking on policing in Ghana currently during a public forum in Kumasi last weekend, pulled off the tag being constantly festooned around the neck of the law enforcement body. He has inadvertently paved the way for other public institutions to scrutinise the recycled findings.
The Ghana Police Service, as a public institution although regimented, is a microcosm of corporate Ghana. As an institution, it exudes what pertains in other establishments in the country.
The glee with which the oft-time recycled reports are churned out can be irritating anyway ignoring deliberately inroads being made or made by the institution being referred to.
The angst of the IGP, who is on a massive transformation drive in the law enforcement institution, is understandable.
The impact of the innovations in especially the training regime in the law enforcement institution, among others, cannot be over-emphasised.
The goal of such findings is to trigger positive changes in the way the pointed public institutions work.
When, however, reports are churned out with a touch of tendentiousness and cynicism, then institutions so referred to have the right to stand up as the IGP has done to defend themselves.
As for politicians, it is like there is no iota of goodness in any of them. Hardly mentioned anyway they are constantly on the lips of people for being corrupt.
The corruption watchers should consider in their subsequent reports how the bribes originate. Who initiates the move and the like? Putting the receivers on the spot is not consistent with fairness.
The Ghana Government had cause to stand up to the conclusions of some international rating bodies. While the ratings reflect by and large the realities of the international economic space, what was churned out recently was lacking in this direction. The contextualisation of such reports would go a long way in making them digestible. Anything short of the foregone especially, reference to progress so far, would be bereft of the integrity needed to prop what is churned.
Some institutions are hardly mentioned in such integrity or corruption ratings as though they are above board. Are there angelic institutions which do not have any skeleton in their wardrobes including NGOs and civil society organisations, which would influence positive press coverage for more funds from their foreign donors.
A better Ghana where institutions deliver on their mandates all to the betterment of Ghanaians is the way to go.
The police have pulled off the negative tag. Let others follow. The bad nuts, when they are identified, should be named and shamed anyway. Since we cannot, however, have a police-less country, all of us should contribute towards making good what we have and not destroy it.
Source: Daily Guide