The La Constance Centre for Global Health (LCCGH) has donated 120 bottles of Prenatal Vitamins to the Akyem Nsutam CHPS Compound in the Eastern Region for distribution to pregnant women in the area.
The presentation followed a request to the LCCGH by Mr. Mohammed Affum, an indigene of Nsutam and Dr. Kwame Asah-Asante, Director, Centre for European Studies, University of Ghana, Legon.
The donation was received by the Chief of Nsutam, Osabarima Sarpong Kumankoma.
Osabarima Kumakoma expressed his gratitude to LCCGH on behalf of the town and the District Health Directorate and hoped the donation will go a long way to improve the health of pregnant women in the area. He further hoped the LCCGH would respond positively to the request of the town to assist in equipping the CHPC Compound.
The La Constance Centre for Global Health whose President and CEO is Dr. Alex Aniapam Boafo, a Gynecologist and Obstetrician based in New Yorke has a project to distribute pre-natal vitamins to hospitals and clinics in Ghana to support pregnant women to reduce pregnancy mobility and mortality.
According to the Centre, maternal morbidity and mortality statistics in Ghana were high and there was the need to address this health problem. The Centre has identified the major cause of maternal morbidity and mortality as hemorrhage (excessive bleeding), hypertensive disorders and infections.
The Centre believes that the Prenatal Vitamins have the potential to address, particularly, hemorrhage and the well-being of pregnant women.
Present were the Kyidomhene, Nana Appiakroang; Asona Abusuapanying, Opanying Kwame Toku; Mawerehemaa, Nana Abena Owusua; Mabaahemaa, Nana Ayowa; the Assembly Member, Mr. Alexander Boakye; and the Fanteakwa South District Director of Health, Mr. Eric Atuahene and staff of the CHPS Compound.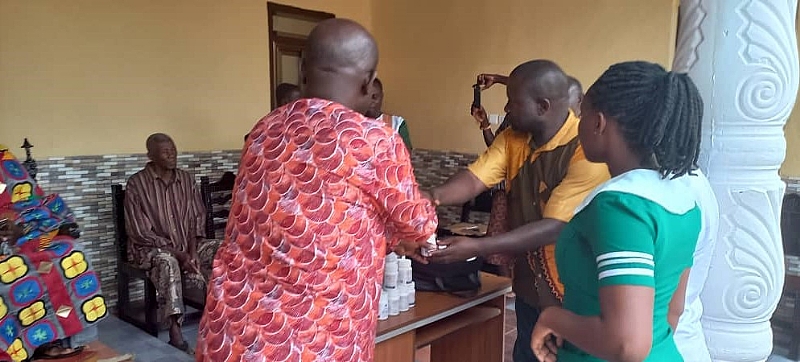 Pictured above are Dr. Kwame Asah-Asante and Mr. Mohammed Affum (4th and 5th from right) in a chat with the Chief (Seated left)