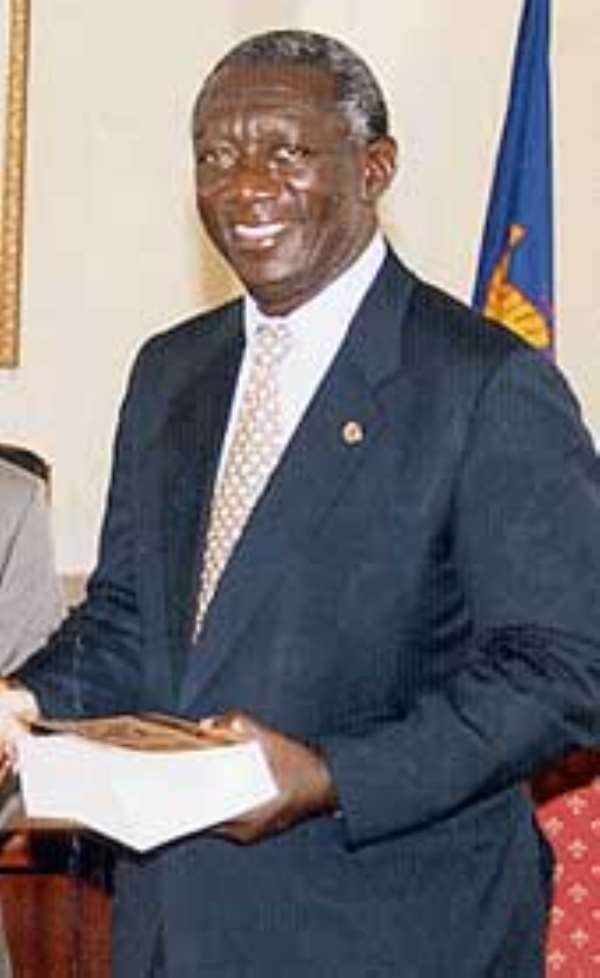 ...Rule Of Law And Good Governance Administration. The Ghanaian Times edition of July 18 2005 published a story of the arrest of one fifty-six year old farmer Samuel Antwi of Mpraesu in the Kwahu South District in the Eastern Region for possessing a human skull and skeletons.
The suspect has been arraigned before the Mpraesu Circuit court and was remanded into prison custody. His accomplish one Boateng is on the run and the police are looking for him to also face the law court
What interests me about this case is that these persons are being prosecuted by the law enforcement agencies because they were found in possession of human bones. Whose bones they are nobody knows apart from the suspects and the Almighty Allah.. The skeletons might have been found in some cemeteries or even imported in to the country yet they are being prosecuted for possessing unknown human bones.
Last year two persons were arrested and arraigned before a court in Kumasi for killing thirty vultures. They were each fined five hundred cedis or risk going to prison if they failed to pay the fines. Even if vultures are given justice when their right to leave as enshrined in our constitution are violated then why can't the families of the Ya-Na and forty others as well as Alhaji Issah Mobila be given justice?.
In the murder of the Ya-Na and forty matyrs of Dagbon, two persons Iddrisu Jahinfo and Yidana Sugri were seen in broad daylight parading the severed head and arm of the Ya-Na along the streets of Nayilifong (a suburb of Yendi) amidst drumming and dancing and they finally hoisted the head on a spear and handed it over to some persons believed to be the spiritual god fathers of His Excellency the President in a ceremony. All these events occurred in the full glare of the security agencies stationed in Yendi who watched these gory scene as if they were hypnotized. These two persons admitted before the Justice Wuako Commission and the High Court in Accra which tried them yet they were acquitted and discharged for lack of evidence.
The Ya – Na was not only the overlord of Dagbon the oldest Kingdom in Ghana but also a special friend of the President His Excellency Mr. J.A. Kufour and his Vice His Excellency Alhaji Aliu Mahama. Interestingly Yendi is the birth place and home town of His Excellency the Vice President and also serves as the second home of His Excellency the President. The slain King was also the classmate of the Vice President. Yet these two very, very important personalities looked on helplessly when their friend was being attacked and finally brutally murdered in broad daylight. Even they could not ensure that the widows and children left behind by their friend are given justice. Things are really happening (apologies to Konkonsa of Radio Gold fame) under the able leadership of Mr. Zero Tolerance for corruption, rule of law and good governance. I am at a loss as to what friendship is all about. The case of Ya- Na Yakubu Andani and his friends J.A Kufuor and Alhaji Aliu Mahama is that of betrayal of trust and a stab in the back. When Honourable Members of Parliament from Dagbon make statements in the floor of Parliament about the injustice meted to the victims of March 27 2002 Massacre, Honourable MPs' such as Felix Owusu Agyapong and Osei Prempeh say we should not compare apples against oranges.
To such MPs'vultures deserve justice than those who were brutally and savagely murdered in broad day light in the full glare of the country's security forces who were perhaps instructed by their superior officers not to intervene. This unfortunate and embarrassing statements made by the two Honourable MPs' goes a long way to confirm what majority of people in the North and Dagbon in particular have about the Busia-Danquah tradition and the NPP leadership.
It is rather very hypocritical and outright dishonesty on the part of His Excellency the President Mr. J.A Kufuor to publicly admonish Ghanaians against ethnicity, nepotism and politicization of national issues. When in deed and practice he is the number one culprit.
To our various religious leaders i.e. the Catholic Bishops conference; Christian Council; Pentecostal Council; Ahmadiya Muslim Movement and the Ghana Muslim Council you have all failed in your duties as men of God. Your blatant failure to openly condemn this barbaric act and to compel the government to act swiftly and bring the perpetrators of this heinous and barbaric act and their collaborators casts a lot of doubt in your integrity as men of God. I do not think any of you owes your positions as religious leaders to the government. All of you have lost your voices since the assumption of office of the NPP administration. I remember Pastor Mensah Otabil used to preach on leadership. He always said the problem facing our dear country Ghana was bad leadership Today this topic has vanished from Pastor Mensah Otabil's preachings. I presume our dear country Ghana has now gotten the right leaders.
To our fathers the traditional rulers (chiefs) who constitute the National House of Chiefs what happened in March 2002 can be described as a traditional coup detat. Your silence on this issue means your endorsement of that disgraceful and barbaric act. Ya-Na Yakubu has had his turn. Tomorrow it may either be the turn of the Asantehene; Okyenehene; La Mantse; Tema Mantse (who nearly escaped death) or the Bolga Naba. The good people of Ghana and Dagbon are watching all of you. You must all remember that His Excellency the President Mr. John Agyekum Kufuor came and met you occupying your respective stools and skins and come January 7th 2009 Insha Allah he would leave his throne for another occupant. The silence of the National House of Chiefs of the callous murder of their own member aptly describes some of them as gaping sychophants. Our chiefs should learn to tell politicians in the face when they go wrong so as to preserve the dignity of their stools/skins they occupy.
The President Mr.J.A. Kufuor in his last interview on Straight Talk Africa told the whole world that he has never committed any mistake since his assumption of power some four and half years ago. Mr. President with due apologies to the high office you hold I beg to say that what you said was a blatant lie. You failed in your duty to protect the lives of your dear friend Ya-Na Yakubu Andani and the forty matyrs who perished.with him.as Commander in Chief of the Ghana Armed Forces. Tomorrow you would be called upon by The Almighty Allah to account for your stewardship as President of the Republic of Ghana between 7th January 2001 to 6th January 2009. You may escape to account for your stewardship on earth but on that Great Day (Judgment Day) Insha Allah you cannot escape. I believe as a devout Catholic you are aware of the Judgment Day
Mr President to ensure total reconciliation and peace in Dagbon you must publicly admit that there was dereliction of duty on your part as Commander in Chief of the Ghana Armed Forces and that what happened on March 27th 2002 was an unfortunate and regrettable action instead of using your position to protect the perpetrators who continue to infringe on the laws of Ghana with impunity. Mr. President if you are able to publicly admit your guilt and apologise to the good people of Ghana, Dagbon and the Andani Family in particular all men of good will and conscience would forgive you more especially we in the Andani Family since we are known not to be vindictive. Our cousins from the Abudu Family refer to us in Dagbanli as Nawuni ben yili (meaning God is there). Literally any wrong done to us (Andani family) since the days of our ancestors we would leave every thing in the Hands of our Creator (Allah) hence the accolade Nawuni beni
Mr. President I also assure you that if you are able to muster the courage and political will and let the security and intelligence agencies work with free will and the pepertrators are brought to book irrespective of the spiritual implications as they continue to threaten you this culture of impunity we are witnessing daily in Yendi would stop.
Failure to do the above Mr. President, I would presume that the vultures who were killed and had justice are better than Ya-Na and forty matyrs who perished with him. As Honourable Osei Prempeh of Nsuta Constituency said we should not compare oranges against apples some lives are more important than others. Under the government of Mr J.A. Kufuor a government which is worldly acclaimed as practicing good governanceand rule of law. It is these features of your government that has enabled the Powerful G8 cancel Ghana's debt of over $4 billion. Or I may also presume that the North more especially Dagbon is not part of Ghana and is rather in Southern Burkina Faso that is why there is culture of impunity going on in Yendi daily.
Things are really happening . Views expressed by the author(s) do not necessarily reflect those of GhanaHomePage.