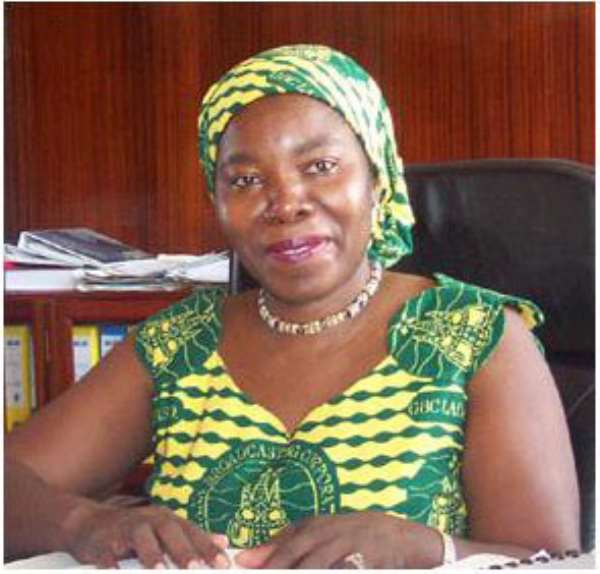 Countrymen and women, loyalists and opponents, a few months ago
I wrote about the state broadcaster and insisted that it should be sold off on the grounds that it was a non-performing "asset". That was when they announced their 70th anniversary celebrations. Well, once again I have cause to write about GBC.
Am annoyed because they've gone ahead with their "celebrations" – organizing various commemorative programmes – even though they know very well that they have absolutely nothing to celebrate about. They are simply celebrating because GBC is 70. It's like throwing a party for a 70-year-old nitwit who has achieved nothing in life. They are hanging on to a very flimsy claim that GBC's 70th anniversary ought to be celebrated with pomp and ceremony because the corporation has contributed to "national cohesion". Really? As far as I can remember GBC was a major weapon for all the coup makers who divided our people and destroyed everything we had. GBC allowed itself to be used as a propaganda tool by successive governments – both legitimate and illegitimate. So the claim that GBC has contributed to "national cohesion" does not wash with me at all and the earlier they drop it, the less angry I will be. Please for the sake of my achy heart I want the GBC celebrations to stop. Recently a much younger radio station in Accra boldly proclaimed that it was celebrating "10 years of broadcasting excellence". No one complained because it was a justifiable claim. This young radio station has informed people, offered quality entertainment and constantly kept government officials on their toes. So its claim to "broadcasting excellence" is well deserved. What is GBC's claim? They are celebrating "70 years of broadcasting". That's all! This clearly indicates to me that the people at the helm at GBC know very well that they have no cause for celebration. So why bother with the celebrations?
When I came to power, I vowed to ensure that the GBC is reformed to play its role as a dependable, independent, pace-setting national broadcaster. I appointed a woman to implement my plans for GBC. I appointed Eva Kollo not just for the sake of women empowerment. Her credentials were good. On paper, she was well versed in information technology and other technologies. I thought that with her background as a woman of technology, she would offer fresh ideas for turning GBC into a technological powerhouse, where every conceivable broadcast magic was possible. But I was wrong. Eva Kollo is very good at collecting degrees and certificates. She's so lousy at implementing what she has learnt. Under her tenure, I have seen the fastest retrogression at GBC in decades. For example, just a few Sunday's ago I was relaxing in my hall removing meat from my teeth after eating a very big bowl of fufu and 'aponkye nkraakra'. I thought I could add to the relaxation by turning on my TV to see what was on. The first channel I got was GTV and what I saw was incomprehensible. I've never seen anything like it before. GTV News was on live, with Mathew Abutiate as the anchor. But (can you believe this) the whole live news broadcast was in slow motion. Where else on this planet is news (even the anchor's presentation) in slow motion? Does it happen even in Mali or Chad? I don't think so? This can only happen in Sikaman and only under an incompetent like Eva Kollo! Well, I continued to watch the unfolding aberration – which was a vivid testimony to GBC's mediocrity and retrogression under Eva Kollo – and for the whole period of the bulletin everything was kept in slow motion. After the bulletin, they showed an old variety programme – probably recorded in the mid-1980s when Pozo Hayes was Pozo Hayes. I wanted to enjoy the show because Pozo was singing. The only problem was that everything was in slow motion. And where was Eva Kollo and her henchmen? If they had been watching, the slow motion broadcasts might not have lasted as long as they did. I have been reliably informed that she and most of the directors at GBC watch cable TV and listen to the more hip and forward-looking radio stations. They only decide to tune in when there is trouble and they are questioned. If you manage a broadcast network and you don't watch or listen, how would you improve your output? No wonder GBC is retrogressing so fast under Eva Kollo.
One other thing that has annoyed me most about Eva Kollo is the recent revelation that GBC's website has not been updated since I came to power and that, until it was shut down about a week ago, Jerry Boom was named on the site as the president of Sikaman. Can you believe that? Don't bother to check the website out – it is now "under construction". What does it tell you? The managers at GBC are not in control, they've lost focus and they are mere "position occupiers".
So what is a president to do? I have no choice than to demand the immediate resignation of Eva Kollo. She's let me down very badly with her abysmal failures and she must go.
GBC needs someone to rebuild it into the strong broadcast powerhouse it ought to be. Someone who will build a strong management team made up of people who want to make things happen – not merely occupy positions, driving around in big cars and watching DSTV. GBC needs a director-general who will build its staff – make them more professional and creative by giving them all the professional and technological tools they need. The corporation needs someone who will unite its staff – not engage in divide and rule tactics as Eva Kollo has done. The next director general of GBC should be business savvy, ready to exploit the commercial potential of the only broadcast network which truly spans the whole of the country. By so doing, GBC will be able to pay its bills and pay its staff. I am tired of hearing every now and then that electric supply to one GBC transmission station or the other has been cut for non-payment of bills. When Eva Kollo goes, she should be replaced by a 'fighter' who will boldly assert GBC's independence and ensure that the corporation enters a new era of neutrality and professionalism. Only then can GBC lay a claim to helping build national cohesion for it would be providing consistent high quality information and entertainment upon which all the citizens of Sikaman may rely. This is not a pipe dream. It can be achieved. The road to achieving this begins with the resignation of Eva Kollo. Someone should tell her to go. Otherwise, I will be forced to push her. I still insist, though, that GBC should be put on the divestiture list.
Excellently yours, Views expressed by the author(s) do not necessarily reflect those of GhanaHomePage.