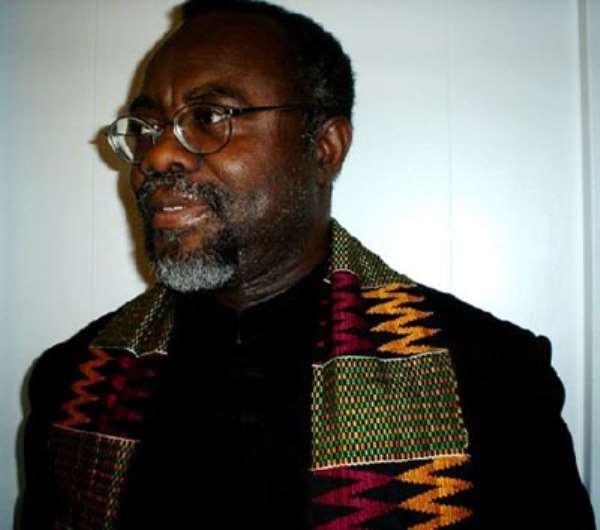 On July 11, 2005, Ghanaweb.com posted an interesting story titled "MP Proposes Public Servants' Mandatory Health Check." The article was interesting more for its bizarre semiotic thrust than having anything meaningful to contribute to the running discourse on the development future of the country. But that it came from a bona fide parliamentarian made it all the more interesting. In the aforementioned article, the recently elected National Democratic Congress (NDC) Member of Parliament for the Kumasi suburban constituency of Asawase was reported to be "proposing a national programme that will make it compulsory for public servants to regularly check their health [in order] to prevent what [the Asawase MP] calls unexpected deaths."

The allusion to "unexpected deaths" had, apparently, to do with the fact that within the temporal span of six months, two parliamentary representatives on the ticket of the infamous (Provisional) National Democratic Congress have lost their lives through the quite natural occurrence, or incidence, of illness. And both MPs were reportedly in the prime of their lives. The preceding fact might have been what prompted Alhaji Montaka Mohammed Mubarak to issue his proposal.

Needless to say, while the death of any able-bodied Ghanaian citizen ought to be lamented, it is equally significant to highlight the fact that the youthful deaths of government officials is nothing new either in post-colonial Ghanaian political history or global political history, in general. Thus for the Asawase parliamentarian to be making a national policy issue out of events that are purely human and natural is rather curious, to say little of the outright preposterous. Unless, of course, Mr. Mubarak wants to suggest that the NDC parliamentarians have nothing meaningful and constructive to offer their constituents and, indeed, the nation at large, short of creating interminable nuisances out of incidental phenomena.

First of all, it bears reminding our readers that for the protracted two decades that the Provisional National Democratic Congress (P/NDC) held both legitimate and illegitimate political sway, the country's hitherto quite sound, albeit imperfect, health system was literally allowed to go to the dogs. Thus when Mr. Mubarak calls for the institutionalization of a "compulsory" health check-up, or health-monitoring, scheme, for public servants, it is not quite clear just what the purported Urban Development expert is talking about. And for those who might not be readily cognizant, it bears recalling that it was during the tenure of the P/NDC that Ghana moved from a free healthcare system to one that was callously and euphemistically designated "Cash-and-Carry." Under the latter scheme which, in reality, was no scheme at all, but an abject and gross dereliction of duty and moral responsibility on the part of the NDC (mis-)leadership, captained by Chairman Rawlings, patients had to meet fully the unsubsidized cost of their treatment at both of the nation's public and private hospitals and health centers. This may, indeed, be one of those salient and enviable achievements that Mr. Rawlings recently touted in an intellectually halting article that he published in the British "Guardian" newspaper.

In the aforementioned article, titled "Africa Needs People Power – JJ"(Ghanaweb.com 7/14/05), the career coup-plotter and extortionate tyrant gushed: "Working with the World Bank and IMF, my government halted Ghana's decline; we inherited a near[-]collapsed state and built a 5% growth rate before handing over to the present government." Actually, it would have been more factual and historical had Mr. Rawlings had the decency and boldness of spirit (that is, if one assumes that he, indeed, has any such quality) to have corrected himself by stating that: "We shot our way into a vibrant and robust market-economy and plunged the country into a pseudo-socialist or command economy," or even state capitalism. And to those impudent and fanatical Rawlings collaborators who have E-mailed this writer raw and abject vitriol, we are forced to recall Chairman Rawlings' dastardly failure to observe in his rather desultory article to the "Guardian" that those apocalyptic three months of insuperable economic wreckage that he visited on the heads of the largely unsuspecting Ghanaian people between June and September 1979, were what singularly contributed to the virtual destruction of the country's economy under the Limann Administration. It was, one may aptly recall, during this critical period that Flt.-Lt. Jeremiah John Rawlings introduced his preposterous below-market control prices for commodities most of which Ghana did not produce. The grim upshot of it all was that Dr. Limann, rather than Chairman Rawlings, inherited a totally bankrupt economy. Consequently, the most democratic president of post-colonial Ghana was forced to initiate austere, albeit salutary, market-economy policies which, unfortunately, to politically myopic and stomach-oriented gunslingers like Mr. Rawlings literally translated as "a near[-]collapsed state."

In sum, when the Rawlings-backed Asawase MP calls for "a national program that will make it compulsory for public servants to regularly check their health to prevent…unexpected deaths," it is not clear just what healthcare system Mr. Mubarak is talking about. Is it a "Cash-and-Carry" healthcare system or one that the 34-year-old parliamentary pinch-hitter has yet to devise with his cynical P/NDC fellow gangsters and journeymen? Of course, those of us who have been studiously following the "Monkey-Work-Baboon-Chop" politics of the P/NDC mischief-makers know exactly what Mr. Mubarak is talking about. He is alluding, in fact, to the salutary National Health Insurance Scheme (NHIS) which was recently promulgated by the Kufuor-led government of the New Patriotic Party (NPP). But the call itself would have been deemed quite laudable had the Asawase MP not privileged his own selfish interest over and above that of his countrymen and women. In sum, Alhaji Mubarak appears to have issued his proposal primarily because one of the two NDC parliamentarians whose deaths within the last six months he pretends to make a national policy statement out of was his own brother, from what we have learned. And it is very doubtful whether he would have been so interested and passionate had his own kinsman not been involved. For, needless to say, the fact that his own brother and parliamentary predecessor, Dr. Adamu Gibrile, was involved likely brought home his own mortality to Alhaji Montaka Mohammed Mubarak. We know this because in a brief statement attributed to the Asawase MP, Mr. Mubarak alludes, rather vacuously, to the fact that "Sometimes the tight schedule does not allow us to check our health. But if the state institutes this, it will [sic] help; because a lot is spent on bye-elections." Perhaps somebody ought to have reminded the Asawase NDC chieftain about the job description of a parliamentarian before the rookie put forth his candidacy and, with the latter, his credibility.

The preceding is not meant to suggest that any well-meaning Ghanaian expected much from an NDC parliamentarian. By and large, these also-runs are quite pedestrian and all too predictable. Besides, when His Tyrannical Eminence Chairman Rawlings comes out swinging for you, you bet it has anything to do with everything but democracy. Which is why Mr. Mubarak – not to be confused with the equally autocratic Egyptian premier – is calling for the enactment of a health check-up edict, rather than one that is purely advisory. For at 34 years old, Mr. Mubarak has not experienced enough of a democratic culture in Ghana; and it is rather sad and pathetic, if also quite ironic, that his own ideological camp, the so-called National Democratic Congress has singularly contributed to the historical regression of a democratic culture in Ghana. *Kwame Okoampa-Ahoofe, Jr., Ph.D., teaches English and Journalism at Nassau Community College of the State University of New York, Garden City. He has also been featured on Ghana's National Radio and Television, including "Variety Ahoy!" "Solid Black," and the Arts Council of Ghana's "Tete Wo Bi." He is also the author of ten volumes of poetry and prose, including "Sounds of Sirens: Essays in African Politics and Culture," available from Amazon.com, Powells.com, iUniverse.com and Barnes & Noble.com. Views expressed by the author(s) do not necessarily reflect those of GhanaHomePage.