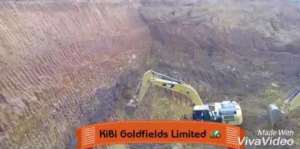 Kibi Goldfields has built a befitting palace for the Odikro of Akyem Juaso. Whoever succeeds the late Barimah Kofi Osei (who had been Akyem Abuakwa's longest serving Chief, when he died in harness, as Akyem Juaso's Odikro), will be the first occupant of that marvellous palace. Bravo to Kibi Goldfields. We the ordinary community members, express our gratitude to that gold mining company.
Yet another stakeholder-benefit that will redound to the benefit of local youth, in the fringe-forest cocoa farming communities of Akyem Juaso, Akyem Saamang and Osino, would be for Kibi Goldfields to pay for community forest guards, all of whom it must sponsor to attend alternative livelihood skills development courses (such as snail farming, mushroom farming, the rearing of giant rabbits and grasscutters).
By paying the Forest Research Institute (FRI), of the Council for Scientific and Industrial Research (CSIR), for example, to provide young people in the three aforementioned fringe-forest communities, with such alternative livelihood skills courses, Kibi Goldfields, will in effect, be empowering local youth to bootstrap their way out of the brutish-hellish-trap of extreme rural poverty.
The lack of economic opportunities for the younger generations, blights life in most of Akyem Juaso, Akyem Saamang and Osino, and has led to the growing incidence of criminality (which the rampant and egregious forest-illegalities, such as bushcut chainsaw lumber production, and galamsay, represent), today.
Above all, Kibi Goldfields must move swiftly, to begin a company-sponsored smallholder agroforestry initiative, which (aside from the planting of tree-seedlings to replace trees felled by the bushcut chainsaw lumber producers), will also enable community industrial hemp plantations to be developed, on parts of its concession's mined-out zones, which must by law be reclaimed, and returned, to the original owners (reason for that choice being that the industrial hemp will detoxify such mined out areas, naturally).
So, yes, the building of splendid new Chiefs' palaces by Kibi Goldfields, is great - but empowering local youth with alternative livelihood skills courses, to bootstrap their way out of the trap of extreme rural poverty, to better futures, is by far the best way to incentivise fringe-forest communities to protect the remainder of Akyem Abuakwa's forested areas, for future generations.