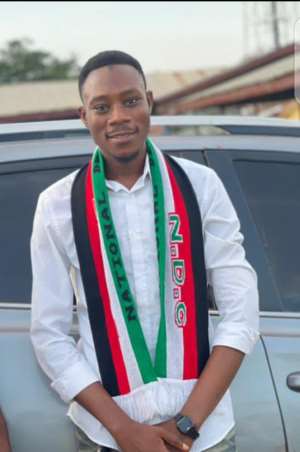 Bawa Aminu Sumaila, Akuapem North Aspiring NDC Communication Officer
Aspiring Communication Officer of the National Democratic Congress (NDC) in Akuapem North, Bawa Aminu Sumaila, has said President Akufo-Addo led Government has failed woefully in managing the affairs of the economy.
On EMT Performance
Speaking to the reporter, he stressed that the Bawumia-led Economic Management Team (EMT) has also failed to provide better alternatives to government to put back the economy on track as expected.
He indicated the Vice President has rather turned himself into 'Digitization Man' overnight instead of the 'Economic Wizkid' Samira Bawumia claimed.
He called on President Akufo-Addo to as a matter of urgency overhaul the EMT to have competent members on board to help rescue Ghana from ditching.
Cash Inflows
Bawa Aminu Sumaila revealed that the Akufo-Addo-led New Patriotic Party Government has so far had over Ghc500 billion at their disposal but has not been utilised well enough as compared to Ghc200 billion the erstwhile NDC had.
According to the NDC Communicator, "Ghana's debt as it stands now is GHc393 billion as of June, 2022 from the Ghc120 billion the Mahama-led NDC left in 2016".
He jabbed the NPP for borrowing more than all successive governments but not being able to account for the monies.
Standard of Living
The Aspiring Communication Officer on the current living standards of Ghanaians was worried many people go through difficulties just to put common food on the table as cost of goods and services keep rising.
He complained many Ghanaians cannot even afford a single meal per day whilst paying school fees and other educational costs keep soaring.
"Cost of living has gone up due to the poor management of the economy led by the Bawumia-led management team. People cannot afford a daily meal, pay school fees and even have a meaningful life," he said.
Way forward
Bawa Aminu Sumaila suggested to President Akufo-Addo to reduce expenditure at the Presidency and also cut down his ministerial portfolio since they failed to offer any better ideas for managing the economy.
He also advised the Presidency against hiring expensive private jets for the President's international trips as it has over the years overburden the public purse.
He therefore urged Ghanaians to kick out the NPP come 2024 and bring back the NDC to help resolve the economic mess the country currently finds itself.