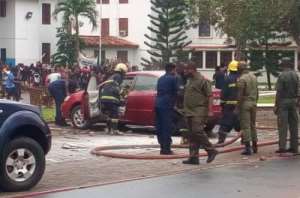 The University Teachers Association of Ghana (UTAG) has recommended dismissal and prosecution of students who would be found culpable in the clash between students of the Commonwealth Hall and Mensah Sarbah Hall of the University of Ghana, Legon campus.
In an interview with Alfred Ocansey on 3FM Sunrise Morning Show, President of the University of Ghana chapter of UTAG, Dr. Samuel Nkumbaan described the act as unfortunate and assured the association's support for university authorities to identify and punish the culprits in accordance with the statutes of the school and the laws of Ghana.
"The act of the students breaking the laws of the university and that of Ghana by taking the laws into their own hands to destroy properties of the state is a serious security matter.
"We are hoping that perpetrators would be found and dealt with. Of course dismissal of such persons involved is not a bad idea but that is not sufficient. I think that they should go through formal legal processes and get due sanctions as the laws may require" he stated.
According to him, the university is a place where one ought to be building relationships moving into the future but not a place for students to hurt their colleagues in the name of so-called traditions.
"It is a big deal because we are here as students and workers, but the students are temporarily passengers who are in the school for four years," he said.
He warned that it is possible for one to encounter a student he hurt back in school in the name of hall tradition at the work place after school as the boss and what will the work relationship be like?
"The tradition that allows for violence on one another and destroying state properties is not worth a tradition to be pursued. In reality, I think that our young ones have misunderstood the tradition, which is a tradition of socialization that allows you to build relationships. Which society condones the tradition of violence?" he quizzed.
Mr. Nkumbaan also explained that the university has been doing its bit to stop such clashes except that much of it is not out in the public domain, in terms of students that have been dismissed or rusticated for such acts.
However, he is of the view that it is about time authorities got more intense with what they do by way of punitive measures because we cannot allow for what is happening to continue for the next couple of years. Otherwise it might aggravate the situation where things will be out of control.
Some students of the Commonwealth Hall and Mensah Sarbah Hall clashed on Legon campus on Friday 5 August, 2022 leading to injuries to lives and vandalizing of properties including the burning of a vehicle at Mensah Sarbah Hall as well as the removal of the effigy of John Mensah Sarbah. Calm has since been restored with heavy military and police presence at the University of Ghana campus.
---3news.com|Ghana