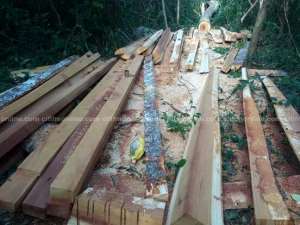 The time has now come for the Minister for Lands and Natural Resources to force the Forestry Commission to take swift action to end Akyem Juaso's thriving illegal bushcut lumber production industry.
The question is: How come that for decades now, the criminal elements in what is a small fringe-forest cocoa-farming community, with only one route connecting it to the towns of Akyem Saamang and Osino, to join the Accra-Kumasi highway at Osino Junction, consistently evacuate bushcut chainsaw lumber that they produce mostly at night (allegedly mainly from the 14-square mile privately owned freehold upland evergreen rainforest property of the P. E. Thompson family), successfully, consignment after consignment, without their ever being arrested, prosecuted and jailed, thus far?
Furthermore, who are the masterminds behind it? Are they untouchable? Or are local Forestry Commission officials benefitting from this egregious gang-rape of a rainforest property that is part of an area in the Atewa Range designated as a Globally Significant Biodiversity Area (GSBA)?
Finally, even as we speak, the bushcut chainsaw lumber producers are hard at work in the P. E. Thompson estate's upland evergreen rainforest property, and apparently have consignments ready for market. Hon. Samuel A. Jinapor, please act now - and force the Forestry Commission to take immediate action to stop this brutal gang-rape of Mother Nature at a time when climate change is impacting rural Ghana so negatively. Haaba.