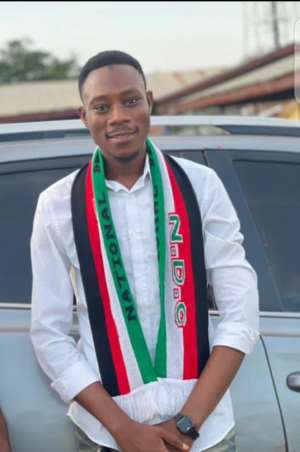 Commrade Bawa Aminu Sumaila
President Akufo-Addo-Bawumia-led New Patriotic Party (NPP) Government has been described as the only lucky government in the Fourth Republic bequeathed with much funds but has nothing to show.
He said the ruling NPP has also failed to perform well in managing the economy.
Mr Bawa Aminu Sumaila, Akuapem North aspiring Communication Officer of the opposition National Democratic Congress noted that government had Ghc500 billion in its coffers but has not been utilised enough as compared to Ghc200 billion the erstwhile NDC had.
According to him, the NPP can only boast of the implementation of the free SHS policy and the construction of toilet facilities across the various MMDAs.
Bawa Aminu Sumaila was worried most Ghanaians and other financial experts have kept quiet on the state of the economy for fear of being victimised by security personnel.
"People cannot speak out on some challenges of the economy because it looks like we are in a military regime. People who boldly express their views are normally victimized by the police and soldiers," he said.
The NDC Communicator added Ghana's debt now stands at GHc393 billion as of June, 2022 from the Ghc120 billion the Mahama-led NDC left in 2016.
"Cost of living has gone up due to the poor management of the economy led by the Bawumia-led management team. People cannot afford daily meal, pay school fees and even have a meaningful life" the NDC Communicator added.
He, however, urged Ghanaians to remain resolute and have confidence in the NDC to revive and strengthen the economy when voted into power in 2025.