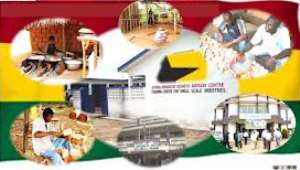 Two hundred and twelve Small Scale Enterprises are to receive GH¢13.8 million to expand their businesses under the GH¢145 million Ghana Economic Transformation Project (GETP) grant initiated by the Ghana Enterprises Agency (GEA).
The beneficiaries comprise small-scale businesses in agro-processing, food and beverage, health care, and manufacturing.
The selected small-scale businesses will receive between GHȼ10,000 and GHȼ20,000 grants to support their operational costs, including purchasing raw materials and equipment.
The Deputy Minister of Trade and Industry, Nana Ama Dokua Asiamah-Adjei, who disclosed this at an orientation and agreement signing ceremony in Accra, said the government would support small-scale enterprises to contribute their quota to national development.
She said the grant was a top-up to the Coronavirus Alleviation Programme Business Support Scheme (CAP-BuSS). It will help beneficiaries grow their businesses to create jobs to reduce unemployment in the country.
On her part, the Chief Executive Officer of the GEA, Mrs Kosi Yankey-Ayeh, said the fund was set up to support Ghanaian small-scale enterprises to unlock their potential to become global giants.
She disclosed that 21,000 businesses applied for the facility, but only 212 met the criteria after a rigorous selection process by the GEA, World Bank and other partners.
"The disbursement was a new stimulus package introduced by the government to cushion micro, small and medium enterprises (MSMEs) from the impact of the coronavirus disease (COVID-19)," she added.