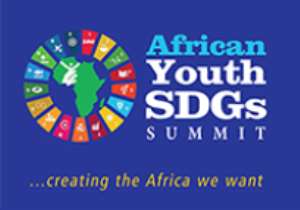 The President of the Republic of Zambia, His Excellency Hakainde Hichilema has endorsed and thrown his support behind the 5th edition of the African Youth SDGs Summit to be held in Zambia in 2023.
Zambia won the bid to host the 5th edition, and the summit will be coordinated locally by the Alliance for Accountability Advocates Zambia (AAAZ), United Nations Zambia with Youth Advocates Ghana (YAG), being the key organizer and convener of the summit.
In a brief remark by President Hakainde Hichilema, he commended the young people of Zambia for their commitment and hard work in ensuring the summit comes to Zambia.
"Congratulations to our young people at the Alliance for Accountability Advocates Zambia (AAAZ) for winning the bid to host the 5th African Youth SDG's Summit 2023, here in Lusaka, Zambia.
This event is the largest youth forum on SDGs and it is crucial in enlisting the active participation of young people in the attainment of the Sustainable Development Goals", he noted.
H.E President also expresses the readiness of leadership to listen to the concerns and ideas of young people towards accelerating sustainable development in the continent.
"We are here, we are listening and we look forward to engaging on key outcomes and recommendations for implementation", he added.
On his part, the convener of the African Youth SDGs Summit and the Executive Director of YAG, Emmanuel Ametepey said "Thank you, your Excellency and congratulations to you and the good people of Zambia. We look forward to working with you and your high office on this great summit."
The Executive Director of AAAZ also added "thank you, President. We are excited to bring the African Youth SDG's Summit home to foster peer learning and collaboration amongst young people across the continent."
The SDG summit, the largest youth platform for SDGs in Africa is an annual gathering of young people, private sectors, development practitioners government, the After Rican Union and United Nations entities to come together to collaborate and build synergies to address Africa's most pressing issues affecting the continent.
The Summit seeks to advocate for strong youth participation in decisions that affects their lives, it also improves awareness and knowledge among the youth about the SDGs and their roles in the review, implementation and accountability process.
Starting in 2017, the first three editions were held in Accra, Ghana, the fourth edition was held in Addis Ababa, Ethiopia and the fifth edition is set to happen in Lusaka, Zambia.