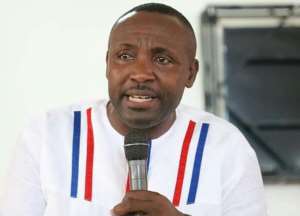 THE GREAT Elephant family elected its national officers at the party's National Delegates' Conference at the Accra Sports Stadium on Saturday. The party took advantage of the gathering to reinvigorate its rank and file, whose enthusiasm had been dampened by the negative reviews being received by the party and government.
All contestants professed their hope of winning, even though some of them knew not even in their wildest dreams would that be possible. Even when defeat stared them in the face, they gave themselves hope by hiding behind the late Sir John's 'fear delegates' mantra.
The contest for the General Secretary position attracted the most attention. My bet was on incumbent John Boadu, aka Adwenkese, but, Justin Frimpong Kodua, aka JFK, put in a strong fight to emerge as the new chief scribe for the governing party. The Chief Executive Officer of the Youth Employment Agency (YEA) won with 2,837 votes, with John Boadu trailing behind with 2,524 votes.
Iddrisu Musah, aka Musah Superior, was third with a distant 104 votes, followed by Frederick Opare Ansah and Ramseyer A. Agyeman-Prempeh who garnered 50 and 8 votes for fourth and fifth positions respectively.
Whoever told Musah Superior that he could win the chief scribe position did him a great disservice. If humble Adwenkese could be described as arrogant, then one could only wonder the description for Musah Superior's refined posture and abrasive leadership style.
As for Opare Ansah, the least said about his performance, the better. For a sitting Member of Parliament who could not maintain his seat in an internal contest, what deluded him into believing he had the capacity to manage the Great Elephant? Well, he has finally seen his real size.
JFK's hard-won victory teaches some lessons to political actors and political scientists. Investing in research and having a political tactician are very key. I'm told aside investing so much in research, JFK sent his aide, Ofori Vincent, to study MSc in Political Activism and Campaign at University of Aberdeen. With such blokes in JFK's corner, one can only be hopeful of a brighter future for the Elephant under his reign.
Another lesson learnt is that loyalty is not permanent. People's loyalty shift when they realise that they are being taken for granted.
Shift in loyalty is definitely one of the main reasons why the delegates voted against General Adwenkese. Julius Malema puts it better when he said, "Loyalty is not permanent. Loyalty must be serviced. If people are loyal to you and you don't return that loyalty, they will get tired and walk away."
In the National Chairmanship contest, Stephen Ayensu Ntim proved that this was really his time. After contesting five times in the chairmanship contest, luck finally smiled at him. His tenacity, determination and never-say-die attitude are traits worth emulating. He won by a landslide of 4,014 votes (72%) and takes over from Freddie Blay, who has served in the position since 2015.
On the National Organiser front, Nana Boakye, aka Nana B, who believes he is a 'perfect replacement' for Sammi Awuku, succeeded in convincing the delegates to share in his vision. But it wasn't on a silver platter as Titus Glover really gave him a run for his money. The Nana B I know will surely deliver.
Kate Gyamfua, Aziz Haruna Futa, Salam Mustapha and Dr. Charles Dwamena also won their respective contests. With the Vice-Chairmanship slots also decided, the national officers to lead the Elephant to the titanic 2024 battle is in place. Congrats to the winners and better luck next time to the losers.
As Chairman Ntim leads the leadership to sing the 'breaking the eight' chorus, they should not forget the wise counsel from Julius Malema. The likes of Lawyer Adomako Baafi and Yours truly are yet to see their loyalty reciprocated despite being very loyal to the Elephant fraternity. We still endure the pain of rejection and wait patiently to be recognised by the party for our unalloyed loyalty. But they should remember there is a limit to human endurance. It is only a reminder, not a threat!
See you next week for another interesting konkonsa, Deo volente!