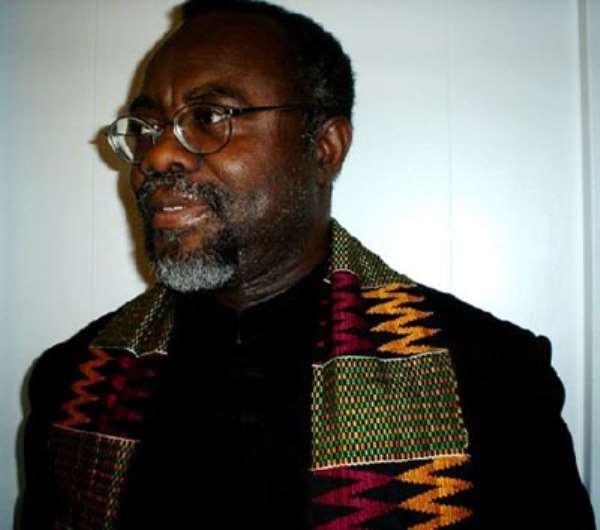 I recently read an interesting note which one Mr. Eric Alike, an apparently concerned and well-meaning reader, sent to Mr. Harruna Atta, the editor-publisher of the Accra Daily Mail. In the note (posted 5/17/05), the writer expresses his visceral fear regarding the grim possibility of a National Democratic Congress (NDC) come-back: "If the NDC comes [i.e. returns to power], NPP will be in the wilderness for another 20 years because it would be difficult now [for the NPP] to make another justification for a return. I am[,] indeed[,] sad for democracy in Ghana," opines Mr. Alike.
To be certain, what is happening in Ghanaian political circles presently may be aptly termed as a "Post-NDC Traumatic Syndrome." The latter may be operationally, or contextually, defined as a crippling state of democratic euphoria in the wake of acute climatic terror; needless to say, those of us who have studiously followed Ghanaian political culture over the past decade and half, fully appreciate the indisputable fact that the ruling NPP could never, by any stroke of genius, best the untold extent and depth of corruption – or malversation – which characterized the very fabric of the so-called (Provisional) National Democratic Congress.
Many Ghanaians, it is quite pathetic to have to observe, have, within the piddling span of five years, almost totally forgotten the high esthetic refinement of corruption engendered by the (P)NDC. Many have rather too soon, and surprisingly, forgotten, for instance, that it was during the NDC tenure that we encountered such unorthodox, one-man financial institutions as the infamous Banks of Obed Asamoah and Kofi Awoonor, whereby party stalwarts brazenly stashed hundreds of thousands of tax-payer moneys under their very bedsteads. And when it became obvious that these fat cats might have embezzled such funds, makeshift scapegoats were invented as convenient subterfuges.
Indeed, it was quite interesting to learn of Drs. Asamoah and Awoonor both claiming that some houseboys had squirreled these public funds. To be certain, what makes the NPP appear to be relatively more corrupt than its predecessor is that, for the first time in more than twenty years, the Ghanaian political landscape has never been as transparent as it is right now. And it bears reminding our well-meaning readers (at least well-meaning for the most part) that under the NDC, journalists were getting jailed – and even having messes of human waste dumped on their premises – for fabricating stories which under the Kufuor administration only receive glancing reprimands, or proverbial slaps on the back of their hands. In sum, the egregious and flagrant lack of accountability, coupled with the well-calibrated climate of terror, made it almost impossible for Ghanaians to see and appreciate just exactly what was going on, as it were.
The preceding state of affairs has had a telling effect on the quality of Ghanaian journalism which is likely to take awhile to remedy. Indeed, so pathological was the political culture under the NDC regime that the party's own Chief Constable bitterly complained about what Chief Jato June Fourth then cynically termed as "this culture of silence." And, needless to say, it was not for nothing that Ghanaians acquiesced to the pernicious cultivation of such veritable and dispiriting culture of silence. In fine, they valued their lives far over and above the cynical and lethal fare of a clinical megalomaniac. And as Major Boakye-Djan (rtd.), recently stated in an open-memorandum to Dr. Kenneth (Lord) Attafuah of Ghana's National Reconciliation Commission, Chief Jato June Fourth and his self-serving junta of certified butchers had pre-determined their usurpation of our national mandate for at least twenty years (see my series of articles titled "Boakye-Djan Cannot Rewrite History.
But even more significantly, among the Akan, there is a maxim which says: "Mede Me Kwasea Repe Onyinkye," which loosely translates as: "I feign stupidity as a shield of longevity." The problem with this kind of parochial and self-protective – albeit perfectly understandable – existential strategy is that sooner or later, the menace which one appears to be protecting oneself against comes to actually mistake such strategy for reality. In sum, having myopically decided to play along in order to get along, as it were, the victim comes to be regarded with utter disdain by the unconscionable bully and oppressor. In essence, the prevalence of the preceding culture under the NDC, virtually ensured that most Ghanaians would be treated as slaves in their country. And this is exactly what occurred during the twenty years that the (P)NDC occupied The Castle.
The entire period of PNDC governance reeked of patent colonialism. Interestingly, however, this regime appeared to be even more extortionate than the equally unsavory brand of British imperialism imposed on Ghanaians for much of the twentieth century. And the irony is not lost on Ghanaians regarding the fact that the father of the man who spearheaded our most recent reign of terror, also played a significant role in the earlier one. In either case, the oppressor invoked decadence and sociopolitical stasis as his overriding motive. And in either case, also, the oppressor successfully solicited eloquent collaborators, both externally and internally, to precipitate his reign of terror. And, needless to say, at the end of their tenures, Ghanaians were left in a far more vulnerable condition than ever before. But even more tellingly, the aforementioned collaborators proceeded to publish volumes and reams of back-slapping reviews claiming, invariably, to have phenomenally hefted their victims higher up the coveted rungs of Western civilization.
The apparent craving of some Ghanaians for a gratuitous return of the apocalyptic days of the (P)NDC pseudo-democratic junta is nothing new. Indeed, anybody familiar with Biblical scriptures observes the ancient Israelites behaving, curiously, in the same manner. On more than several occasions, for instance, the Israelites, in the Book of Exodus, pestered Moses to return them to the very land of misery which they had just departed, after nearly a half-millennium of untold servitude. For once rendered cognitively dissonant – or intellectually and emotionally confused, or addled – it becomes extremely difficult to be rehabilitated or brought back into a state of sanity. This daunting state of affairs is exactly what is happening in Ghana now as we write (May 19, 2005). Among the Akan, as one can also be quite certain among other indigenous Ghanaian and continental African groups, we have a maxim which states that: "The one who brought you forth did not suffer as much as the one who raised you." In the Akan original, the preceding more rhythmically reads: "Nea Owoo Wo No Ammere Se Nea Otetee Wo." In sum, anybody who truly believes that two long decades of (P)NDC annihilation of the proverbial resilient, Ghanaian spirit could be readily repaired in five years, must, indeed, be living in a fool's paradise. I would definitely not be surprised if it should turn out that some of our countrymen and women are actually living in such a forbidding place. *Kwame Okoampa-Ahoofe, Jr., Ph.D., is on a Sabbatical Leave from Nassau Community College of the State University of New York, Garden City, where he teaches English and Journalism. He is the author of SOUNDS OF SIRENS: Essays in African Politics & Culture (2004) and THE NEW SCAPEGOATS: Colored-On-Black Racism (2005), both of which volumes of commentary are available from Amazon.com, iUniverse.com and Barnes & Noble.com. Views expressed by the author(s) do not necessarily reflect those of GhanaHomePage.