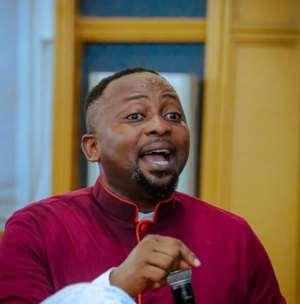 Dr Samuel Ben Owusu
The United Nations (UN) Eminent Peace Ambassador to Ghana, Dr Samuel Ben Owusu is calling on government to introduce a system that will pay workers per hour.
He said workers will be paid what is due them if their work is calculated and paid per hour.
In an interview with the media, Dr Samuel Ben Owusu observed that some workers are marked per day and most are paid at the end of the month.
He indicated that the situation has contributed to the agitations of workers not being paid what is due them.
"Where things have reached right now, it will only take the government to institute a by-law or a system of operation that from today, we are going to pay people per hour, not per day or monthly. As it is now, most people in Ghana are marked daily, let us shift it into per hour, if the Government changes it to per hour, everyone will find a job," he said.
He continued, "Just as it is done in the USA and the UK. So if someone likes, he or she can work two hours and close, and get 8 or 16 dollars per hour and they will calculate how much they want to make in a day. If the Government comes up with that concept and makes some institutions run that way, other private sectors will pick it up and there will be jobs for many people."
Amb. Samuel Ben Owusu also observed that in most institutions, workers go to work in the morning and close around 5pm.
This, he said, was a waste of productive time, suggesting that government can introduce a shift system such that while some workers close, others will also go to work, explaining that it will also help employ more people.
"I think in the health sector, there are nurses who do shifts, so why can't we implement that system everywhere?" he quizzes.
He then called on the Government to engage experts to fashion out a proper system to address the issues.
"You see why Africa is not progressing, we are always way back. While the Europeans, the people around the world are working, we are sleeping and we say we want to have peace. Peace is development, peace is a system, peace is a foundation, if we want peace, we should sit down, some of these political leaders need to meet with some of us who have the understanding and knowledge of other things," he added.