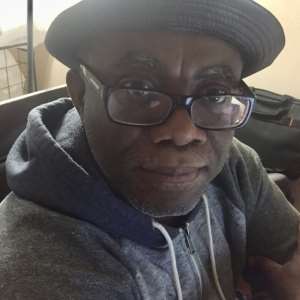 I understand that he was a crackerjack sportscaster before Mr. Kwabena Agyei Agyepong, son of the martyred Accra High Court Judge, Justice Kwadwo Agyei Agyepong, crossed over into the at once very exciting and treacherous political terrain, where he served as Press-Secretary to former President John Agyekum-Kufuor; and then, finally, as the General-Secretary of the then- and now-ruling New Patriotic Party (NPP). That was when all his major headaches began with the key operatives of the Akufo-Addo Faction of the then main opposition New Patriotic Party. That must have been shortly after the former Agyekum-Kufuor-appointed first Attorney-General and Minister of Justice and, later, Minister of Foreign Affairs and West Africa's Regional Integration, narrowly lost the 2008 Presidential Election, in a runoff, against then former Vice-President John Evans Atta "Woyome" Mills.
Mr. Agyepong, who had once been a staunch ally of Nana Addo Dankwa Akufo-Addo, together with the newly elected National Chairman of the New Patriotic Party, Mr. Paul Awentami Afoko, would be quickly brought up on charges of having seriously attempted to royally sabotage the presidential ambitions of the son of the late Chief Justice Edward Akufo-Addo, later Ceremonial President of Ghana in the Westminster type of government that was headed by the late Prime Minister Kofi Abrefa Busia. Personally, I closely watched events unfold very fast and furiously, having already become intimately familiar with the highly charged bad blood that existed between Tweedle-Dee and Mr. Afoko, who had been savagely mauled by Tweedle-Dee, allegedly, with a beer bottle in the runup to the fiercely contested December 2007 New Patriotic Party Presidential Election Primary, which was held in the august edifice of the Great Hall of the country's oldest flagship public tertiary academy, namely, the University of Ghana, Legon.
The word that went around like a savannah fire at the time was that Tweedle-Dee had espied Mr. Afoko, a staunch supporter of Mr. Alan John Kwadwo Kyerematen, easily the second most popular among the 17 candidates vying for the party's Presidential Nomination for the 2008 Presidential Election, actively and brazenly attempting to induce delegates already pledged to vote in favor of the former New Patriotic Party's Member of Parliament for the Akyem-Abuakwa-South Constituency, the same parliamentary seat that had once been occupied by the legendary likes of Dr. J. B. Danquah, Mr. William "Paa Willie" Ofori-Atta and, before the latter, Mr. Aaron Kofi Asante Ofori-Atta, if memory serves yours truly accurately. Mr. Afoko, whom some claimed had elected himself as a sworn enemy of Nana Akufo-Addo, would end up with several stitches at the University of Ghana Hospital, or some other medical center.
This would officially mark the beginning of the fierce battle between the Akufo-Addo and the Kyerematen factionalists among the ranks of party membership, with Mr. Kyerematen widely known to be staunchly backed by a lame-duck President Agyekum-Kufuor. I have already written and published dozens and reams of media columns and articles on this subject that will be enough to fill the pages of several sizeable tomes, so I do not intend to rehash the same ad nauseam here, except to sharply and bluntly observe that Mr. Kwabena Agyei Agyepong does great and inexcusable injustice to former media-practitioner colleagues like Messrs. Kwami Sefa Kayi and Kwaku Baako, whom the onetime suspended General-Secretary of the New Patriotic Party recently bitterly and virulently accused of not having promptly and fiercely – perhaps even in pit-bull fashion – stepped up to the proverbial plate to defend Mr. Agyepong against serious charges of having taken bribes or allowed himself to be unwisely and unprofessionally plied with payolas, so as to work against the presidential ambitions of the victor of the 2007 New Patriotic Party Presidential-Election Primary.
Maybe Mr. Agyepong ought to be promptly and poignantly reminded of the fact that media protocol did not authorize either Mr. Baako or Mr. Sefa Kayi to cross the professional line of the ethics of their profession to do interference work for a besieged Mr. Agyepong, especially when these two renowned and well-respected media practitioners were also well known to not needlessly dabble in politics as either a full-time vocation or even an avocation, the heavily politically and ideologically colored fare of Mr. Baako, in particular, notwithstanding. Of course, Mr. Baako is also widely known to be the son of the legendary Mr. Kofi Baako, the staunch Nkrumah lieutenant and the Nkrumah disciple who is widely credited with having coined the faux ideological theory of "Nkrumaism."
You see, while, indeed, both Messrs. Baako and Sefa Kayi may have had an intimate working relationship with Mr. Agyepong, the incontrovertible fact of the matter is that once the latter decided to sharply veer into the purely and decidedly political arena as an active participant and a full-time practitioner, his hitherto working media relationship with Messrs. Sefa Kayi and Baako promptly ceased to exist. And, oh, I almost forgot to add the fact that Mr. Agyepong is also quick to let any interlocutor or listener that he comes across or encounter promptly know that he is first and foremost a civil engineer before and above all else. Maybe being quick to point this aspect of his life and career out to all with whom he happens to come into contact, makes Mr. Agyepong feel a bit somewhat special or even superior.
But, of course, the stark fact of the matter is that while, indeed, Messrs. Baako and Sefa Kayi could very well vouch for Mr. Agyepong's professional or even personal integrity as a journalist or sportscaster, they almost definitely would be far out at sea in attempting to vouch for the integrity of their old friend and colleague in a field in which these two gentlemen have absolutely no intimate working relationship with Mr. Agyepong. I hope Mr. Agyepong would be humble and reasonable enough to understand and fully appreciate this much.
*Visit my blog at: KwameOkoampaAhoofeJr
By Kwame Okoampa-Ahoofe, Jr., PhD
English Department, SUNY-Nassau
Garden City, New York
July 3, 2022
E-mail: [email protected]