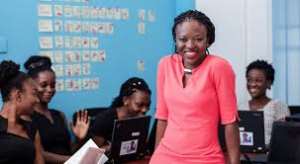 All three countries, Namibia, Rwanda, and Togo have improved their rankings on the Global Gender Gap Report in Sub-Saharan Africa, 2021, according to a release by the World Economic Forum.
According to the recent report, the top 10 most gender-equal countries in Sub-Saharan Africa closing the gender gap as we enter into the new decade are: Namibia, Rwanda, South Africa, Burundi, Mozambique, Zimbabwe, Zambia, Madagascar, Uganda and Cape Verde.
The report looks at 153 countries and their progress towards gender parity based on four key areas: economic participation and opportunity, educational attainment, health and survival, and political empowerment.
Ghana ranked 117th with the gender gap index score of 0.67 in 2021, indicating that females were 33 per cent less likely to have the same opportunities as males in the country.
This placed Ghana in the position 23rd among 35 nations in Sub-Saharan Africa.
Data from the report showed that the overall gender gap in Sub-Saharan Africa is 32.7%, as only 67.2% of the gap has been closed so far.
Progress seems stalled, even slightly reversed, such that it will take 121.7 years to close the gender gap.
Gender Gaps by Country in Sub-Saharan Africa
Namibia ranked sixth globally after having closed its overall gender gap by almost 2.5 percentage points in one year to achieve a score of 80.9%.
Namibia had already closed its Health and Survival gap by 98% and 100% of its Educational Attainment gender gap, with twice as many women as men enrolled in tertiary education.
Rwanda, ranked seventh globally, also closed 80.5% of its overall gender gap, the highest among Sub-Saharan African countries. The share of women in senior and managerial roles has doubled since the previous edition (from 14.1% to 28.6%).
In addition, women now participate in the labour force more than men (84.4%), and wage equality is progressing at a fast pace (80.9%) gap close
Education
Regarding Educational Attainment, Sub-Saharan Africa lags behind the other regions, with only 84.5% of this gap closed to date. Although six countries (Botswana, Lesotho, Namibia, South Africa, Mauritius and Eswatini) have closed 99% of this gap, eight countries have yet to close more than 20% of this gap.
Gender disparities in education of over 30% remain in Guinea (68%), Congo, Dem Rep. (65.8%) and Chad (58.9%).
In some locations, women are still denied access to the same education levels as men. Namely, in Angola, Chad, Guinea, Nigeria and Pakistan, gender gaps in primary education enrolment are still as large as 15% or more.
In Angola, for instance, 88.9% of boys are enrolled in primary education versus only 67% of girls, and in Nigeria, only 69.9% of boys and 58.1% of girls are in primary school.
Economic participation
On a more positive note, Sub-Saharan Africa has closed 66.1% of its Economic Participation and Opportunity gender gap, the fifth-best result among the eight regions analysed in this report.
The best performer, Burundi (85.5%), is 38 percentage points ahead of the lowest-ranked country in the region (Mali, 47.5%). Notably, both Togo and Côte d'Ivoire have improved significantly this year.
In both countries, the main driver of the improvement has been a significant increase in the number of women senior officials, as gender parity in senior roles have progressed by 57 percentage points in Togo and 80 percentage points in Côte d'Ivoire.
The five most-improved countries in the overall index this year are Togo, Lithuania, Serbia, Timor-Leste, and United Arab Emirates, having narrowed their gender gaps by at least 4.4 percentage points or more.
Timor-Leste and Togo are also among the four countries (including Cote d'Ivoire and Jordan) that have managed to close their Economic Participation and Opportunity gap by at least 10 full percentage points in one year.
Three new countries have been assessed this year for the first time: Afghanistan (44.4% of the gender gap closed so far, 156th), Guyana (72.8%, 53rd) and Niger (62.9%, 138th).
Under the global situation, Iceland remained the most equal-gender country for the 12th time followed by Finland, Norway, New Zealand and Sweden for the top-five positions.