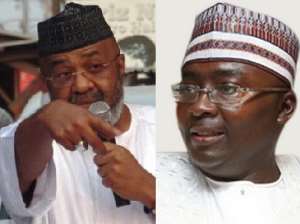 The Vice President of Ghana, Dr. Muhammadu Bawumia, is being ridiculed on social media by the National Vice Chairman of the NDC, H. E. Alhaji Said Sinare.
The NDC's Zongo President, H.E Ahaji Said Sinare in a tweet, tagged the Vice President, who is the Chairman of the Economic Management Team of the country, to visit the official Facebook page of the International Monetary Fund (IMF) to read comments from angry Ghanaians that are suffering due to his mismanagement of the economy.
Ghana, one of West Africa's economies, will hold formal talks with officials of IMF for a bailout this week.
The cabinet gave its support for the decision at a meeting on Thursday following a phone conversation between President Nana Akufo-Addo and IMF Managing Director Kristalina Georgieva.
Until now, Ghana, the continent's second-biggest gold producer, had refused to seek IMF support to rescue an economy crippled by what the vibrant National Vice Chairman, H.E. Alhaji Said Sinare, referred to as mismanagement, high inflation and a depreciating currency.
Dr. Bawumia, per the tweet from the outspoken Alhaji Sinare, is being mocked because, as the head of Ghana's economic management team, he should have resorted to the 170 questions he set for his predecessor, H.E the late Kwesi Amissah Arthur, to perform some magic to bring back Ghana's ailing economy.